Krita 4.2.2 is out
From LinuxReviews
Jump to navigation
Jump to search
It's been three weeks since the last bug-fix release to the 4.2.x series of the very popular free digital painting program for Linux and Windows. Things have been moving quite fast this summer and 4.2.2 has a very long list of fixed bugs. There are no new major features in this version, those will come when 4.3 is ready.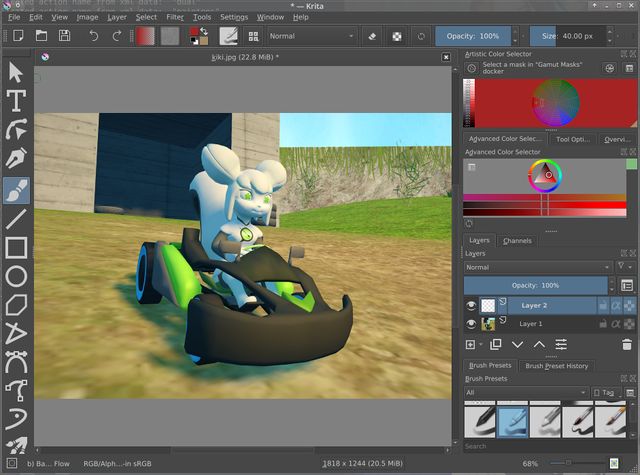 A total of 48 bugs have been fixed since Krita 4.2.1 was released. You can read the very long list at Krita's 4.2.2 release announcement.
Somewhat related, Google Summer of Code student Alberto Flores is making good progress on adding animated vector brushes to Krita. Krita will soon have animates brushes with multiple tips. His latest update states that "Basic functionality almost ready".
Windows users may be interested to know that Krita 4.2.x, including 4.2.2, has an issue where it will not start if there is no OpenGL or Direct3D driver present on the system. Linux does not have that problem.
Krita 4.2.2 binaries for Windows and Mac OS and an AppImage for Linux can be acquired from https://download.kde.org/stable/krita/4.2.2/