KDE-Powered Kubuntu Focus Laptop Coming in January 2020
From LinuxReviews
Jump to navigation
Jump to search

The Kubuntu Council, MindShareManagement Inc, and German TUXEDO Computers have collaborated to create a "officially authorized" laptop pre-loaded with Ubuntu's KDE spin Kubuntu. The Kubuntu Focus Laptop comes with a 6-core Intel i7-9750H CPU, 32 GB RAM, a 1 TB Samung 970 NVMe drive and a 16.1" 1080p IPS display which, even though this laptop is aimed at free software enthusiasts, is powered by a NVidia GTX 1060 GPU. A proprietary binary blob driver is required to make this laptop function properly.
written by 윤채경 (Yoon Chae-kyung)  2019-12-19 - last edited 2020-01-03. © CC BY
| | |
| --- | --- |
| | Note: This article has been updated to correct "inaccuracies" (differences of opinion) pointed out by a KDE Focus representative. |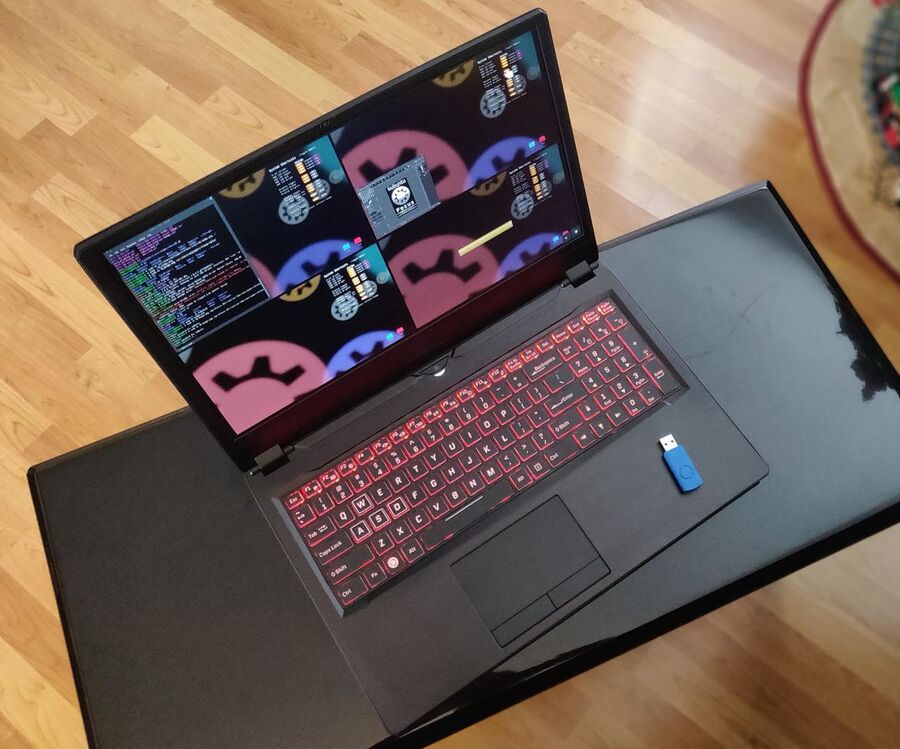 The Kubuntu Focus Laptop. Picture from @kdecommunity on Twitter.
German Tuxedo Computers has been selling laptops pre-loaded with free software for many years. They claim their laptops are "Linux compatible" but some of them aren't, quite a few of them have Nvidia graphics cards which will not work with GNU/Linux operating systems without Nvidias binary blob driver. There are signs that Nvidia could be changing their hostile attitude towards free software but there is nothing concrete to point to and will take a year or two before free drivers for Nvidia GPUs become even close to usable if Nvidia actually does change their stance.
It is disappointing that the 6 people in the Kubuntu Counsil" together with MindShareManagement Inc, a California-based DBA for Uniphied Thought Inc, have decided to produce a laptop which requires a closed-source binary blob driver from Nvidia in order to function properly.
Free Software Foundation associate member Patrick "P. J." McDermott, who sells "Freedom-friendly electronics and embedded systems" at Libiquity in New Jersey, USA, gave this comment:
Free Software Foundation member Patrick "P. J." McDermott
December 19th, 2019
Candace Gillhoolley, Director of Marketing for the KFocus Laptop, gave this statement regarding the choice of providing the Focus laptop with Nvidia graphics:
"You said this: "decided to have German Tuxedo Computers sell yet another laptop which requires a closed-source binary blob driver in order to function properly."
The truth is: While the Focus is certainly not completely open, it certainly respects many more freedoms than competing MBP and W10 laptops. It also respects your desire to use CUDA deep learning solutions and top-performing mobile graphics. We feel this offers a big step in the right direction.
We would like these inaccuracies fixed. We are very excited about this laptop and feel it has the chance to bring more people together in the true vein of open source. We would appreciate further attention to the tone of the article as is not inclusive."
Candace Gillhoolley, in a private message
complaining about incorporates in the original article
on December 28th, 2019
Is remains true that the Kubuntu Focus Laptop requires a proprietary binary blob driver from Nvidia to operate properly. That's a simple fact. If it is acceptable or not is a matter of opinion. It seems apparent that the makers of this product either do not care about free software, ethics or morality or simply do not understand the practical implications. Writing software using Nvidias proprietary CUDA API is even more unethical and problematic than forcing users to submit to their binary blob driver. As for the "article is not inclusive" complaint: I have no idea what 흰색 왼쪽 광기 that's about.
Honorary Doctor Richard Stallman had this to say about non-free drivers like the one required to use the Nvidia graphics card in the Kubuntu Focus Laptop:
"non-free drivers are a way of giving up your freedom."
Candace Gillhoolley clarified that the US model is assembled in the USA while the European model is provided by German Tudedo.
The laptops specifications are otherwise mostly those found on higher-end laptops:
CPU: Intel Core i7-9750H 6c/12t 4.5GHz Turbo
GPU: Nvidia 6GB GTX-2060
RAM: 32GB Dual Channel DDR4 2666 RAM
Storage: 1TB Samsung 970 EVO Plus NVMe
Display: 16.1" matte 1080p IPS
Keyboard: LED backlit, 3-4mm travel
Chassis: Metal and plastic, 0.78"
Two year warranty
User expandable SDD, NVMe, and RAM
"Superior cooling"
Availability is said to be "mid-January" 2020. Pricing is not indicated anywhere in the announcement on kubuntu.org or anywhere else; there are no pre-order information on TUXEDO Computers website. It's easy to make an educated guess that it won't be cheap given it's specifications.