Geoffrey Knauth Elected President Of The Free Software Foundation
From LinuxReviews
Jump to navigation
Jump to search

The Free Software Foundation has finally elected a new permanent president after FSF founder and long-time president Richard Stallman was squeezed out September last year. Geoffrey Knauth had served on the FSF board for over 20 years before he became president. French free software activist Odile Bénassy was added as a new member of the foundations board of directors.
written by 林慧 (Wai Lin) 2020-08-09 - last edited 2020-08-12. © CC BY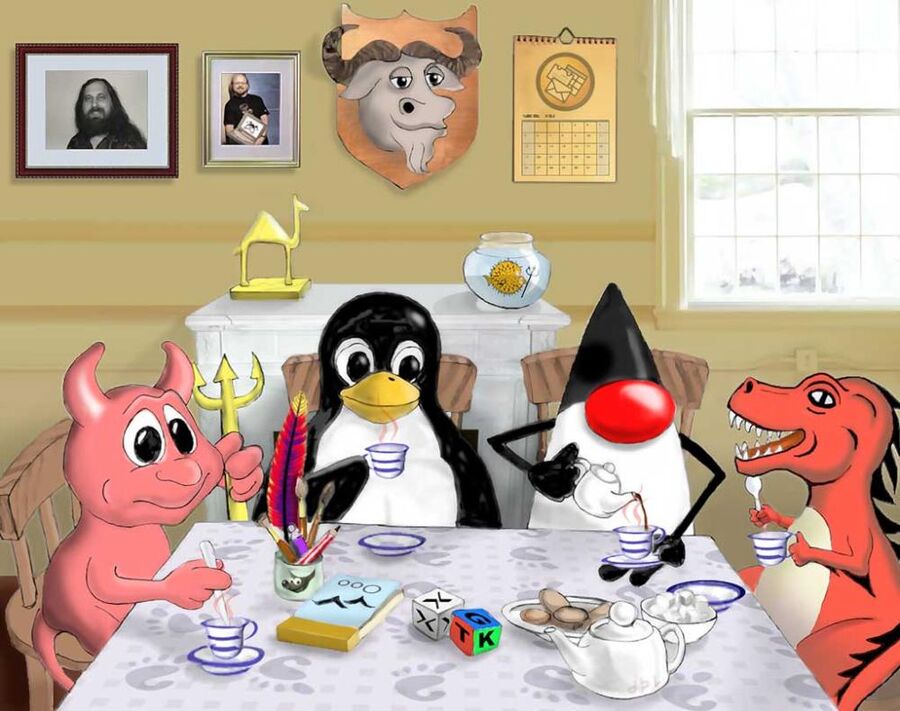 Free software mascots at a tea-party.
The Free software foundation is an American non-profit organization dedicated to promoting free software that was founded by Honorary Doctor Richard Stallman in 1985. Is not a particularly large or powerful organization, it has slightly more than a million dollar budget and a staff only 13 people (not including the board).
The free software foundations has now elected Geoffrey Knauth as its new president. He had this to say about his new position:
"We must be kind to each other and respect each other when our good faith arguments differ, in order to produce the best solutions together. I pledge to support honest dialog and emerging leaders in the quest to secure the future for free software for generations to come, and not to alter the tenets of the free software vision."
Geoffrey is a Harward University economics major, co-founder of the GNU Objective-C project and a former computer science teacher at the Lycoming College. He served on the FSF board for 20 years before he moved up to being FSF president. He is currently employed by the American media company AccuWeather Inc.
The foundation also added Odile Bénassy as a new member to its board of directors. She's French. The new Free Software Foundation board of directors consists of:
Alexandre Oliva, Red Hat Brasil.
Gerald J. Sussman, Professor of Electrical Engineering at MIT.
Henry Poole
Kat Walsh, American lawyer.
Odile Bénassy, long-time French free software activist.
The free software foundation is currently running several freedom-promoting campaigns including:
You can learn more about their organization and their efforts to ensure that you have a minimum level of freedom when you use computing devices at fsf.org.