Firefox 73 and 68.5.0esr Are Released With Security Updates
From LinuxReviews
Jump to navigation
Jump to search

Firefox 73 has a new global zoom setting under "Language and Appearance" which, unlike the regular per-site zoom (changed with ctrl++, ctrl+- and ctrl+0 to re-set), has a "Zoom text only" option. There is also a Windows-specific improvement when "High contrast mode" is enabled on Windows. The most important changes in Firefox 73, as well as Firefox 68.5.0 (The long-term support version), are security fixes.
written by 윤채경 (Yoon Chae-kyung)  2020-02-14 - last edited 2020-02-14. © CC BY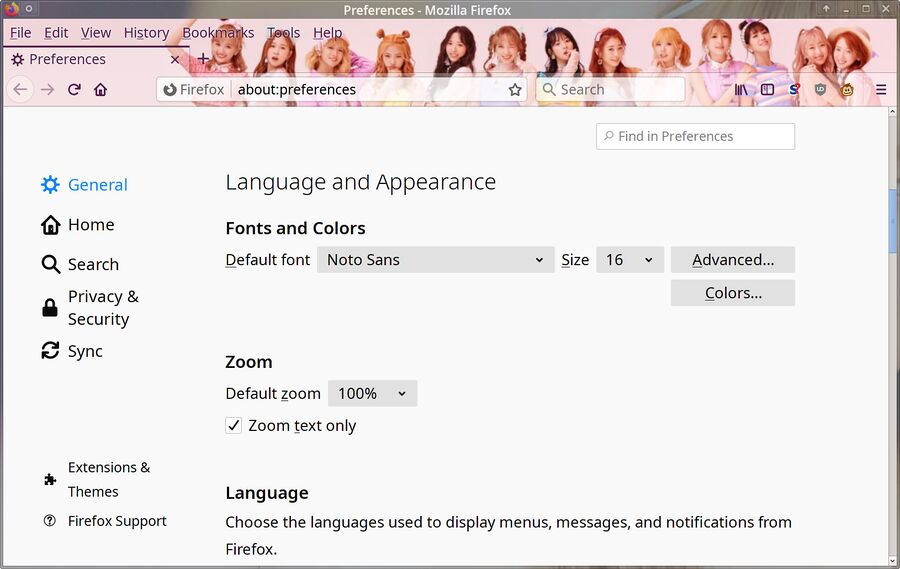 Firefox 73 has a new global zoom setting.
There is not anything else new in in Firefox 73 in terms of features beyond the new global zoom setting. They might as well have made it a 72.1 release. One can't expect all that much after Mozilla recently fired 70 people, most of whom were senior developers. The new 68.5.0esr long term support version did not get the global zoom setting.
Firefox 68.5.0esr did get the more important new parts of Firefox 73: Security fixes. There were several embarrassing "high" impact memory issues as well as several other security issues in both Firefox <=72 and <=68.4esr which were fixed in the new releases. "CVE-2020-6796: Missing bounds check on shared memory read in the parent process" and "CVE-2020-6800: Memory safety bugs fixed in Firefox 73 and Firefox ESR 68.5" were the most serious issues. The "Security Advisory" notes for both Firefox 73 and Firefox 68.5esr note that CVE-2020-6800 "could have been exploited to run arbitrary code".
Upgrading your Linux distributions so you get the latest Firefox version is a good idea even if there is nothing particularly interesting in terms of new features (except the new global zoom setting) in these releases. There is also a new Tor Browser version available for those who use that Firefox esr fork.