Avidemux 2.7.8 Is Released
From LinuxReviews
Jump to navigation
Jump to search

The latest version of the Avidemux video editor/converter for Linux, Windows and macOS has tons of new video filters, basic HDR support when working with Matroska and WebM containers, 24-bit uncompressed audio support in several file formats and a lot more.
written by 권유리 (Kwon Yu-ri)  2021-03-07 - last edited 2021-03-07. © CC BY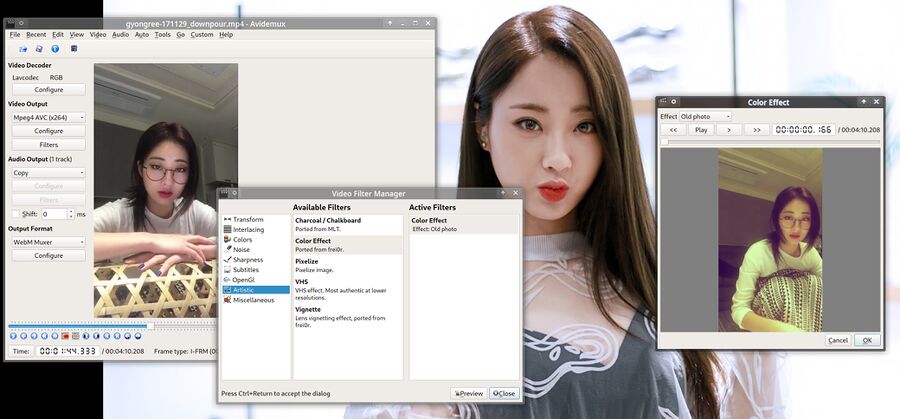 Avidemux 2.7.8 with the Color Effect filter new to this release. The artist in both the edited video and the wallpaper is Gyongree from 9Muses.
Avidemux is a simple non-linear video editor most suitable for converting between file formats and quick edits to a single video file. It is not a fully featured video editor like kdenlive and DaVinci Resolve, but it can be used to remove black borders, cut a section out of a longer video file, apply filters and those kinds of things.
The latest 2.7.8 release has a long list of improvements:
There are several new filters available. These can be found in a new "Artistic" filter sub-menu populated with filters Charcoal / Chalkboard, Color Effect, Pixelize, VHS and Vignette effects.

The new Charcoal filter in Avidemux 2.7.8. kdenlive has had a similar filter for years and years.
The x265 (HEVC) video encoder plugin has a slightly improved configuration dialog with some new options.
There's a new MOV muxer. Avidemux would previously use a MOV muxing mode in the MP4 muxer to handle MOV files.
Avidemux can now detect resolution changes in MPEG-TS streams with multiple resolutions and log those changes. It can not properly handle such files, but this does make it easier to split them with other tools like ffmpeg.
There's now initial support for 7.1 channel audio. Don't expect it to work with all files and file formats.
Uncompressed 24-bit audio is now supported in a limited number of audio formats.
XLL substreams in DTS audio tracks can now be copied and/or decoded.
There is a new preferences option that lets you keep the identify of the A and B markers instead of swapping them if you move one beyond the other.
The maximum video resolution Avidemux can handle has been increased to 8192x8192.
The ffmpeg library bundled in Windows and Linux AppImage releases is now compiled with support for multi-threading video decoding. That bundled library is limited to 8 decoding threads for some reason.
The MP4 muxer can now handle MPEG-1 and MPEG-2 video. Those video codecs haven't been used in decades, but it may be useful if you encounter a strange old MP4 file with MPEG-2 video in it.
The rate control used to be mostly broken for several video encoders like VP9 and NVENC. Rate control should work much better in this release.
The avidemux homepage at fixounet.free.fr/avidemux/ as not been updated since forever. The latest release listed there is 2.7.6. Actual releases are now pushed to the projects github releases page where you will only find source code for both version 2.7.7 and the latest 2.7.8 release. Those source code tarballs do not contain any instructions for compiling the thing, there's not even a hint. There are several bash scripts in there such as bootStrap.bash, makeAppImage.sh, createDebFromSourceUbuntu.bash and createRpmFromSourceFedora.bash. None of those work, they are either tested on just one GNU/Linux distribution or not at all.
There are working binary releases available at avidemux.org/nightly/. Usable AppImage binaries that should work on the vast majority of GNU/Linux distributions can be acquired from the /nightly/appImage4/ folder. The nightly builds have dates, not version numbers. The latest as of today, from 210306, will give you Avidemux 2.7.8. There's also an alternative folder for very old GNU/Linux distributions like Debian Buster called /nightly/appImage4Buster/.
Avidemux is available as a Flatpak over at flathub.org/apps/details/org.avidemux.Avidemux but it has not yet been updated, you will currently get the older 2.7.6 version if you install it from there.
Windows binaries are available at avidemux.org/nightly/win64/ and updated binaries for MacOS Cantalina are available in avidemux.org/nightly/osx_catalina/. There are folders for other MacOS releases but they are all ancient - with /nightly/osx_mojave/ being a small exception. That folder has a .dmg file from December 27, 2020.