AntiX Linux 19.1 Is Released For Those Who Want A Really Light-Weight Linux Distribution
From LinuxReviews
Jump to navigation
Jump to search

AntiX Linux stands out from the crown in it's simplicity and it's ability to run on very old and really weak hardware thanks to it's use of the very light-weight IceWM desktop environment, no systemd or pulseaudio and other design choices which severely limits it's resource-use. The latest release has updated versions of core packages like the Firefox, IceVM and the Linux kernel - and that's it.
written by 윤채경 (Yoon Chae-kyung)  2019-12-24 - last edited 2019-12-24. © CC BY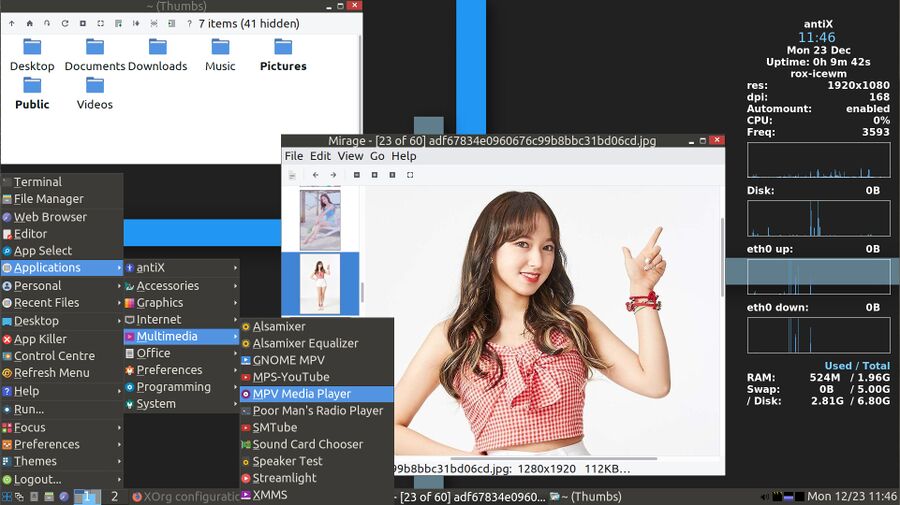 antiX Linux 19.1 with it's default IceWM desktop, the ancient Rox filer file manager and the Mirage image viewer.
The latest antiX release includes updated packages such as Firefox-ESR 68.3.0, Linux kernel 4.9.200 and IceWM version 1.6.3. The distribution is otherwise just like the recent 19.0 release, the only differences between 19.0 and the new ISO images which were made available as version 19.1 on December 23rd 2019 are the packages and the package versions included. The ceni network manager is included as an option in 19.1, connman remains the default. Some of the package updates address bugs that were present in previous versions.
Those who are already using it do not need to reinstall or download the ISO images; just run apt update && apt upgrade and you've got the latest version.
See our full review of AntiX 19.1 to get a more in-depth description of the key differences between AntiX and other distributions. Put simply, it's Debian with sysvinit instead of systemd, no PulseAudio, IceWM as the default desktop and a set of old and very lightweight pre-installed applications. It is a great choice for older hardware or cheaper machines with limited RAM, CPU power or disk space.
Packages for i386 and x86-64 in "full", "base", "core" and "net" variants are available from antixlinux.com/download/. There is no ARM variant available. The title on the download page still says "antiX-19 files - Released 17 October 2019" but that's irrelevant, the mirrors that page links to carry the 19.1 release. The torrent download page, on the other hand, does not have 19.1 as of right now. Don't use that one (unless they updated it and it says 19.1 when you click it). You will want either the "full" or the "base" version, the "core" and "net" versions do not include any graphical environment.
You can read the release-announcement titled "antiX-19.1 bug-fix/upgrade isos available" at antixlinux.com.