Almalinux 8.3 Is Released As A Stable RHEL Clone For Those Who Liked CentOS
From LinuxReviews
Jump to navigation
Jump to search

CentOS used to be the go-to alternative for those who wanted to use Red Hat Enterprise Linux (RHEL) without having to pay RedHat to use it. It was a almost 1:1 clone until RedHat took control of it and turned it into what is now a RHEL beta-version, not a stable RHEL release without the branding. Almalinux is one of several projects that have made their own RHEL forks in response. The first Almalinux version is now released.
written by 윤채경 (Yoon Chae-kyung)  2021-03-31 - last edited 2021-03-31. © CC BY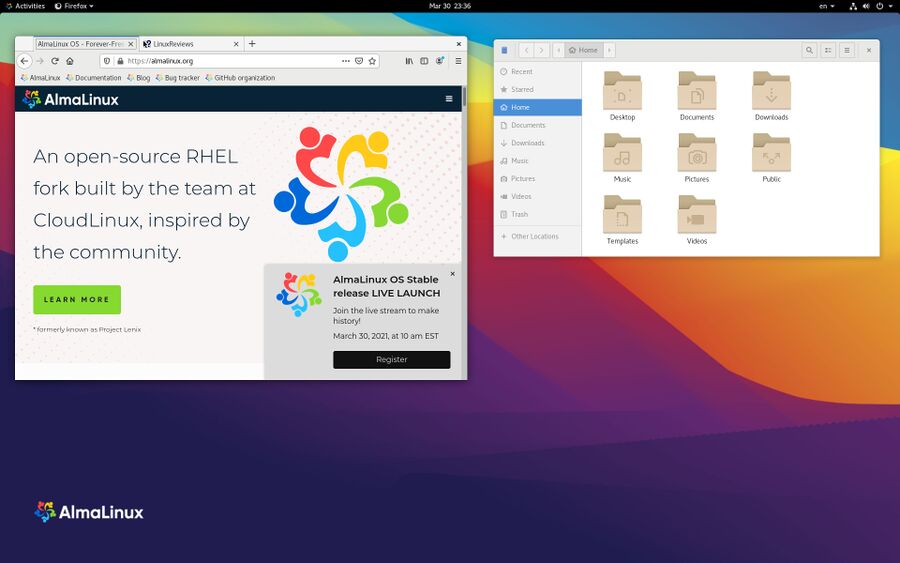 AlmaLinux 8.3, Workstation Installation. GNOME is the default desktop environment (Just like RHEL and CentOS). You can tell that it is AlmaLinux and not RHEL or CentOS by the "AlmaLinux" branding on the wallpaper.
The CentOS GNU/Linux distribution, which is very popular on the server-side, has been following Red Hat Enterprise Linux (RHEL) stable releases since its inception in on May 14th, 2004. Those who wanted to use RHEL without a RedHat license, or additional licenses in the case of many RedHat customers, could install CentOS and get something that was binary compatible and almost entirely identical. The branding and a few other minor details were all that separated CentOS from RHEL. That changed with an announcement titled CentOS Project shifts focus to CentOS Stream", written by RedHat asset Rich Bowen, in December 2020.
CentOS is no longer a 1:1 clone of RHEL. It is, instead, now based on RHEL beta versions. At least two projects started their own CentOS forks in response to that change: Rocky Linux, lead by CentOS founder Gregory Kurtzer, and AlmaLinux, developed by CloudLinux Incorporated.
Almalinux was the first of the two to make an actual release. Almalinux 8.3 is, as the version number reflects, based on RHEL 8.3.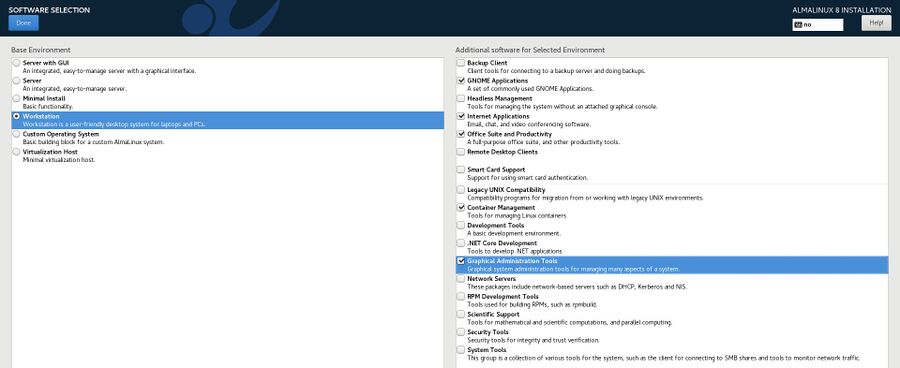 The AlmaLinux 8.3 installer. You can tell that it is AlmaLinux and not RHEL or Fedora or CentOS because it says "ALMALINUX 8" in the upper right corner. And that's the only difference.
Almalinux is, as you could expect, just like RHEL. The installer is exactly the same as the one used for RHEL and Fedora. The branding, such as the "AlmaLinux" logo in the upper left corner, is the only difference between the AlmaLinux 8.3 installer and the RHEL installer that we noticed. It is, otherwise, exactly the same GNU/Linux distribution. You get the same impression once the distribution is installed. Both a minimal server installation and a graphical "Workstation" installation give the distinct impression that AlmaLinux has stuck with their goal of being a 1:1 clone; there does not seem to be any noticeable difference between AlmaLinux and RHEL 8.3. Well, they do use different package repositories (listed in /etc/yum.repos.d) and things like that, but the packages in there are exactly the same so it makes little difference. You can add EPEL repositories as if you were using RHEL or CentOS on AlmaLinux, and you can do everything else you would normally do on those distributions too.
The AlmaLinux homepage is at almalinux.org.
ISO images for it can be acquired from repo.almalinux.org/almalinux/8/isos/x86_64/. There is a .torrent available. ISO images can be acquired in the form of a full 8.6 GiB "DVD" ISO, a "minimal" 1.8 GiB and a 640 MiB recovery "boot" ISO. All of them are included in the single .torrent download they are offering. Those of you who have deployed CentOS may also be interested in the still-early AlmaLinux migration tool for CentOS users available at github.com/AlmaLinux/almalinux-deploy.