AMD Announced 8 Core Laptop APUs and CPUs and a 64 Core Threadripper CPU at CES 2020
From LinuxReviews
Jump to navigation
Jump to search

AMD announced an 8-core mobile APU with a 1.8 GHz base clock and an 8-core mobile CPU with a 2.8 GHz base clock for laptops at this year's CES. There was nothing exciting on the desktop GPU front, AMD announced a new mid-range desktop GPU and two mobile GPUs. They also announced a new 64-core Threadripper CPU at a $4000 price-tag.
written by 林慧 (Wai Lin) 2020-01-07 - last edited 2020-01-08. © CC BY
Impressive New Laptop Parts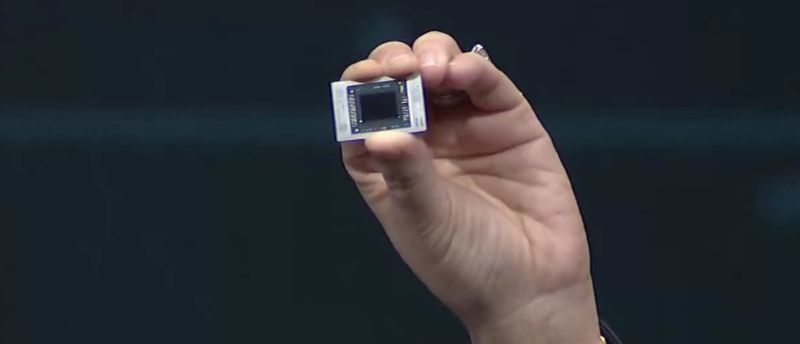 AMD announced an 8-core 16-thread laptop part at CES.
AMD announced two new laptop processors with some very impressive specifications. Their new 7nm mobile 4800U laptop APU is, according to AMD, twice as power-efficient as their 12nm fabricated second generation Ryzen chips. The graphics part of the new APU will have Vega-based graphics cores which, according to AMD, have been optimized to run "59% faster than the previous generation." That is, if true, a very significant jump.
The U-series APU parts are for "ultra thin" laptops. They also announced a H-series part for "gamers and creators". The H-series parts are meant for more powerful laptops and they do not include a graphics chip.
| Model | Cores | Threads | Base clock (GHz) | Boost clock (GHz) | GPU Cores | TDP (Watts) |
| --- | --- | --- | --- | --- | --- | --- |
| 4800U | 8 | 16 | 1.8 | 4.2 | 8 | 15W |
| 4800H | 8 | 16 | 2.9 | 4.2 | no | 45W |
The 1.8 GHz base clock of the 4800U is not that impressive. How the 4800U actually performs will depend on how close to the advertised 4.2 GHz boost clock it gets with a two or four core load. The 4800H has a much higher base clock and the same boost clock.
AMD promised higher single-threaded performance than equivalent parts from Intel. Single-threaded performance is an area where AMD has been lagging behind Intel. AMD taking the lead in both single-thread and multi-core performance is significant. Just how significant is yet to be seen.
It only takes a glance at the laptop selection in any store to see that AMD simply isn't there, they've got nothing. One or two out of ten laptops will have an AMD chip, the rest are powered by Intel and, if they have a dedicated GPU, Nvidia graphics. It will be interesting to see how many OEM brands are on board with their new 4000 series laptop chips. 8 cores with fairly powerful graphics at 15W is a pretty sweet deal and 8 cores at 2.9 GHz on a laptop is quite compelling. AMD showed off a Lenovo Yoga Slim 7 with their new 4800U mobile APU and showed a powered-off ASUS laptop which will be powered by the 4800H and one of their new mobile GPUs so there will at minimum be products from ASUS and Lenovo with these new AMD chips in them.
A 64-core Threadripper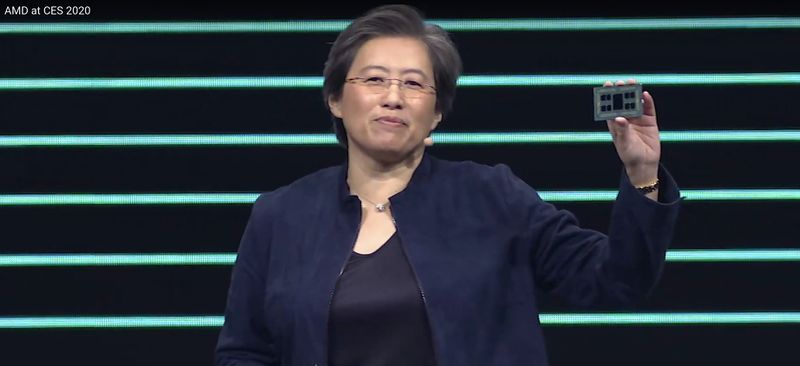 AMD announced a new 64-core Threadripper part. It is quite large.
AMD CEO Lisa Su announced new 64-core Threadripper part. The 3990X will have 64 cores, 128 threads, a 2.9 GHz base clock, a 4.3 GHz boost clock and 288 MB cache. It will cost you $3990. Not cheap, but cheaper than comparable Intel parts. Lisa Su forgot to mention its TDP.
| Model | Cores | Threads | Base clock (GHz) | Boost clock (GHz) | Cache | TDP (Watts) |
| --- | --- | --- | --- | --- | --- | --- |
| 3990X | 64 | 128 | 2.9 | 4.3 | 288MB | Unknown |
Nothing New On The GPU Front
AMD's desktop GPU offerings have long been limited to low to mid-range cards. They have not been the performance king of graphics cards since the early 2000s. The high-end graphics market belongs to Nvidia and it is not like Nvidia is out-competing AMD in that segment, they aren't. Like in the laptop market, AMD simply isn't there - and they won't be any time soon.
Laura Smith, Senior Director, Radeon Technologies Group, announced that AMD will place three different Freesync stamps on monitors going forward. They will be segmented into regular Freesync monitors, Freesync Premium (120Hz monitors) and Freesync Pro (120Hz screens with HDR). Mrs Smith went on to talk about the proprietary Adrenalin 2020 Windows software for AMD graphics cards. She then bragged about their "brand new" RDNA GPU architecture which is, according to the "RDNA 1.0" Instruction Set Architectur Reference Guide, capable of issuing one instruction per wave every clock cycle - unlike GCN which could only do one instruction per wave every four cycles.
Laura Smith eventually announced that AMD is bringing a new low-end Navi-based graphics card to market. The RX 5600 XT will fill the gap between the low-end RX 5500 XT and their mid-range RX 5700 XT "flagship".
| Model | Compute Units | Base clock (GHz) | Boost clock (GHz) | Memory (GDDR6) |
| --- | --- | --- | --- | --- |
| RX 5500 XT | 24 | 1717 | 1845 | 4/8GB |
| RX 5600 XT | 32 | 1375 | 1560 | 6GB |
| RX 5700 XT | 40 | 1465 | 1725 | 8GB |
Laura Smith called the RX 5600 XT the "ultimate 1080p gaming card" and showed some numbers comparing it to the low-end Nvidia GTX 1660 Ti. The RX 5600 XT will have a MSRP of $279 and it will be available in stores on January 21st.
Radeon Technologies Group announced two new mobile GPUs: A 5600M and a 5700M. Specifications were not indicated. These mobile GPUs will be paired with their new H-series CPUs.
It is apparent that AMD will not be going after the high-end GPU market any time soon. They would have seized the opportunity to announce it as CES if they had anything up their sleeve. The new 64-core Threadripper was an impressive announcement - even if it, at a $4000 price-tag, is out of reach for most consumers. The 8-core laptop parts were the most interesting parts announced. An 8-core ultra-thin laptop with decent graphics and long battery life sounds like a sweet deal. The big question there is: Will products actually materialize? They usually don't but this time it may actually be different given their impressive specifications.