Zhaoxin Kaixian KX-U6780A Shows That China Is Still Behind The West In x86-64 Processor Technology
From LinuxReviews
Jump to navigation
Jump to search

Chinese Zhaoxin's latest flagship Kaixian KX-U6780A processor has multi-core performance on par with the low-end AMD Athlon 3000G processor. It has 8 cores capable of reaching clock speeds up to 3 GHZ, 8 threads, 32 KB L1 cache and two 4 MB L2 caches shared by four cores each. It supports the SM3, SM4, and AVX instruction sets. The KX-U6780A is very impressive when it is compared to previous generation Zhaoxin processors like the ZX-C4580 yet it is quickly exposed as being very outdated when it is compared to top western x86-84 offerings like the AMD Ryzen 9 3950X and the Intel i9-9900KS.
written by 林慧 (Wai Lin) 2020-02-07 - last edited 2020-02-13. © CC BY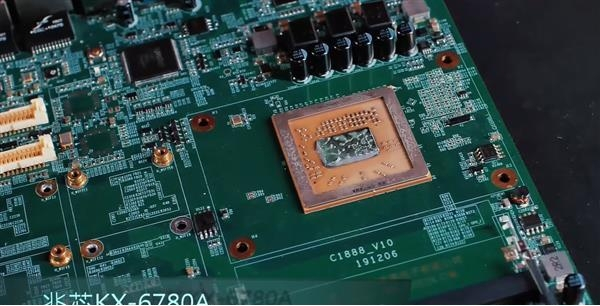 China has two companies who develop x86-64 processors. One is Hygon, which is a joint venture between American AMD and Tianjin Haiguang Advanced Technology Investment Co (THATIC), and the other is Zhaoxin. Hygon is dead in the water after the US government arrogantly placed placed Hygon on an embargo list in June 2019. Zhaoxin, on the other hand, has independently developed several advanced x86-64 processor designs thanks to a x86-64 license from VIA technologies.
The latest Zhaoxin KX-U6780 flagship is produced on a 16nm node at TSMC. It has 8 cores with clock speeds up to 3 GHz.
The latest Zhaoxin KX-U6780 flagship x86-64 is very impressive when it is compared to earlier Zhaoxin processors yet Zhaoxin is immensely embarrassed when their new top offering is compared to modern x86-64 processors from American corporations. A Cinebench R20 multi-threaded score of just 845 puts it on-par with the very low-end AMD Athlon 3000G processor - which is far weaker than the AMD Ryzen 9 X3950X consumer flagship which scores 9043 in Cinebench R20. Intel's flagship i9-9900KS processor scores 5124 in that same test.
Zhaoxin KX-U6780 is even more embarrassing when single core performance is compared. Its single core performance score in Cinebench R20 is just one third of the Intel i9-9900KS. The horrible single core performance is likely why the 8 core KX-U6780 has a multi-core score comparable to the $50 dual-core Athlon 3000G from AMD.
The Zhaoxin KX-U6780 shows that China is far behind the Americans when it comes to x86-64 processor performance. Chinese companies who want high performance will, for now, either have to go with ARM based chips like the Huawei Kunpeng or RISC-V chips like Pingtouge from Alibaba or subject themselves to American arrogance by using AMD or Intel products.
Source: 国产16nm兆芯X86处理器测试:与顶级CPU仍有10倍差距 (guancha.cn)