Virgil Griffith Arrested For Talking About The CryptoCurrency Etherium in North Korea
From LinuxReviews
Jump to navigation
Jump to search

One of the Etherium foundation members has been arrested in the United States after talking about the LGPL-licensed block-chain based distributed computing platform Etherium and it's crypto-currency ETH in North Korea.
published 2019-12-01 - last edited 2019-12-01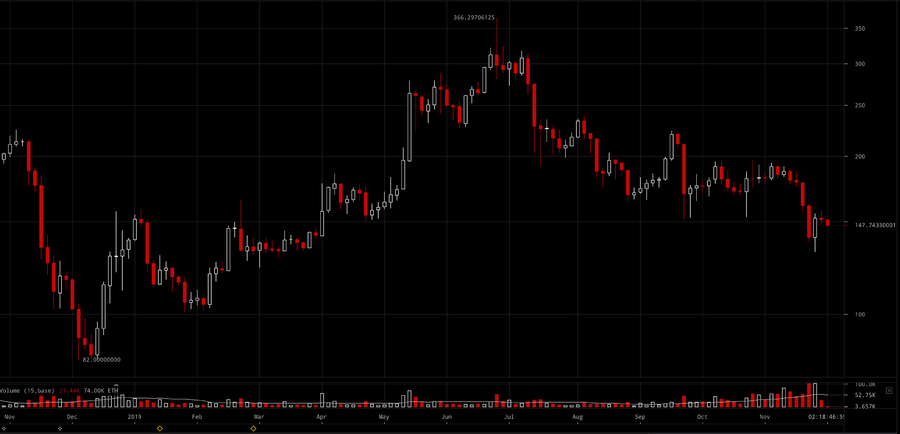 The crypto-currency ETH is currently trading at $148 after topping out at around $1400 January 2018.
Southern District of New York, US, stated this in a press release titled "Manhattan U.S. Attorney Announces Arrest Of United States Citizen For Assisting North Korea In Evading Sanctions":
"As alleged, Virgil Griffith provided highly technical information to North Korea, knowing that this information could be used to help North Korea launder money and evade sanctions. In allegedly doing so, Griffith jeopardized the sanctions that both Congress and the president have enacted to place maximum pressure on North Korea's dangerous regime."
This is not the first time Etherium-foundation member Griffith has provided the world with very secret highly technical information about Etherium. There is this very subversive site called YouTube and there Griffith's appeared in several videos where he shared top-secret information about this highly classified technology called Blockchain - including EDCON 2019--Virgil Griffith (Ethereum Foundation) from May this year.
There is also a whole website setup by others conspiring to provide highly secret classified information about the Etherium blockchain at ethereum.org to the world. And it does not stop there, a site called Github, owned by software giant Microsoft, has the top-secret source-code publicly available at the URL github.com/ethereum.
Griffith and the Etherium foundation are not alone in providing North Korea with "highly technical" information about advanced computer software. Red Hat's Fedora operating system has been leaked to the North Koreans and they have successfully adapted it to suit their needs. The North Korean Fedora-based GNU/Linux distribution Red Star OS is widely used in their public sector. It contains piles of top-secret "highly technical" technology such as the KDE Plasma desktop, the Linux kernel and the GCC compiler. Fedora employees have yet to be arrested for leaking their GNU/Linux distribution onto the Internet so the North Koreans could download it.
Virgil Griffith is "charged with conspiring to violate the IEEPA, which carries a maximum term of 20 years in prison" according to the United States Department of Justice's press release. Their story is that:
"At the DPRK Cryptocurrency Conference, GRIFFITH and other attendees discussed how the DPRK could use blockchain and cryptocurrency technology to launder money and evade sanctions. GRIFFITH's presentation at the DPRK Cryptocurrency Conference had been approved by DPRK officials and focused on, among other things, how blockchain technology, including a "smart contract," could be used to benefit the DPRK. GRIFFITH identified several DPRK Cryptocurrency Conference attendees who appeared to work for the North Korean government, and who, during his presentation, asked GRIFFITH specific questions about blockchain and cryptocurrency and prompted discussions on technical aspects of those technologies."
The "sealed complaint" available at justice.gov has some further details. It indicates that the US FBI has been wasting their time witch-hunting Virgil Griffith since August 2018. The "sealed complaint" reveals that they were looking very closely at him and his electronic communications in order to find something, anything, to pin on him. And they sort-of did. Griffith sent a private text message about sending one ETH between North Korea and South Korea. US Justice Department and FBI story is that this means he was teaching the North Korean government how launder millions of dollars. FBI Assistant Director William Sweeney gave this comment:
"We cannot allow anyone to evade sanctions, because the consequences of North Korea obtaining funding, technology, and information to further its desire to build nuclear weapons put the world at risk"
FBI Assistant Director William Sweeney
November 30th, 2019
FBI Assistant Director William Sweeney did not elaborate on the specifics of how a programmer with a doctorate in theoretical neuroscience talking about blockchain technology would bring North Korea closer to William Sweeney's imaginary North Korean desire to build nuclear weapons.
Free software enthusiasts, and specially free software developers working on anything related to cryptography or digital currenceis, can learn a few lessons from the United States's huge waste of time and resources. Use full-disk encryption, encrypt e-mail and other messages and don't travel to the United States (Griffith is from Singapore. He got arrested at the Los Angeles International Airport because he, willingly, took a flight there).