Tracklist for WJSN's upcoming album "For The Summer" revealed
From LinuxReviews
Jump to navigation
Jump to search
WJSN's new mini-album will be released on the 4th of June. The title track will be named "Boogie Up" and it is composed by "Wonderkid". It is followed by "눈부셔", "My Type", "우리끼리" and Sugar Pop. Only the fourth track "My Type" is composed by one of their regularly used composers so this album could be a bit unique compared to most of WJSNs previous albums.
Wonderkid, who composed the title-track, co-composed Fromis9's "22nd Century Girl". It's not a great song but it's alright.
The second track "눈부셔" is composed by a group of composers who's written most of Red Velvet and Loona's smashing hits.
"My Type" is the only track composed by someone we all know and love from previous smash-hits from WJSN. Full8loom's composed great WJSN songs like "La La Love", "Save Me, Save You", "Dreams Come True" and many more.
<embedvideo service="youtube">T3E2MLY3EvI</embedvideo>
우리끼리 is composed by a group of MosPick which is usually only used by Cube Entertainment. They were the people behind IZ*ONE's "La Vie en Rose", CLC's "Hobgoblin" and many, many more.
WJSN member Exy co-authored the lyrics on four of the five songs: "Boogie Up", "눈부셔", "우리끼리" and Sugar Pop. She's so talented, the lyrics will likely be fantastic.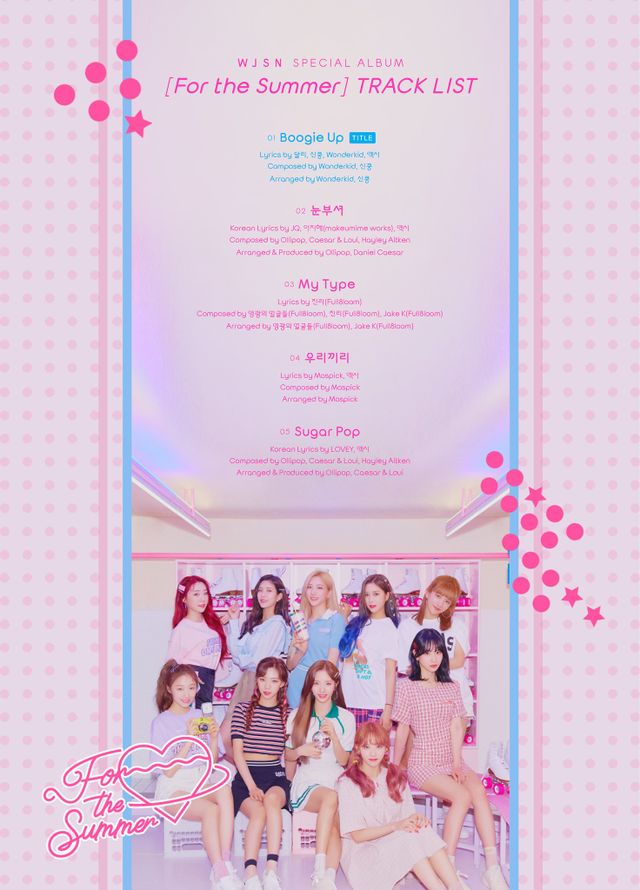 It looks like this will be a fantastic mini-album. And it's less than a week away. We can hardly wait.
See our earlier article New WJSN album "For The Summer" coming in 7 days for a smashing teaser image.