The Phoronix Test Suite Gains Vulkan Ray-Tracing Benchmarks
From LinuxReviews
Jump to navigation
Jump to search

The versatile Phoronix Test Suite, developed and used by the Linux news website Phoronix, has gained profiles for benchmarking Vulkan ray-tracing performance using two different benchmarks as well as the JPEG XL benchmarks. There's also updates to many of the existing tests as well as a new 10.2.2 release of the Phoronix Test Suite software.
written by 윤채경 (Yoon Chae-kyung)  2020-02-28 - last edited 2021-02-28. © CC BY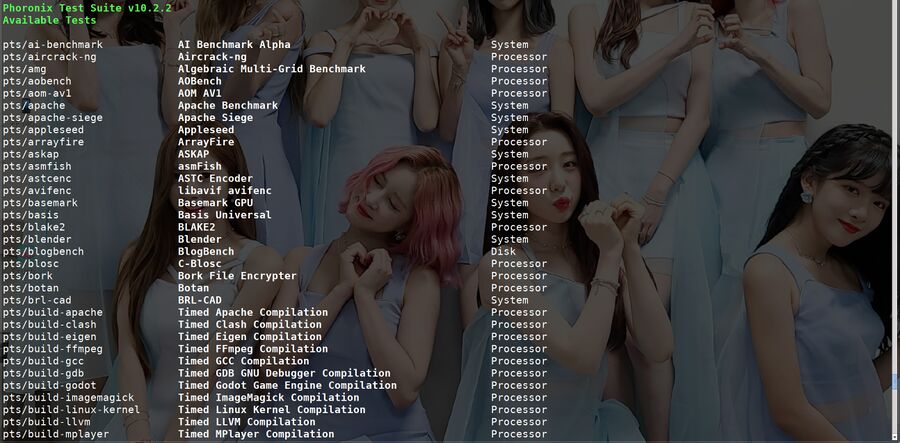 A screenshot showing just a few of the many tests available in the Phoronix Test Suite.
The Phoronix Test Suite is a benchmarking suite primarily for Linux (there are Windows and macOS versions available) that lets you run a very wide range of tests mostly automatically. It can be used to run lots of benchmark on multiple systems with minimal human interaction. The Phoronix publication uses it to benchmark graphics cards, processors and other hardware on a regular basis.
Developer and Phoronix journalist Michael Larabel has added several new benchmarks to the Phoronix Test Suite over the last month and released a new version 10.2.2 which is available at phoronix-test-suite.com.
The new benchmarks are:
| | |
| --- | --- |
| Ray Tracing In Vulkan (rtiv) | A neat Vulkan ray tracing benchmark. It uses the VK_KHR_ray_tracing_pipeline Vulkan extension which makes it possible to run it on very new AMD and upcoming Intel graphics hardware. |
| geexlab-rt | A Vulkan ray-tracing benchmark by geeks3d for Windows only. It is not free software. |
| jpegxl | Benchmark using the reference JPEG XL image encoder |
| jpegxl-decode | Benchmark using the reference JPEG XL image decoder |
| stream-dynamic | The AMD Stream Dynamic benchmark uses a modified version of the very old yet still useful Stream memory benchmark. It is heavily optimized for AMD systems. The The Phoronix Test Suite will compile it using the AMD Optimizing C/C++ Compiler (AOCC) if it is available and fall back to GCC/Clang if it's not. |
| ngspice | ngspice is a open source spice simulator for electric and electronic circuits. |
Michael Larabel has also updated many existing benchmarks, including the ones for the commercial closed-source games Portal 2, Insurgency and Civilization VI, blender, the libavif AVIF image encoder, the dav1d AV1 video encoder, GROMACS (GROningen MAchine for Chemical Simulations), ParaView, V-RAY (commercial), Pennant (OpenMP benchmark), NWChem and the free software platform game DDraceNetwork.
The Phoronix Test Suite website is at www.phoronix-test-suite.com and the source can be viewed at GitHub at github.com/phoronix-test-suite/phoronix-test-suite/. The https://openbenchmarking.org/ openbenchmarking.org] has a huge number of benchmark results you can refer to if you're curious how your test results compare to others.