Steam Client Beta 1557957375 released with several Linux improvements
From LinuxReviews
Jump to navigation
Jump to search

Valve released a new beta version of their Steam store on May 15th. It has quite a few general improvements and some Linux-specific ones. Steam In-Home Streaming has been re-named Steam Remote Play and it can now be used anywhere as long as the network connection is good enough.
The subtle renaming of their in-home streaming technology to Steam Remote Play is the biggest news item in this beta. You can now have a Steam game running on your computer at home and play it on a simple tablet or laptop at a local cafe. This does require a solid network connection between your home and the cafe and the nearest Steam datacenter.
The Stem beta's also got a re-worked the shader system to enable downloading of complete collections of pre-compiled Vulkan pipelines for given games.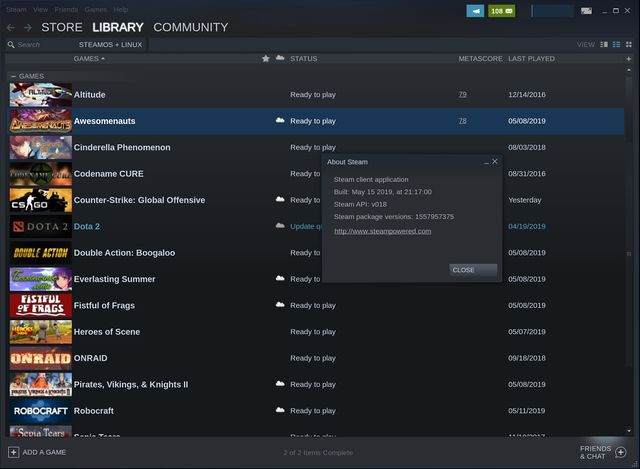 The Linux-specific improvements are:
Fixed a random Steam client crash when launching games
Fixed a bug where copying/moving files bigger than 2GB would fail with an I/O error
Improved the client's responsiveness to network changes
Fixed library ordering to prefer the Steam Runtime's libcurl over the hosts'. Fixes "Risk of Rain" and other GameMaker titles
Added support for removing old Proton versions by aliasing them to more recent ones
Added support for developers and Valve testing specifying default Proton configuration options for games even if they're not yet white-listed
The Linux Steam beta does not appear to have the just-released Proton 4.2-4.
You can participate in the Beta program by selecting Steam, Settings, Account where you simply click CHANGE... in the section titled "Beta participation".
You can find Valve's complete announcement here: https://steamcommunity.com/groups/SteamClientBeta#announcements