SeaMonkey 2.53.7 Is Released
From LinuxReviews
Jump to navigation
Jump to search
SeaMonkey is a cross-platform web browser with a mail client, IRC chat client and a HTML editor built-in. The latest release is based on the web browser backend from Firefox 60.8 and the e-mail backend from Thunderbird 60.0. This release drops support for the in other browsers long-deprecated NPAPI plugins used by things like the Adobe Flash Plugin. The graphical interface is now rendered using GTK3 on Linux. SeaMonkey 2.53.7 is otherwise mostly the same product as it was 10+ years ago. Its performance is pretty decent and it is even faster than Firefox rendering WebGL content.
written by Öyvind Sæther  2021-04-02 - last edited 2021-04-03. © CC BY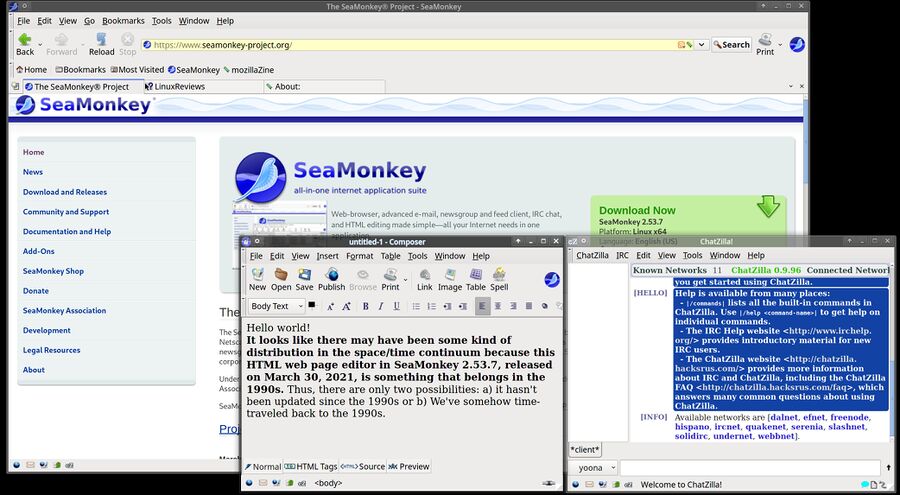 SeaMonkey v2.53.7 with a web browser window and the built-in HTML editor, and the buit-in ChatZilla IRC client.
SeaMonkey is a "Internet Suite" with roots going back to the Netscape Communicator "Internet Suite" that was somewhat popular in the 1990s. The documentary Code Rush - A Year in the Life of a Silicon Valley Supernova: Netscape and Robert Kaiser's Mozilla History: 20+ Years And Counting: An overview of origins, past, and present talk at Fosdem 2021 can give you some insights if you are particularly interested in Mozilla's and SeaMonkey's early history. SeaMonkey used to be developed by the Mozilla Corporation, it is now developed by a independent organization called "The SeaMonkey Project".
Modern SeaMonkey versions are, like the latest 2.53.7 release, basically a different graphical interfaces put on top of long-term support releases of the Mozilla Firefox rendering engine and the Thunderbird e-mail client. There are, additionally, a built-in chat client called ChatZilla and a HTML editor called "Composer". None of the latter have seen much in terms of updates or improvements since the 1990s. The "Composer" component did get one minor update in this release: It is now possible to insert forms (<form><input.. /></form>) into a HTML document. The ChatZilla chat client was barely touched this release-cycle. It got moved around within the SeaMonkey source tree, and that's about it.
SeaMonkey 2.53.7 is based on Firefox 60.8 ESR. The SeaMonkey team have back-ported security fixes from Firefox 78.8 ESR to the older version SeaMonkey 2.53.7 uses. The e-mail client in SeaMonkey 2.53.7 is based on Thunderbird 60.0.
Support for Flash and other ancient NPAPI plugins has been eradicated in this release. This may have been a decision made by the SeaMonkey developers, it could also be a simple result of SeaMonkey upgrading to a Firefox ESR codebase without NPAPI support. NPAPI plugins hasn't been a popular thing since the 1990s, so it is not a huge loss.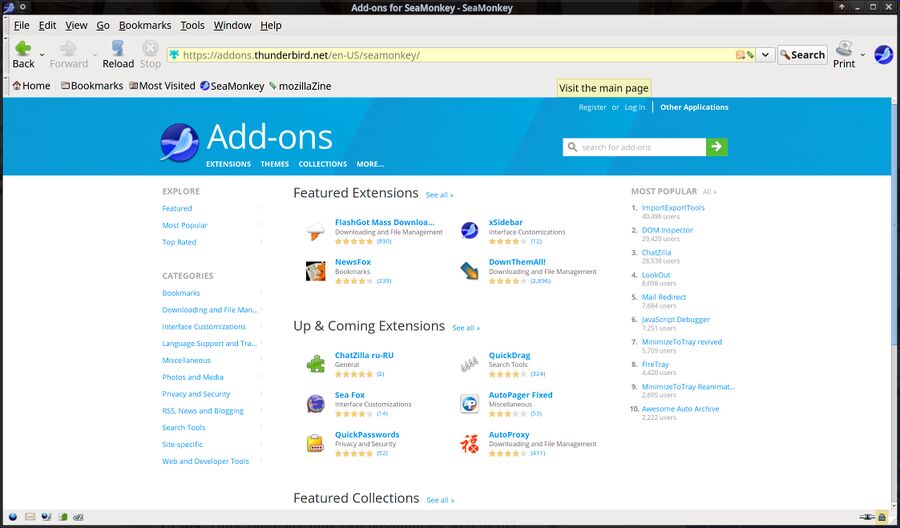 SeaMonkey 2.53.7 showing the SeaMonkey add-ons catalog.
It is still not possible to use regular Mozilla Firefox extensions in SeaMonkey. There are a few special SeaMonkey extensions available at addons.thunderbird.net/en-US/seamonkey/. Important ones like the excellent web garbage filter Ublock Origin, useful for those who never want to see an advertisement on the web, are missing from that the rather spare and limited catalog of SeaMonkey extensions.
Performance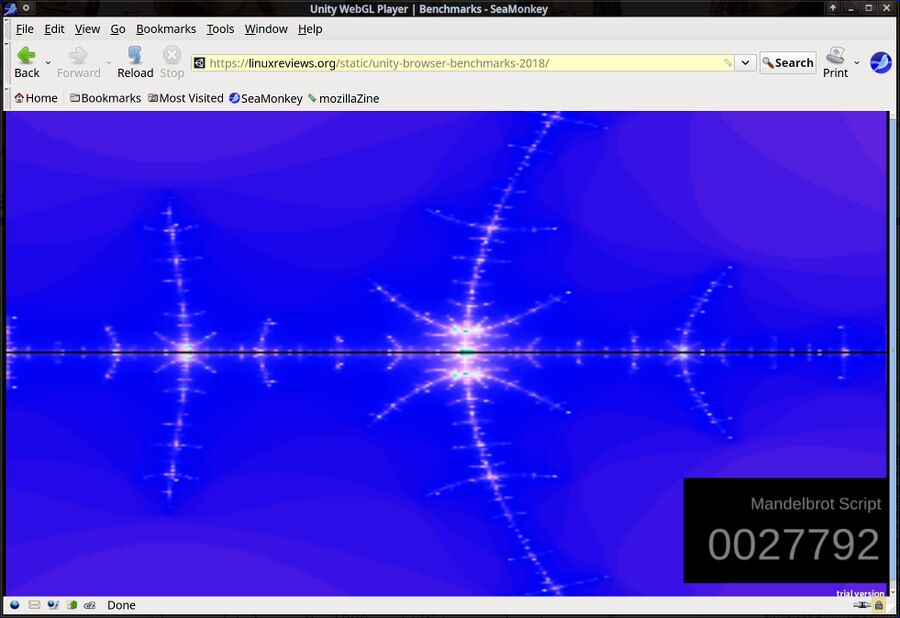 SeaMonkey 2.53.7 running the Unity WebGL 2018 benchmark.
SeaMonkey 2.53.7 is not the worlds fastest web browser, but is not that bad either. One odd thing we noticed testing it is that SeaMonkey's performance, as well as Firefox's performance, varies greatly depending on the build. Some distribution ship severly crippled versions of SeaMonkey. Fedora is one of the distributions that do that, you should avoid the SeaMonkey (and Firefox) packages that come with Fedora 33 and 34 and use the official SeaMonkey release and/or switch distribution if you use Fedora.
SeaMonkey is the fastest of the four web browsers we tested in this round in the WebXPRT 3 benchmark on one of test-machines, but not the other. The Basemark Web 3.0 results are a bit poor in comparison to Chromium-based web browsers.
Basemark Web 3.0 (higher is better)
Intel i7-5500U, 1080p, Linux 5.11.11, Mesa 21.0.1
Basemark Web 3.0 (higher is better)
AMD Ryzen 2600 / RX 470, 1440p, Linux 5.11.11, Mesa 21.0.1
SeaMonkey 2.53.7 scores slightly lower than Firefox 87 on the Intel test machine. Both Firefox and SeaMonkey fall far behind Chromium-based web browsers in the Basemark Web 3.0 benchmark.
WebXPRT 3 (higher is better)
Intel i7-5500U, Linux 5.11.11, Mesa 21.0.1
WebXPRT 3 (higher is better)
AMD Ryzen 2600 / RX 470, Linux 5.11.11, Mesa 21.0.1
WebGL is an area where SeaMonkey, oddly, scores much higher than Firefox. SeaMonkey is not that far behind Chromium-based browser. Firefox is far behind, which a bit odd since SeaMonkey is essentially an older Firefox-version.
One oddity that's worth noting in the WebGL is the difference between the official SeaMonkey builds on the SeaMonkey Project website and the builds Fedora makes. The builds in the Fedora repositories are utterly slow compared to the official builds. And there's not just a tiny difference, it's huge. What's more interesting is that something similar is going on with Firefox; the only difference is that Firefox 87 performs worse than SeaMonkey so the different seems smaller. It may be wise to avoid Fedora's SeaMonkey and Firefox packages, and perhaps the entire Fedora distribution as well as other products from IBM subsidiaries in general.
Unity WebGL 2018 (higher is better)
AMD Ryzen 2600 / RX 470, Linux 5.11.11, Mesa 21.0.1
It is fair to say that SeaMonkey is, overall, a decent browser in terms of performance - as long as you don't use a performance-crippled build.
You can find the full SeaMonkey 2.53.7 release-announcement at www.seamonkey-project.org/releases/seamonkey2.53.7/ and you can find official binaries for Windows, macoS and Linux, as well as source code, at https://www.seamonkey-project.org/releases/.