New Nvidia 440.49 Linux Driver Brings DisplayPort Multi-Stream Audio Support
From LinuxReviews
Jump to navigation
Jump to search

The latest Nvidia driver for Linux has PRIME synchronization support on Linux kernel 5.4+, multi-stream DisplayPort audio on kernel 5.5 and display hotplug support for NVIDIA High Definition Audio (HDA). There are also several fixes including one for DXVK.
written by 林慧 (Wai Lin) 2020-02-10 - last edited 2020-02-10. © CC BY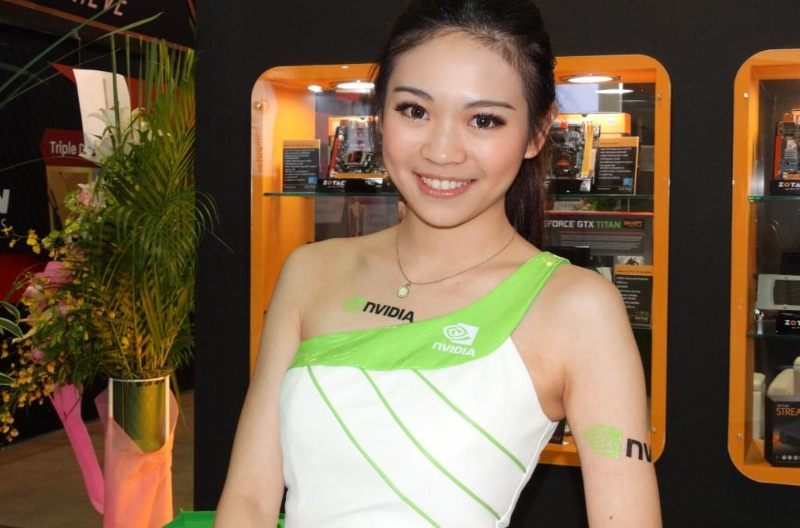 A Nvidia representative at a trade-show.
There is no way around using Nvidia's proprietary closed source display driver if you use Linux and you are stuck with a Nvidia graphics card. The current state of the free Nouveau driver makes it a no-go if you want your graphics card to do more than display a sluggish 2D desktop. A Nvidia employeed hinted that Nvidia could change their hostile attitude towards the free nouveau driver back in December. That's not happening. The good news is that their proprietary display driver keeps on getting better.
Linux kernel 5.5 supports audio over DisplayPort multi-stream and so does the latest Nvidia display driver if it is running on kernel 5.5+.
Users of laptops (or desktops) with two graphics cards can again enjoy support for PRIME synchronization on machines with kernel 5.4+. PRIME allows one graphics card to render graphics which is output on another graphics card. The Nvidia driver has had support for it since version 370.23 and the kernel has had support for it since version 4.5. Changes in Linux kernel 5.4 broke PRIME synchronization on previous versions of Nvidia's proprietary driver.
The Nvidia 440.59 display driver release notes mention that the driver fixes a bug where X would crash upon exiting DPMS is what they call "HardDPMS" is enabled. The VESA Display Power Management Signaling (DPMS) standard has no such DPMS mode so we are not clear on what they mean by "HardDPMS".
Those playing games in Wine with the DXVK Direct3D to Vulkan translation layer will be happy to know that NVidia fixed a bug which would make games endlessly loop during shader compilation if the absence of a OpSource instruction.
The Nvidia 440.59 display driver release notes do mention that using Vulkan with page flipping enabled on Quadro cards can lead to graphics corruption.
The Nvidia 440.59 Linux display driver is available at nvidia.com.