Linux Desktop Market Share Fell 0.88% In August 2020
From LinuxReviews
Jump to navigation
Jump to search

Data from Netmarketshare, based on web browser usage, indicate that the Linux desktop market share fell 0.88% to 2.69% in August. Their data is a bit questionable since 0.88% is just 0.01% off what Valve reported as the total Linux market share on their Steam gaming platform. It could be that one fourth of all Linux users lost interest after trying it for a few months. It is also possible that those Linux-users didn't exist in the first place.
written by 林慧 (Wai Lin) 2020-09-04 - last edited 2020-09-05. © CC BY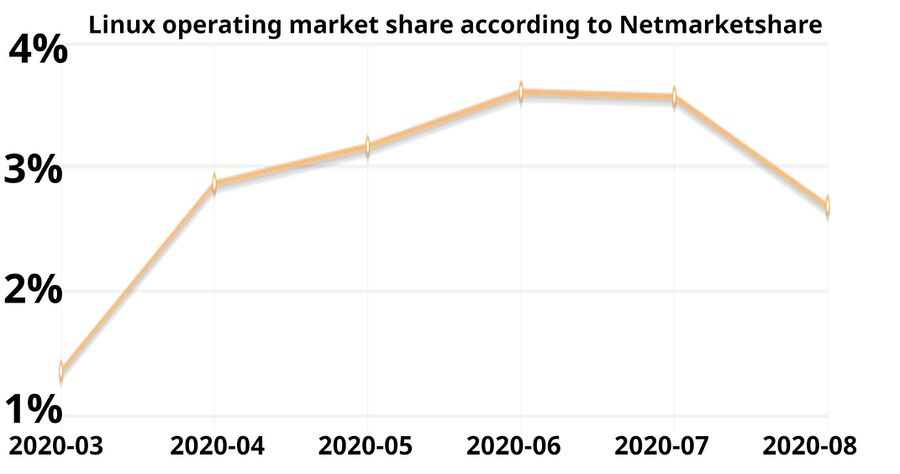 The Linux desktop market share has seen some large swings this year.
The GNU/Linux desktop/laptop share has seen some interesting swings this year if the data put forth by Netmarketshare is to be believed. Their data show the Linux desktop/laptop operating system market share rising from 1.47% in January 2020 to a top at 3.61% in June. Their August Linux market share figure is 2.69%, down 0.88% since July. That works out to one fourth of all Linux users losing interest in Linux desktop/laptop operating systems in just one month.
A 2.69% Linux desktop market share is still much higher than the 1.47% figure reported by Netmarketshare in January 2020.
Linux market share 2020
According to Steam and Netmarketshare
January
February
March
April
Steam
NMS
Steam
NMS
Steam
NMS
Steam
NMS
0.90%
1.47%
0.89%
1.87%
0.86%
1.36%
0.89%
2.87%
May
June
July
August
Steam
NMS
Steam
NMS
Steam
NMS
Steam
NMS
0.87%
3.17%
0.88%
3.61%
0.86%
3.57%
0.89%
2.69%
The hardware survey numbers Valve publishes for their Steam game store/launcher have not seen any swings similar to the Netmarketshare data. Their numbers have held steady around 0.88% all year.
Linux distributions are not doing very well in a broader context. Two thirds of all web traffic come from mobile devices. Android accounts for 42.72%, Windows 33.48%, iOS 17.65%, macOS 3.68% and Linux on Desktop/Laptop devices account for a mere 1.07% of the overall market.