Linux 5.5rc7 Is Released
From LinuxReviews
Jump to navigation
Jump to search

Linux 5.5 will be released next week barring any huge and important last minute patches. Now much was changed in rc7 since the last release candidate with the majority of patches arriving the last two days. There is nothing ground-breaking in the changelog, only minor fixes in the various sub-systems.
written by 윤채경 (Yoon Chae-kyung)  2020-01-20 - last edited 2020-01-20. © CC BY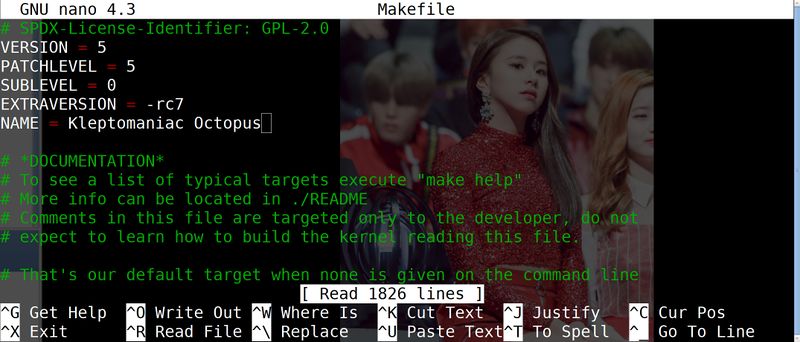 The Linux 5.5 rc7 Makefile.
Linus Torvalds had this to say about the release:
"Well, things picked up at the end of the week, with half of my merges happening in the last two days.
Whether that is the usual "send the weeks work to Linus on Friday", or a sign that things are just picking up in general after the holidays, I don't know. If the former, I'll probably just release the final 5.5 next week. But if it looks like there's pent-up fixes pending next week, I'll make another rc.
Nothing in here looks particularly odd. Drivers is about half of the patch (networking, sound, gpio, gpu, scsi, usb, you name it), with the rest being the usual mix - arch, networking, filesystems, core kernel.. The diffstat looks mostly fairly nice and flat, with a couple of exceptions that look harmless (a few device tree file updates, some pure code movemment, and a couple of driver fixes that ended up changing calling conventions to get done and as a result got to be more lines than the bug otherwise would have merited).
Please do test, there should be nothing scary going on.
Linus"
The git changelog does not have any huge signifficant changes. The gen9 Intel iGPU patches for the Intel iGPU hardware flaw which allows one process to get information from another are in this kernel. Those patches have also been back-ported to older stale-branch kernels. A lot of other issues with the i915 kernel driver for Intel iGPUs, like frequent hangs, remain. The 5.5 git tree has otherwise been stable (as long as you are not using a Intel iGPU) for quite some time now.
The message from Linus Torvalds makes it sound like Linux 5.5 will likely be released next week.
Linux 5.5 rc7 is available at kernel.org.