Krita 4.2.0 released with over 1000+ bugfixes and many new functions
From LinuxReviews
Jump to navigation
Jump to search
The new major version of the popular graphics editing and painting program Krita is out and it's a big update. Better brush performance and a Python animation API are among the high-lights for Linux users.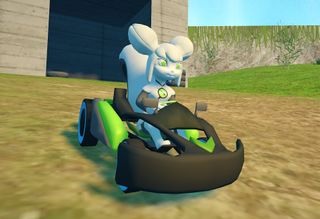 Krita 4.2.0's also got full support for HDR images on HDR displays on Windows[1]. Linux has been able to do 10-bit color for a long time so it's a bit strange that this Intel-sponsored feature is restricted to that platform.
The new version, does, of course, have new splash-screen featuring Kiki: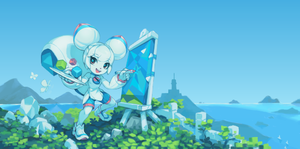 Pixel data generated when brush painting is now managed by lock-free hashmaps. This allows for multithreaded calculations related to brush painting. The practical benefit of utilizing many CPU cores is a much more responsive Krita. This is a very noticeable improvement.
There's also a big performance-improvement when selecting areas using normal brushes. This used to be really slow. That's been improved and now it's smooth.
A python API specifically for animations is also a big highlight. This allows for all kinds of interesting plugins. There are already a few [2][3] and more will likely come in the near future.
The Artistic Color Selector has been cleaned up and improved with new features: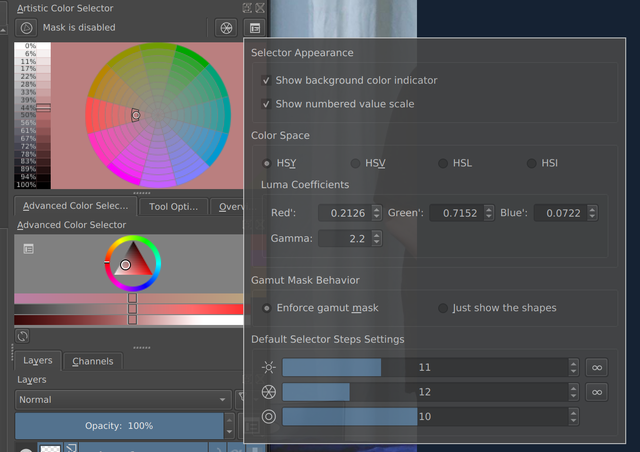 There's also new gamut masking so you can limit the amount of colors shown.
Krita's move tool now supports "undo" operations and they become part of the general undo history so you can undo more than one.
The layer view can now resize the small thumbnails showing the layers. That's really useful if you are working with a lot of layers, making them big lets you see what's what at a glance.
A new feature called "Noise Generator" allows you to .. add noise to your artwork.
The "Release Video" has more information. It is 20 minutes long.
<embedvideo service="youtube">ZbnQn6h5q0g</embedvideo>
You can read more about the new Krita in the Krita 4.2 Release Notes.
The new release is not yet available on their download page as of now for some reason.[4] You can find the source as well as Linux AppImages and binaries for Windows and Mac OS X at https://download.kde.org/stable/krita/4.2.0/
The Linux AppImage works as a standard binary, just download it and make it executable with chmod a+x and run it like any other binary if you want to try Krita 4.2.0 today. It may take a while before the new version reaches your distributions repositories.
notes