GNUnet 0.14.1 Is Released
From LinuxReviews
Jump to navigation
Jump to search

The latest version of the technically interesting GNUnet overlay network is so buggy that you are lucky if it stays up for five minutes before gnunet-service crashes and you're disconnected from the network. The sparse graphical GTK applications for it are still practically useless jokes that look like they were coded by a drunk highschool student during a lunch-break.
written by 윤채경 (Yoon Chae-kyung)  2021-04-09 - last edited 2021-04-09. © CC BY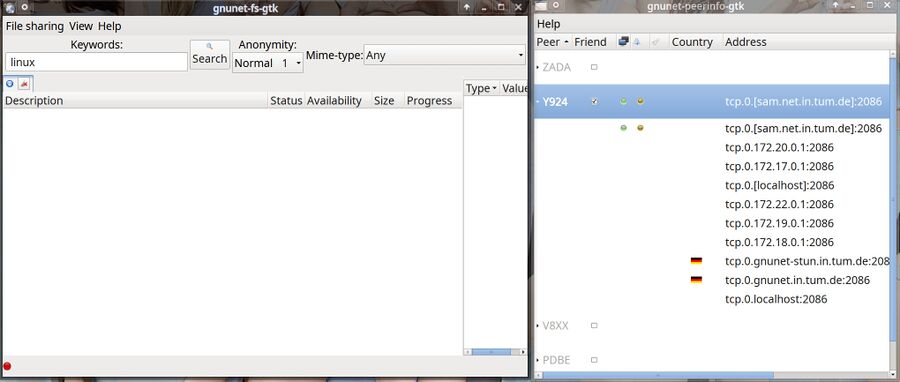 gnunet-fs-gtk from GNUnet 0.14 insisting that it is not connected even though gnunet-peerinfo-gtk next to it shows that there are connected peers.
GNUnet is a overlay network which, in theory, could support secure file sharing, alternative DNS, chat applications, websites and all kinds of other network-related applications. It has been in development for 20 years and the first public release was announced on November 5th, 2001.
New GNUnet releases have, historically, been huge disappointment. Getting it up and running has always been kind of difficult, and the amount of practical things you find that you can do with it once you are passed that hurdle has always been limited to verifying that it works. There are some GTK applications for it. "Conversations", "File Sharing", "Namestore", "Peerinfo", "Statistics" and a setup tool called "gnunet-setup".
The latest GNUnet 0.14.1 is no different, it is a huge disappointment. It is actually worse than previous releases; it just crashes within minutes of starting it. The GNUnet GTK applications, provided by a seperate package called gnunet-gtk, remain unimpressive. All of them insists of starting with their windows full-screen every time you launch them. None of them do anything useful. The "File Sharing" application gnunet-fs-gtk and the "Conversations" program gnunet-conversation-gtk are the only ones that could. gnunet-fs-gtk 0.14.0 likes to insist that it is not connected even if gnunet-peerinfo-gtk is open side-by-side with a list of connected peers. gnunet-conversation-gtk has a field where you can type in a "target" you would like to start a conversation with. There is, of course, no indication of what that would look like or what your target would be so good luck getting a "conversation" going even if you and your "target" are in the next room and you are both trying to figure out how that joke of a program is supposed to work.
The GNUnet homepage is at gnunet.org and the 0.14.1 release-announcement can be read in all its glory at gnunet.org/en/news/2021-03-0.14.1.html. It may be of interest if you are a developer interested in overlay network technologies. It is otherwise a joke and a complete waste of time.