GNUnet 0.13.3 Released With Hand-full Of Bug Fixes
From LinuxReviews
Jump to navigation
Jump to search

The latest GNUnet release has seven bug-fixes, most of which are small and unnoticeable. This is just a network back-end release, the latest GNUnet-GTK package with graphical programs is still 0.13.1 released in July. Those of you who participate in the GNUnet overlay network by running nodes may want to consider upgrading.
written by 윤채경 (Yoon Chae-kyung)  2020-09-07 - last edited 2020-09-07. © CC BY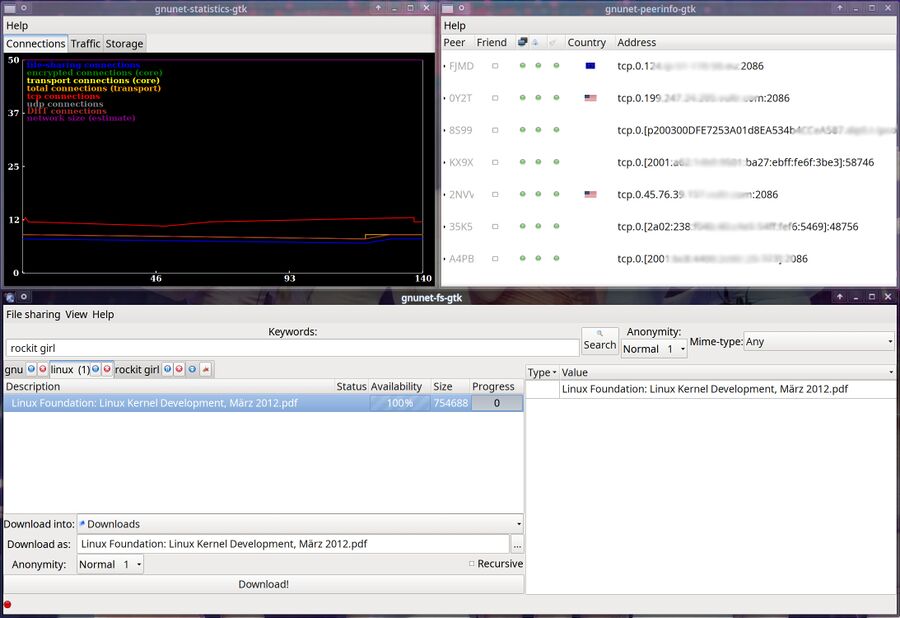 A few GNUnet GTK programs: gnunet-statistics-gtk, gnunet-fs-gtk and gnunet-peerinfo-gtk.
GNUnet version 0.13.0 was major release with an entirely new network protocol. This is just a very small GNUnet 0.13.3 bug-fix release has no more than a hand-full of minor fixes:
REST

re:claimID attestation API change reflected in endpoint naming.
Fix regression in NAMESTORE REST API endpoint processing.

RECLAIM
"Attestations" renamed to "Credentials". Credentials are now converted to "Presentations" when a ticket is issued in preparation for DID-style VCs and Privacy-ABCs.
UTIL
Fix gnunet-qr device parameter.
SET
Separated into set intersection (SETI) and set union subsystems (SETU).
BUILD

Fix build on OpenBSD.
Correctly check for required libsodium version. #6506
There was no new side-by-side GNUnet-GTK release this time. The latest package containing the graphical tools one might want in order to actually use GNUnet is still 0.13.1 from July this year.
The GNUnet overlay network is still not very practically useful. It is a interesting technology with a lot of potential. You may want to check out the gnunet.org website and the "GNUnet Reference Manual" and the 0.13.3 release announcement if you are particularly interested in overlay networks with anonymity and security features. You may also want to read our short article about GNUnet.