GNU Linux-libre 5.12-gnu Is Released
From LinuxReviews
Jump to navigation
Jump to search

GNU Linux-libre is a modified version of the Linux kernel that is truly free software thanks to the removal of all the evil binary blobs modern GNU/Linux distributions include. The ideal is very noble, but the practical result is a crippled and practically useless Linux kernel. A Linux-libre kernel based on Linux 5.12 is now available for those find that to be appealing.
written by 윤채경 (Yoon Chae-kyung)  2021-04-26 - last edited 2021-04-27. © CC BY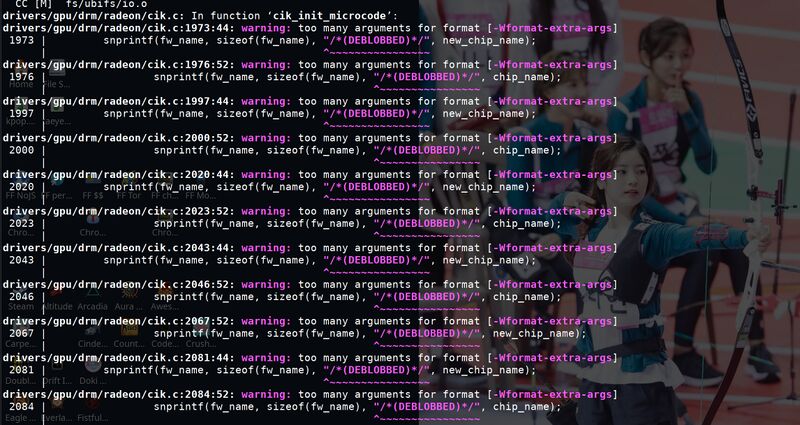 GNU Linux-libre 5.12-gnu compiling. Notice the warnings related to the DEBLOBBED amdgpu display driver. You won't get any binary firmware blobs for AMD graphics cards showed down your throat with Linux-libre 5.12-gnu. You won't be able to use a AMD graphics card as more than a door-stop, but you will feel content knowing that your Linux kernel is free of evil binary blobs.
Most GNU/Linux users, even many of those who are die-hard free software enthusiast, are blissfully unaware that a large portion of the basic functionality the Linux kernel provides rely in small binary blobs. The binary blobs tend to be freely distributable, but that alone is not enough to make something free software. The source code for those blobs are usually not available, so they fail to provide the four essential freedoms required to make a program quality as being free software.
A close-up inspection of /lib/firmware/ on any modern GNU/Linux installation will reveal one horrifying truth: Most of the driver functionality the Linux kernel provides relies on binary firmware blobs. find /lib/firmware/|wc -l will reveal that most modern GNU/Linux distributions are infected by 3000 binary blobs.
The GNU Project has a solution: The GNU Linux-libre kernel. It is a specially patched GNU-approved Linux kernel that does not include or rely on any binary blobs unless the source for those blobs is available under a free software license. Linux-libre version 5.12-gnu was just released. It was released as separate tarballs with updated clean-up scripts, kernel patches and ready-to-go packages with cleaned-up Linux kernel sources in several file compression formats. All the files in the Linux-libre 5.12-gnu release can be acquired from https://linux-libre.fsfla.org/pub/linux-libre/releases/5.12-gnu/.
The release announcement for Linux-libre 5.12-gnu, which came in the form of a mailing list message, notes that this release adds patches eradicating new binary blobs introduced yesterday's Linux 5.12 release. Those include the OcteonTX2 crypto device, the MXL692 dvb, the Allegro-DVT, the MT7921E wifi chip and BCM VK accelerators.
One tiny little problem you may run into if you replace the stock kernel your GNU/Linux distribution ships with Linux-libre 5.12-gnu is that most of your hardware will stop functioning partly or completely. Luxuries like audio, accelerated graphics, Wi-Fi, Bluetooth and a large number of USB devices will simply not work without the firmware blobs required to initialize them.
A modern computer isn't all that practically useful if most of the devices that are in it, as well as those connected to it, either do not function at all or don't do more than a fraction of what they are supposed to. That's the situation you end up with if you install the Linux-libre 5.12-gnu kernel.
You can learn more about the GNU Linux-libre kernel at www.fsfla.org/ikiwiki/selibre/linux-libre/ if you would very much like to turn a perfectly good functioning computer into something less functional than a typewriter from the 1960s.