GNOME Internet Radio Locator 2.2.0 Is Released
From LinuxReviews
Jump to navigation
Jump to search

The latest version of the map and location focused radio tuner for GNOME has a number of new radio stations in Europe and Scandinavia available on its map. There's also updated translations for several languages.
written by 권유리 (Kwon Yu-ri)  2019-12-26 - last edited 2019-12-27. © CC BY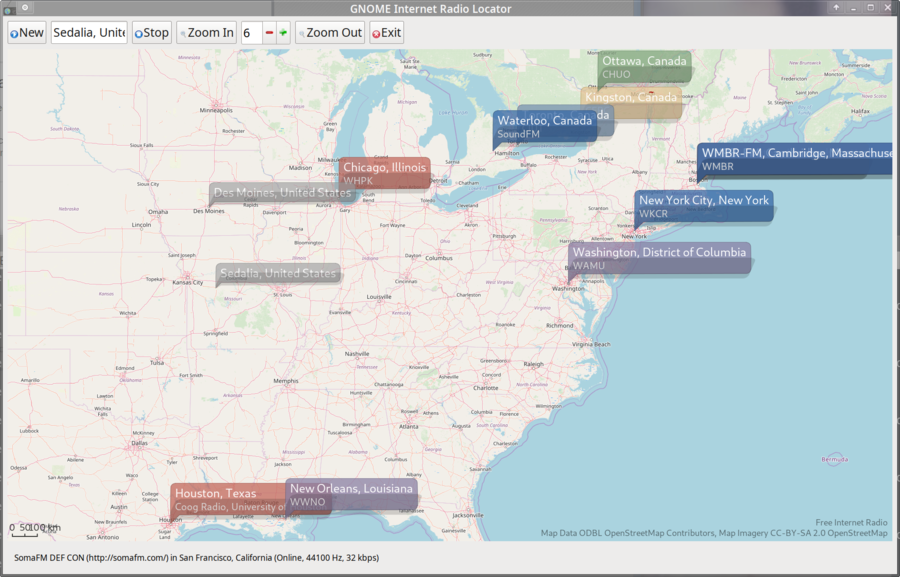 GNOME Internet Radio Locator 2.2.0 showing some of the available radio station in the United States of America.
The GNOME Internet Radio Locator is a radio tuner which differs from other Internet radio tuners in its focus on location rather than genre. Radio stations are shown on a map using clickable markers. There is a search function which searches by locations - not radio station name.
The latest versions adds a new map marker palette and the following radio stations to the map:
WTBU (Boston, Massachusetts)
WBUR (Boston, Massachusetts)
Midlar (Tórshavn, Faroe Island)
MBCFM (Dubai, Saudi Arabia)
Radio Brume (Lyon, France)
1431 AM (Thessaloniki, Greece)
Radioeins (Berlin, Germany)
ANR (Aalborg, Denmark)
NRK Sápmi (Kárášjohka, Norway)
Radio Alta (Alta, Norway)
Radio Nordkapp (Honningsvåg, Norway).
There is still a notable lack of Asian radio stations available. There are a hand-full of radio stations in China and not a single one both Japan and South Korea.
GNOME Internet Radio Locator is made by Norwegian developer Ole Aamot.
Major distributions do not have GNOME Internet Radio Locator in their repositories. Compiling it from source is fairly easy if you are a wizard who knows how to compile source.
The latest version is available from download.gnome.org as gnome-internet-radio-locator-2.2.0.tar.xz and the development source tree is at gitlab.gnome.org. That is also where the issue tracker is hosted.
The GNOME Internet Radio Locator homepage is at www.gnomeradio.org