GIMP 2.10.24 Is Released With A New "Negative Darkroom" Feature
From LinuxReviews
Jump to navigation
Jump to search

GIMP 2.10.24 may sound like a minor bug-fix release, but that's not the case. There is a brand new "Negative Darkroom" for photo negatives, many improvements to commonly used file formats (JPEG, PNG, TIFF, etc), better support for off-canvas editing and many smaller subtle bug-fixes in this release.
written by 윤채경 (Yoon Chae-kyung)  2020-04-02 - last edited 2021-04-02. © CC BY
The GNU Image Manipulation Program is the go-to free software photo editor for most GNU/Linux users and many Windows and macOS users as well.
The latest GIMP 2.10.24 release is in principle a "minor" bug-fix release, yet it has a whole lot more than you would expect from a minor-minor point release. It is mostly the same program, there are no big changes like there are in the development branch for the next major version that will be released as GIMP 3.0, but there are some noteworthy new features.
You can install development version, currently 2.99.4, from flathub-beta if you are curious to see what the next major GIMP release will look like:
flatpak remote-add --user flathub-beta https://flathub.org/beta-repo/flathub-beta.flatpakrepo
flatpak install --user flathub-beta org.gimp.GIMP

You can then run it with:
flatpak --branch

=

beta run org.gimp.GIMP

(you could, alternatively, set it to the default GIMP flatpak by running flatpak make-current --user org.gimp.GIMP beta. You could then run the beta by only running flatpak run org.gimp.GIMP)
GIMP 3.0 is pretty far away from becoming a stable release, so we recommend that you stick with the new 2.10.24 release for now if you use GIMP regularly and you do not want random crashes or unexpected behavior.
"Negative Darkroom"

GIMP with a photo negative open.
GIMP 2.10.24 has a new GEGL conversion filter for photo negatives. It has a lot of options you can adjust. Adjustments can be saved as presets so you can re-used them on multiple images. This new feature can be found under Tools ▸ GEGL Operation ▸ Negative Darkroom.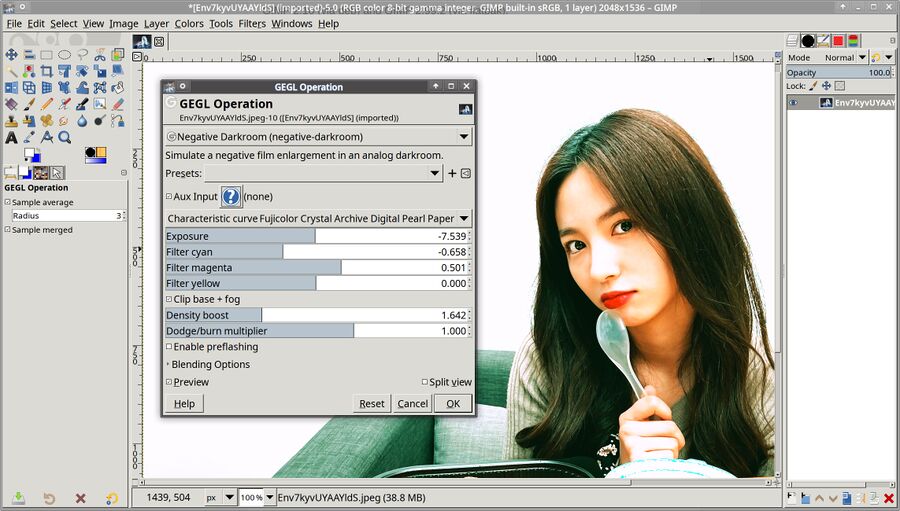 New "Negative Darkroom" in GIMP 2.10.24.
The new "Negative Darkroom" feature seems to have a lot of useful options though it is very easy to move the wrong slider the wrong way and get a much, much worse result. It is, as with most of the features GIMP has, only a matter of clicking Reset and staring over if you make a mess of it.
Better Photo Metadata Support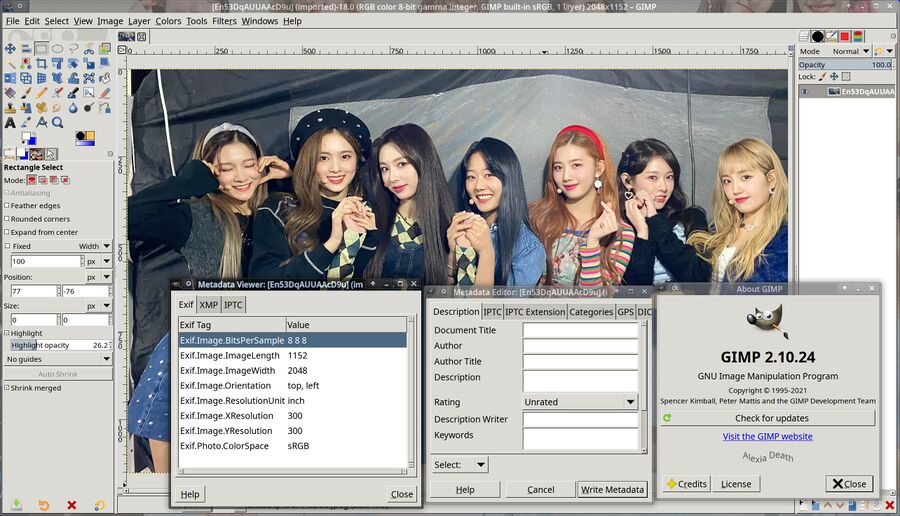 The improved metadata viewer and editor in GIMP 2.10.24.
GIMP has both a photo metadata viewer and a photo metadata editor available in a sub-menu under Image ▸ Metadata. Both of these have been polished and improved since the last stable 2.10.22 release. There is also some re-work done beneath the hood. GPS data in images is handled better, and IPTC and XMP tags that are similar are now mapped together.
The GIMP 2.10.24 release-notes notes that:
"There are still a lot of improvements to be made in the metadata area though we are probably on the right path."
We could not agree more. Setting default metdata is only possible as an after-thought in Edit ▸ Preferences ▸ Default Image and all you can set there is a (Exif) Comment. Running a tool like exiv2 with a default configuration file is still preferable if you want to set several properties on most of the images you make; you can type those things into the improved metadata editor every time in GIMP, but that is a lot of work. It would be a lot easier of GIMP had support for loading and saving metadata profiles you so you could easily apply 5 pre-defined fields to an image (take a look at the meta-data in File:GIMP.2.10.24-metadata-features.jpg, the image shown above, to see why we think that would be a good idea).
Better File Format Handling
GIMP has been a tool capable of opening and saving as good as all image formats for years and years. Yet there is still improvements going on in that area. The latest version has minor improvements to its handling of TIFF, HEIF, PNG, JPEG, BMP, DDS and Raw images.
GIMP does not handle Raw images itself, it just sends them to either darktable or TawTherapee. This GIMP release adds support for the yet-to-be released darktable v3.6.
Off-canvas point snapping
The GIMP core has had support for "out-of-canvas" operations since 2.10.14. This release adds support for out-of-canvas point snapping. Why you would want to paint on elements outside the visible canvas is a good question. Perhaps it is useful to some artists when they use specific tools or filters, perhaps there are other reasons for it. Regardless of the purpose: Point snapping support makes it possible to use more tools outside of the visible canvas.
Other Improvements
A close-up inspection of the git commit log for the 2.10 branch reveal that here are a whole lot more bug-fixes and other minor fixes than what is indicated in the 2.10.24 release-announcement. Most of them are very small and hard to notice, but they are there - and it is fair to say that the GIMP developers have done a whole lot of work to ensure that GIMP 2.10.24 is a very stable and very usable release.
Acquiring The Technology
Binary ready-to-be-used GIMP releases for Windows and macOS can be acquired from www.gimp.org/downloads/.
GNU/Linux users are typically best served by using the distributions version, it is typically up-to-date with new releases like this one becoming available after a week or two. GNU/Linux users can, alternatively, install the latest GIMP version from Flatpak by running
flatpak install https://flathub.org/repo/appstream/org.gimp.GIMP.flatpakref

The Flatpak version can then be started with
flatpak run org.gimp.GIMP

or flatpak run org.gimp.GIMP//stable (you only need the //stable part if you have multiple versions installed). Flatpak installs a .desktop file, so it will also show up in your desktop environments menu.
There is currently no release-date set for GIMP 3.0, and we do not expect it to be released any time soon. All we can say about it for now is that the 3.0 development branch is starting to look very good and it is, to a very large degree, stable and functional. You should stick with the stable version if you use GIMP for actual production work - but you could consider the 3.0 branch if you don't mind if GIMP crashes or does something unexpected once in a while.