Balancing liberties, privacy, and accessibility
From LinuxReviews
Jump to navigation
Jump to search

Through my work as a university teacher, I am in a position where my decisions regarding technology directly involve and affect other people. With time, I have seen my views and values change.
Original story by Olivier Cleynen. Published 2021-03-23, Originally published 2020-04-05.
This work is available under the Creative Commons Attribution-ShareAlike license.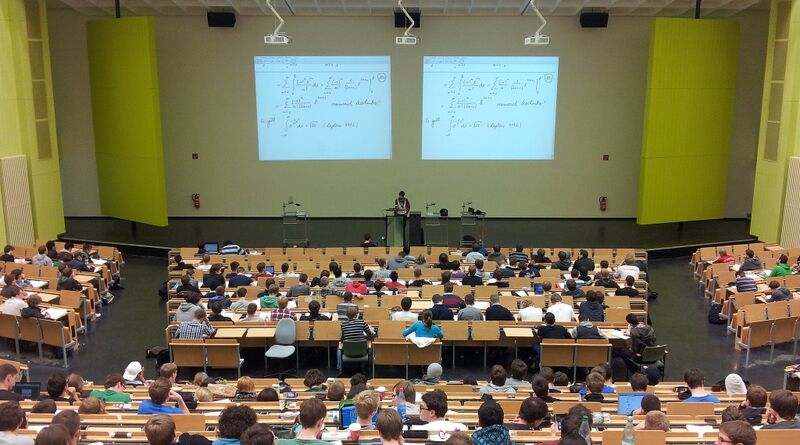 A lecture-hall at a university. Picture by nikolayhg/Pixabay.
In 2007 I was con­vinced that soft­ware free­doms (as incarnated by the open-source movement) were, by far, the most important ingredients of a healthy computerized society. At that time "iPhone" and "smart­phone" were hardly part of our vocabulary, Ama­zon was an online book­store, and Facebook had two billion users less than it has today.
Over time, I have seen that internet land­scape change mostly for the worse, into a phenomenal five-company marketplace. But now, I feed that system too, and have mystudents, relatives and colleagues feed it with me.
The first thing that happened is that I have started doubting the free/open-source movement's ability to enable well-functioning commercial relationships. There happens a time when the open-source, privacy-respecting, internally-hosted tool breaks down and you have no direct support line of contact to fix it. A lecture hall with 70 students in the middle of a lecture is not a good place to start debugging where the lost network packets end up - you need some­one else to handle that, and a commercial contract of some kind is the best way to get help. Thus at some point three years ago I started asking myself how much learn­ing is taking place in addition to how much personal data is harvested, when choosing software tools.
Secondly, I have come to realize that accessibility is hard. My sibling and I put an iPad in the hands of our now 97 year-old grandmother, because it is works better for her than anything else. I hate the un-rootable, un-repara­ble, un-upgradeable, un-recyclable design, and the pay-to-play model of the App store. And I love the human connection and sheer life experience that the device enables.
Many aspects of technology contribute to its accessibility, and the results are largely invisible to those of us who are able-bodied and financially secure. Last summer, Chris Arnade's book about poverty in America and Haben Girma's book about life as a deaf and blind university student greatly widened my field of view. I have also realized that lack of accessibility helps sustain our tremendous lack of diversity in the academic scientific community.
And so now, in my soon-to-be online course about flu­id dynam­ics, I use YouTube to share videos and not a local file drop server. I understand that accessible can mean having subtitle captions available because you do not hear/understand well, or obtaining the right quality/size balance for a crappy hospital waiting room WiFi, or having the video "just work" with­out wait­ing over the occasional down­time, with­out installing special decoding software, with­out typing your password on some­one else's computer, or other hurdles that students often have to overcome.
This is not a dishearted change of philosophy. I still support the development of privacy-respecting, decentralized web services to the best of my ability. I am very proud of our new open-source, locally-run peer-graded home­work program. I have simply become more careful in balancing individual liberties, the protection of privacy and intimacy, and the accessibility of my university courses.
---
See also: "Overtaking Proprietary Software Without Writing Code", a one hour long presentation about free software Olivier Cleynen did at the Chaos Computer Club in December 2007.