Wine Launcher 1.4.46 Is Released
From LinuxReviews
Jump to navigation
Jump to search

The Russians are working hard on a Wine front-end called Wine Launcher, written for Node.JS, that allows you to launch Windows games in a Wine sandbox by clicking on a nice graphical list of games and other software. The latest version supports Pipewire, VK3D3 using Proton, Winetricks and Squashfs compressed snapshots.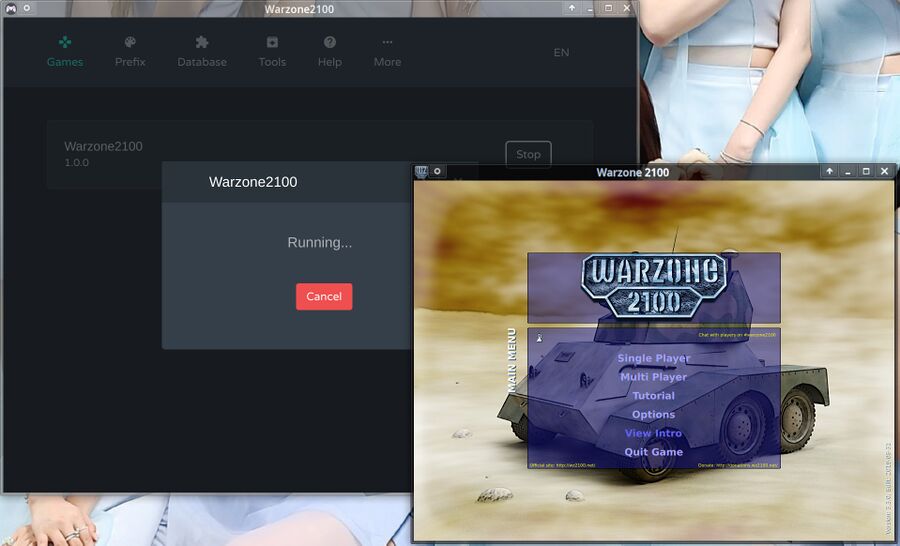 Warzone2100, launched from Wine Launcher, running in Wine.
Wine Launcher is a simple front-end for Wine that lets you use separate WINEPREFIX= prefixes and different configurations for each game you install using it.
Wine Launcher version 1.4.46 is the seventh minor version of it that has been released this month. The Russians are producing new releases on a near-daily basis. A lot of new features have been added in the last dozen releases. The latest versions allow you to compress games to SquashFS images, the PipeWire multimedia server is now supported, VKD3D Proton has been added to the long list of Wine implementations a game can be configured to use, it is now possible to install libraries using Winetricks and the launcher itself has been re-designed.
Wine Launcher is still somewhat cumbersome to use as of version 1.4.46. Applications added to a prefix container have to be placed in C:\Games or it won't be possible to add them to the menu (You can't just select a folder and binary). The SquashFS image compression is also a bit problematic since it makes the Wine prefix folder read-only, which means games can't save savegame files and things like that unless you make special symbolic links for the folder(s) a game needs to write to. You're screwed if you don't know what files or folders beforehand.
Wine Launcher is overall an alright, though not all that straightforward, tool for managing Windows games on Linux computers. It has a homepage at http://wine.hostronavt.ru/ and a source code repository, with binary releases, at GitHub.