Thunderbird 78 Has Finally Got Built-In Calendar And OpenPGP Support
From LinuxReviews
Jump to navigation
Jump to search

Thunderbird has been relying on two popular extensions for what should be and now is basic built-in features: Enigmail for OpenPGP message encryption and Lightning calendar support. These features are now finally built into the latest Thunderbird release. There is a dark and problematic trade-off: All the existing Thunderbird extensions have now been deprecated and replaced with new "MailExtensions" and the built-in OpenPGP support is disabled by default because it is "a work in progress". OpenPGP e-mail users may want to forgo this "upgrade".
Thunderbird is free software available for Windows, macOS and GNU/Linux.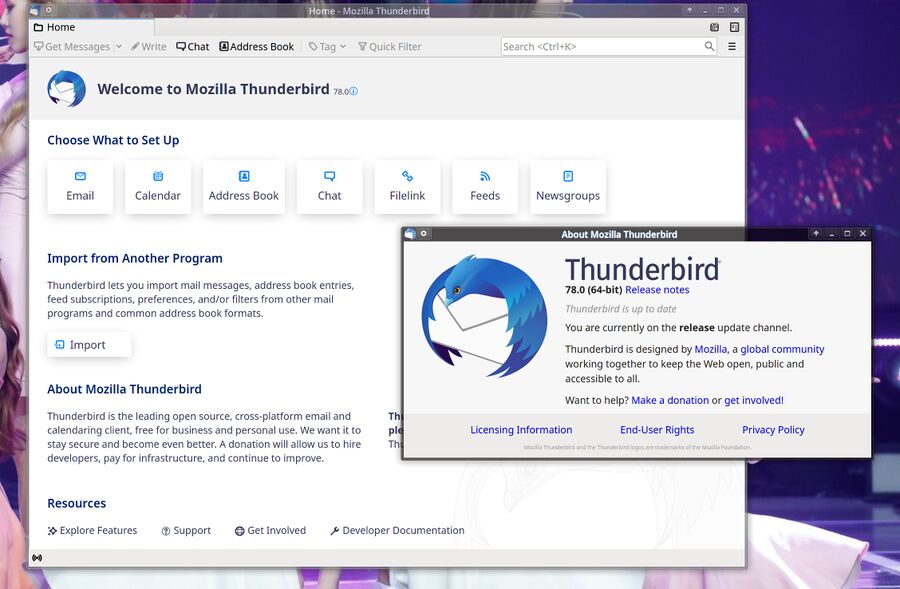 The default stock no-configuration out-of-the-box Thunderbird 78. Because.. allowing you to keep your accounts and configuration when you upgrade from Thunderbird 68 is too much to ask.
The new major version of the somewhat popular free open source software Thunderbird e-mail client has many very big changes both in the interface and under the hood. For one, the entire plugin system has been re-engineered.
Old XUML Extensions Are Out, MailExtensions Are In
All old XUL-based plugins and extensions are now null and void, those will no longer work with this release. The old plugin system has been replaced with a entirely new plugin system. The new extensions available using the new plugin system are called "MailExtensions". There are some available at addons.thunderbird.net but there are not that many who have been ported from the old XUL-based plugin system.
Built-In OpenPGP support
Enigmail, used by many to provide OpenPGP support to Thunderbird, is one of the important extensions that have not been fully ported to the new MailExtensions system. And it won't be. OpenPGP support is instead built into the latest Thunderbird release. It is, however, disabled by default because it is "still work in progress". It can be enabled by setting mail.openpgp.enable to true in the configuration editor. The configuration editor can is available as a button at the very bottom of Edit ▸ Preferences ▸ General.
Those with the old Enigmail extension installed can upgrade it a special non-functional version of Enigmail that lets you migrate keys and settings to the built-in OpenPGP feature once it is enabled. It will provide a special-purpose menu item at Tools ▸ Migrate Enigmail Settings. And that is all the limited Enigmail extension for Thunderbird 78 does. That extension can safely be eradicated once the settings it stored are migrated. The migration process may work fine or you may find that Thunderbird decides that it should spend eternity "Applying your account settings ...". There is a handy Cancel button you can use if that's the case (it probably will be). You can use Tools ▸ OpenPGP Key Management if when the Enigmail settings migrator hangs.
The Lightning Calendar is Now Built-In
The "Lightning" extensions many use to get basic calendar support in Thunderbird has been built into version 78. It works fine for managing basic tasks, appointments and events.
You Can Keep Your Settings If You Fight For Them
You will, of course, have to actually have your regular Thunderbird user profile loaded in the latest Thunderbird release to migrate your Enigmail settings as well as your other settings. That does not happen by default on GNU/Linux. My Thunderbird created a brand new profile in $HOME/.thunderbird and used that instead of the one used by earlier versions since I moved on from claws-mail years ago.
You can make Thunderbird 78 load your existing accounts and settings. First, make a back-up of your existing settings ($HOME/.thunderbird):
tar cfvJ $HOME/thunderbird-settings.tar.bz2 $HOME/.thunderbird
You will likely notice that one of the sub-folders in $HOME/.thunderbird is bigger than the others folders in there. That would be your existing profile. It was, in my case, named .thunderbird/g24wi63z.default-default. Next, edit $HOME/.thunderbird/profiles.ini and change the Name= of the profile folder with your existing settings to something you can easily recognize like PleaseKeepMySettings. Next, start Thunderbird with thunderbird -ProfileManager and select your existing profile.
Visual Changes
Thunderbird 78 has a new more unified "account setup" wizard. It is designed to make it easy to get buy a new e-mail account or add an existing e-mail account to Thunderbird. The wizard will show "partners" you can buy a e-mail address from if you opt to get a new one. There is only one e-mail partner, something called gandi.net, listed. They want everything from $1 to $40 per year for the privilege of having an e-mail account with them.
Account management seems harder, not easier, to use with the new re-designed Account Settings interface. It is manageable so the re-design is not the end of the world. It just does not seem like what you could call an improvement.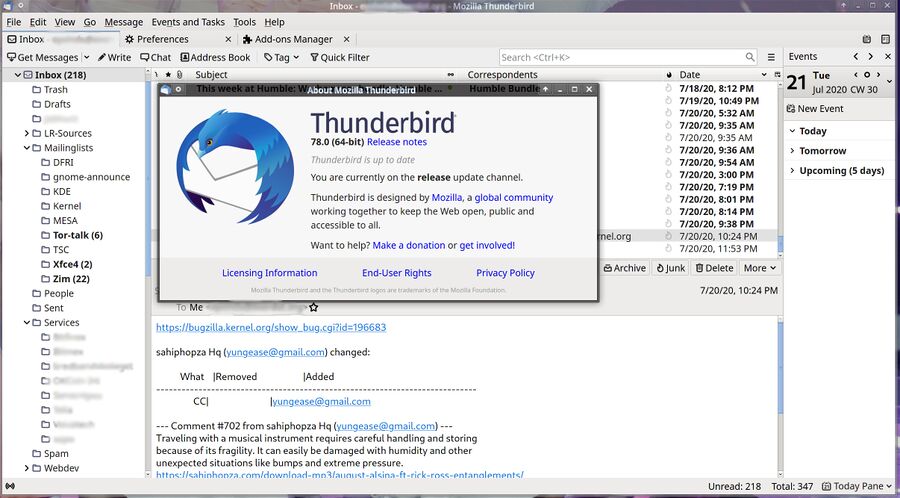 Thunderbird 78 has new icons designed by people who are dead inside.
All the colorful icons previous versions had are replaced with really dull black and white "symbolic" icons. The system theme is not honored or used even though Thunderbird is using GTK (not the systems, though, it is a special "libmozgtk.so" GTK2 even though the release notes say the GNU/Linux version needs a system-installed GTK 3.14 or later).
The Russians noticed that there is a dark mode available in this release. This "dark mode" is apparently not available in the GNU/Linux version (though you can install a dark theme). The release notes indicate that it is available in the Windows and macOS versions.
There is also support for minimizing Thunderbird to the system tray on Windows in this release. The GNU/Linux version of Thunderbird 78 does not have any system tray support.
Changing the font size used to display a message you have open with ctrl and the mouse wheel does not work in Thunderbird 78. Changing the font size with ctrl++ and ctrl+- still works. The zoom setting is actually kept when switching between incoming e-mails in this version, so there's that.
The compose window used to write outgoing e-mails has supposedly been re-designed to be "faster and more straightforward". It is hard to tell what, if anything, they actually changed between Thunderbird 68 and this release. There are new Cc and Bcc buttons and that seems to be it.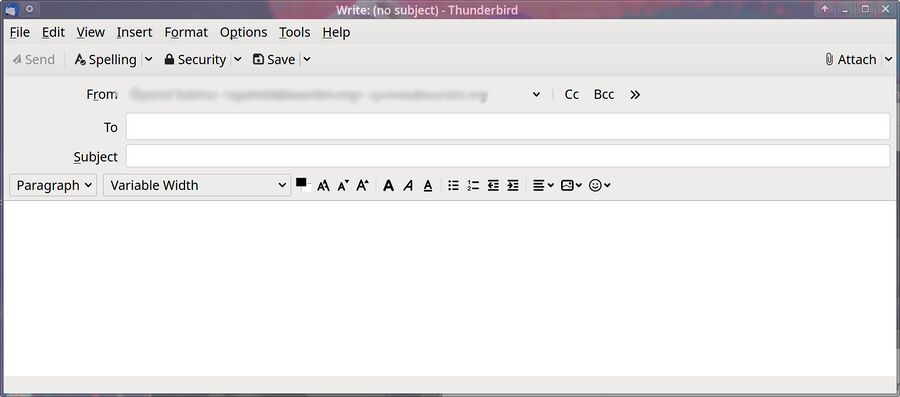 The re-designed compose window looks almost exactly the same.
Chat Securely With Off-The-Record Instant Messaging
Thunderbird can be used to chat over several different network protocols. Those are IRC, XMPP, Google Talk and something called "Odnoklassniki". The Matrix protocol is not supported.
The chat functionality supports Off The Record messaging as of this release. OTR is a old well-tested protocol with perfect forward security (you can not read old messages even if you get someone's current key). That is a very nice improvement.
The actual chat tab window can be opened by a button between Write and Address book in the Inbox tab. It is not listed in the menus or anywhere else you would expect it to be possible to open the chat windows.
Availability
Thunderbird 78 is so far not available in the repositories of any distributions we are aware of. Some vendors will probably be a bit reluctant to ship it due to the potential problems end-users will likely have after they upgrade.
Thunderbird 78 can be downloaded from www.thunderbird.net as a tar.bz2 if you really want to try it right now. It unpacks to a thunderbird/ folder with an executable thunderbird file you can run and make a desktop shortcut to. It is hard to recommend upgrading if you use Thunderbird 68 and you like it. That is specially true if you use one of the existing extensions that are not ported to the new "MailExtensions" plugin system. On the flip-side, you will be forced to "upgrade" sooner or later if you use your distribution-provided Thunderbird so you might as well bite the bullet and get it over with.