The First Ever Microsoft Linux Conference Is Fully Booked
From LinuxReviews
Jump to navigation
Jump to search

"Embrace, extend, and extinguish": The American software giant Microsoft will hold its first Linux conference ever March 10th to 11th, 2020 at Redmond in Washington, USA. The conference, which is free, is now fully booked.
written by 林慧 (Wai Lin) 2020-01-05 - last edited 2020-01-07. © CC BY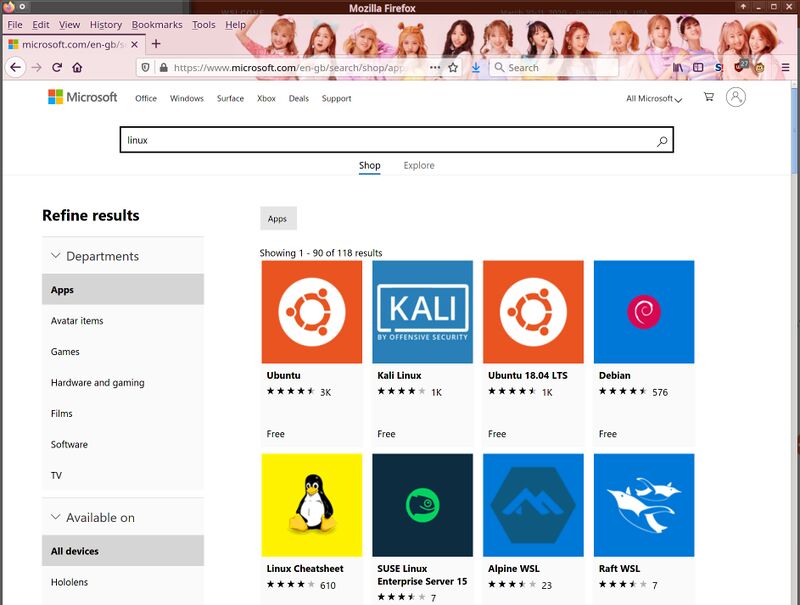 A whole range of GNU/Linux distributions are available in the Windows "Shop".
"Embrace, extend, and extinguish" is a tactic Microsoft used to squash competition in a number of areas back in the 1990s. Microsoft is currently embracing Linux with an increasingly advanced Linux subsystem in their proprietary Windows operating system. Major GNU/Linux distributions like Ubuntu, Debian, SUSE, Alpine Linux are readily available in Microsoft's "Shop".
Microsoft will be hosting a Ubuntu-sponsored conference called "WSLCONF" with the slogan "Linux has arrived at Microsoft" at their campus in Redmond, Washington, US March 10th to 11th, 2020. The conference is free as long as you registered beforehand. All tickets set aside for general admission are gone. There are still some student and media ("members of the press, bloggers covering the event, and podcasters") tickets available. Anyone not a student who wants to attend and listen to speakers from Microsoft, Ubuntu and Kali Linux talk about subjects like PowerShell, DevOps, InfoSec and the Windows Subsystem for Linux will have to point to a some blog and to get a free media ticket.