Rocket League Is Ditching Linux Support
From LinuxReviews
Jump to navigation
Jump to search

Psyonix, the makers of the popular commercial Rocket League game, have announced that they are ending Linux and macOS support with a final update in March 2020. The final update will remove all online functionality from the Linux and macOS versions. That includes online matchmaking, private matches, tournaments and in-game events. Those who have paid good money for Rocket League with the assumption that they bought the full version of the game and not some limited shareware version can get a refund.
written by Öyvind Sæther  2020-01-24 - last edited 2020-03-07. © CC BY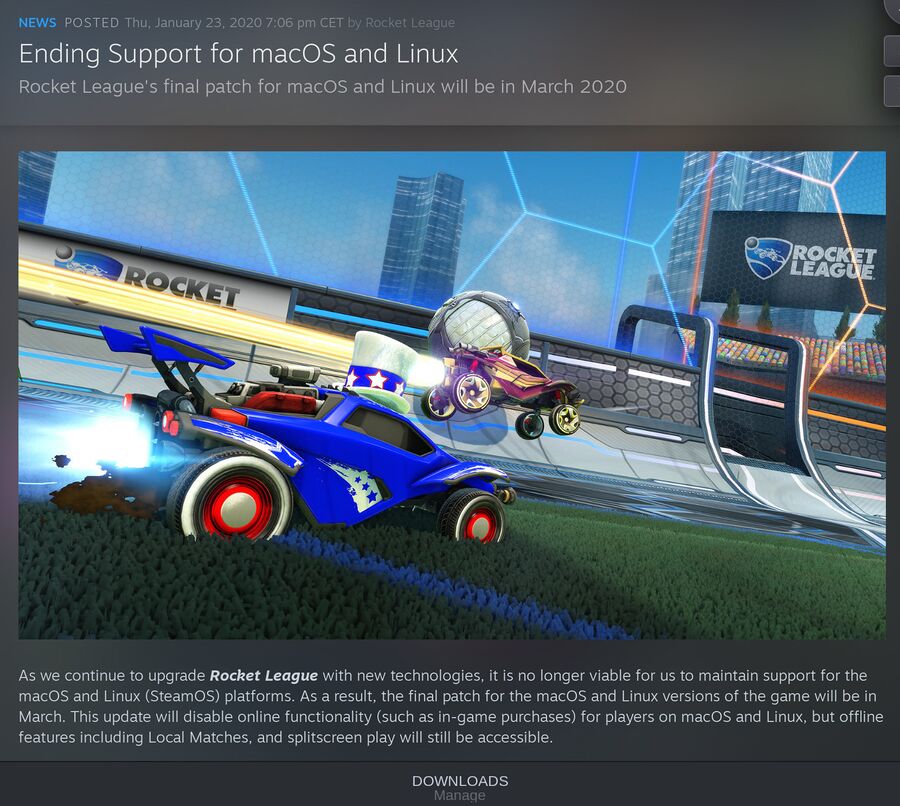 Rocket League's publisher Psyonix cites that they are "adapting to use new technologies" and find it "more difficult to support" Linux and macOS using these mysterious "new technologies" as their reason for turning their back on Linux and macOS users in a new "Customer Support" message titled Support for macOS and Linux (SteamOS).
All online functionality will be removed with one last final update for macOS and Linux users in March 2020. That update will remove online matchmaking, private matches, in-game events, tournaments, custom training packs, workshop maps and other features. And you will no longer be able to chat with in-game friends.
Psyonix mentions that those who really want to run the game on Linux or macOS can waste their time trying to get the Windows version to work by unsupported means:
"If you purchased Rocket League for Mac or Linux on Steam you can download the Windows version. This version will run with full functionality on a PC (personal computer) with Windows 7 or newer."
Psyonix advises macOS users to install Windows using Apple's "Boot Camp" tool and notes that GNU/Linux users could try to run the Windows version using Stream's Proton or Wine. Those options will, of course, not be officially supported.
GNU/Linux users who have paid good money for this game with the expectation that it would keep on working on GNU/Linux can request a refund by opening a ticket at support.rocketleague.com.