qBittorrent 4.3.4 Is Released
From LinuxReviews
Jump to navigation
Jump to search

Configurable ToS settings, support for sub-sorting the file transfer list and 23 bug-fixes are the highlights in the latest version 4.3.4 of the popular qBittorrent download tool for quickly acquiring ISO files for GNU/Linux and other large files. Version 2.0 of the Bittorrent protocol is not supported, nor are other features only found in the qBittorrent "alpha" branch.
written by 林慧 (Wai Lin) 2021-03-25 - last edited 2021-03-25. © CC BY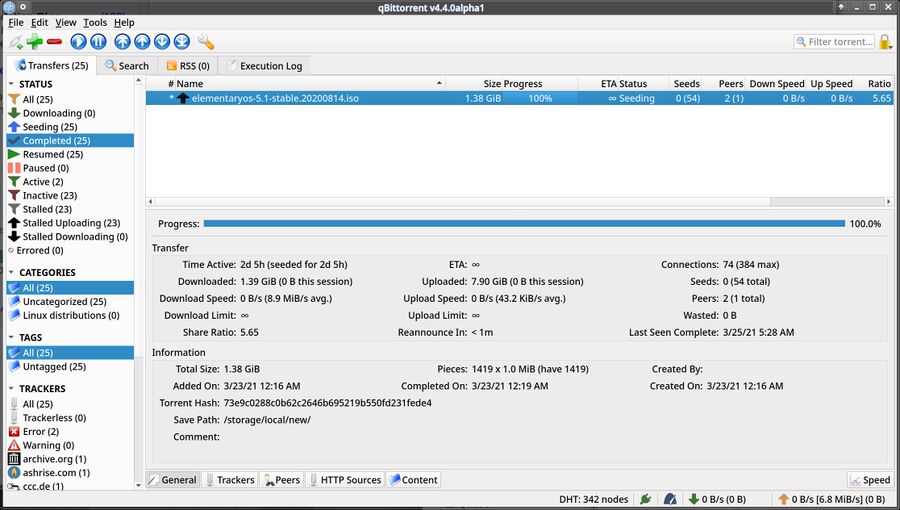 qBittorrent 4.4.0 alpha 1 acquiring a ISO for the Elementary OS GNU/Linux distribution.
qBittorrent 4.3.4 is mostly a bug-fix release, though there are some new features. Tracker handling is improved, the Edit trackers dialog box allows the Tab ↹ key to be used to move out of it, selected files can be prioritized by the order they are shown in and Type of service (TOS) can now be set in Preferences ▸ Advanced under libtorrent Section.
The new Type Of Service setting is not overly impressive. Type Of Service is a IP packet field used by some routers, firewalls and Internet Service Providers to decide what IP packages should be sent first (typically VOIP) and what packages aren't all that important (typically Linus ISOs sent over the Bittorrent protoocl). qBittorrent 4.3.4, and 4.4.0alpha1, lets you set a single decimal number. You can look those up in our Type of Service (ToS) and DSCP Values table and find out that the default value of 32 means "Low-Priority Data". It would be a bit more user-friendly if the new ToS configuration option had a drop-down selection box where users could choose between understandable names like "Standard", "Lower-Effort" and "Low-Priority Data".
qBittorrent 4.3.4 has 23 bug-fixes. Most are very minor but there are a few that stand out as being particularly interesting. "Validate HTTPS Tracker Certificate by default" is one. Prior versions just didn't care if a HTTPS certificate used by a tracker had the right domain in it, who signed or what period it was issued for. "Properly stop torrent creation if aborted" is another; if you try to create a huge torrent in prior versions and you abort it then you'll have threads left open working on that torrent until you quit qBittorrent.
What qBittorrent 4.3.4 does not have is support for the newer BitTorrent 2.0 protocol. That support will not arrive until a qBittorrent 4.x version is released.
The new qBittorrent version can be acquired from www.qbittorrent.org/download.php in the form of binary packages for Windows and macOS and source code for GNU/Linux users. GNU/Linux users who want to build it from source should be aware that the latest version will only build with Qt 5.12+ and libtorrent 1.2.12+ (notice how libtorrent 2.0 is not required).