PilferShush Jammer
From LinuxReviews
Jump to navigation
Jump to search

PilferShush Jammer is a completely useless and, from a security perspective, dangerous application that claims to be able to prevent other applications on an Android device from using the microphone. It doesn't. It does absolutely nothing in that regard.
PilferShush Jammer can also emit a "jamming sound" in the near Ultra High Frequency range 18 kHz and 24 kHz in order to prevent application listening for audio triggers that range from working. The volume it emits it's somewhat annoying "clicking sound" at will probably not jam anything.
Features And Usability
The application starts with a simple two-button display followed by some informative text. There's one button for enabling "Passive" jamming. This is supposed to prevent other applications from using the microphone. It doesn't. There's three tabs available: HOME, INSPECTOR and SETTINGS.
The SETTINGS has an option to enable "buffer read lock" on the microphone. Enabling this setting does not make the audio recording jamming feature work. It does make some bars show up in programs recording audio. Those go away the moment you speak.
The "Audio Recorder" application (com.github.axet.audiorecorder) from F-Droid with regular "jamming" enabled:
The "Audio Recorder" application from F-Droid with "buffer read lock" (not really) enabled: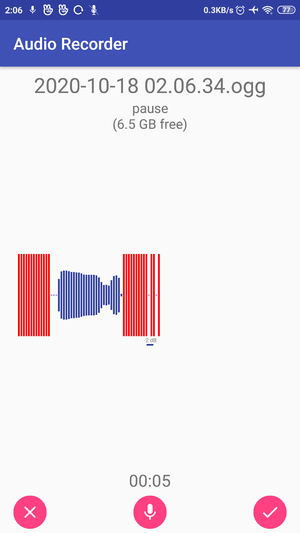 Everything you say into the microphone is recorded by Audio Recorder in either case. The same is true with the phones built-in audio recorder application. We tested recording with a third party app after finding that it doesn't block the phones audio recorder program was to see if there would be a difference, there isn't.
The "audio jammer" functionality does work, the phone starts emitting a very low volume click click sound from the speaker. It seems unlikely that it's loud enough to block anything.
PilferShush Jammer does have one feature that seems to work: It can scan installed applications and check if they use any known audio recording software development kits. It didn't find any on our test-phone, but it did scan. We can't definitively say that this works since it found nothing, but it appears as if this feature does what it is supposed to.
Verdict And Conclusion
PilferShush Jammer is one of several programs that are outright dangerous not because they contain malicious code; it's dangerous because it claims to provide a security feature when it doesn't.
You should absolutely not use PilferShush Jammer and think you gained any kind of security, you won't. You'll get a false sense of security unless you actually test it and check if does or doesn't work as advertised. It may do what it claim on your phone though there's a fair chance it doesn't.
Implications
The reasons this utterly disappointing non-functional application exists is more interesting than the application itself.
The author has a blog at www.cityfreqs.com.au/pilfer.php with a lot of research into Android applications using hidden audio recording in various ways. It lists a wide range of Android SDKs that let app developers add such functionality to their apps.