OpenRazer 3.0.0 Adds Linux Support For 15 New Razer Devices
From LinuxReviews
Jump to navigation
Jump to search
OpenRazer is a user-space driver daemon graphical programs can interact with to give you control over Razer keyboard, mice, mousemats, headsets and several other devices. The latest release adds support for 15 new Razer devices including the DeathAdder V2 Mini and Pro, the Huntsman Mini and the Chroma Charging Pad.
written by 林慧 (Wai Lin) 2021-03-26 - last edited 2021-03-26. © CC BY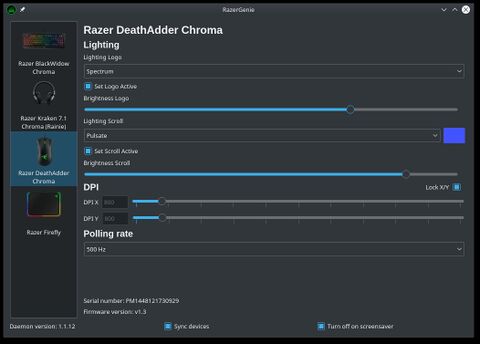 RazerGenie screenshot by github.com/z3ntu/RazerGenie. Copyright GNU GPLv3.
OpenRazer is a user-space device driver program you can run as a daemon in order to use other programs to control Razor-branded headsets, mice, keyboards and other in reality really cheap yet grossly overpriced Razor-branded electronics prone to breaking apart within months. Graphical programs like RazerGenie and Polychromatic can talk to OpenRazer and give you very pretty graphical interfaces you can use to configure and manage your overpriced Razer-branded children's toys.
OpenRazer 3.0.0, released earlier this week, is the first OpenRazer release since November 2020. It adds support for persistently storing the currently-used effect settings and DPI stages for mice. It also adds support for 15 different previously unsupported Razer toys:
Razer Base Station V2 Chroma
Razer Basilisk Ultimate
Razer Basilisk V2
Razer Blade Stealth Late 2020
Razer Book 13 2020
Razer Charging Pad Chroma
Razer Cynosa Chroma Pro
Razer DeathAdder V2 Mini
Razer DeathAdder V2 Pro
Razer Firefly V2
Razer Huntsman Mini
Razer Mouse Bungee V3 Chroma
Razer Mouse Dock
Razer Naga Left-Handed Edition
Razer Ornata Chroma V2
Don't worry if you have a Razer device that is not listed above; those are only the ones that are new to this release. The complete list of all Razer devices suppoted by OpenRazer, which can be found at openrazer.github.io, is much, much longer. Any Razer device you happen to have that's more than a month old is probably supported.
You can acquire the source code for OpenRazer 3.0.0 from github.com/openrazer/openrazer/releases/. Keep in mind that it is just a driver daemon, you will need a graphical program such as RazerGenie, Polychromatic or Chroma Feedback to actually control your Razer device(s).