OnionShare 2.3.1 Is Released
From LinuxReviews
Jump to navigation
Jump to search

OnionShare is a simple and user-friendly graphical program that lets you share files, start a secure chat server or host static websites on the secure and traffic-analysis resistant Tor network. The latest version adds support for tabs, secure chatrooms and a better command-line interface.
written by 林慧 (Wai Lin) 2021-02-27 - last edited 2021-02-27. © CC BY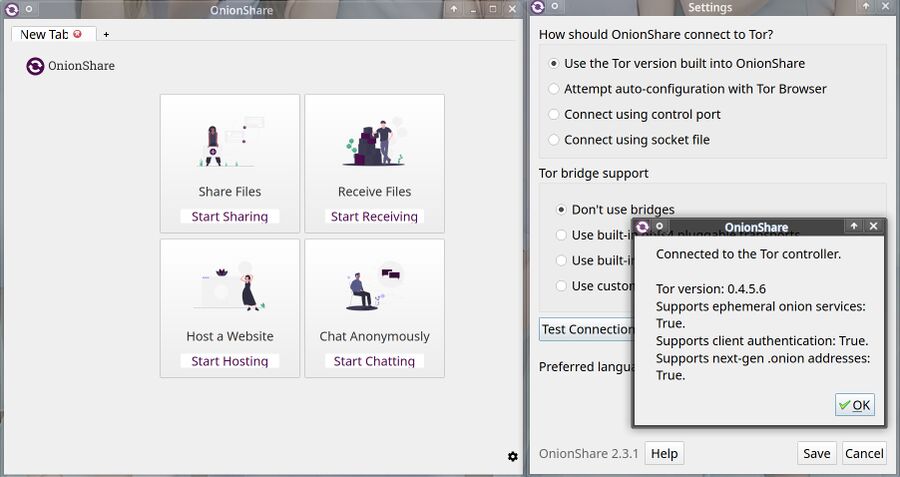 OnionShare v2.3.1 with its configuration dialog.
Configuring Tor and location hidden .onion services for it is not anything remotely close to easy for people who have no idea what a command-line prompt is for or how you do anything with it. This is very unfortunate because most whistleblowers who know something important, like how the United Nations Human Rights Council hands the names of activists and whistleblowers in China over to the Chinese government on a regular basis, are not computer wizards.
OnionShare aims to solve this problem by providing a simple and strait-forward graphical interface for file sharing, secure chat and even website hosting over the Tor network using location hidden services. OnionShare comes with a built-in Tor client, and it starts and configures it automatically upon startup. Advanced users who already have a locally running Tor client can opt to use that instead in the otherwise somewhat sparse configuration dialog.
Tabs
OnionShare 2.3 adds support for tabs, like web browsers have, so you can leave a chat server tab open and choose files to share or configure a "website" or two in other tabs. The "websites" OnionShare supports are limited to plain files on the local file system, you can not use it to setup a darknet market or a wiki or other more advanced websites with dynamic content.
Secure Chat Server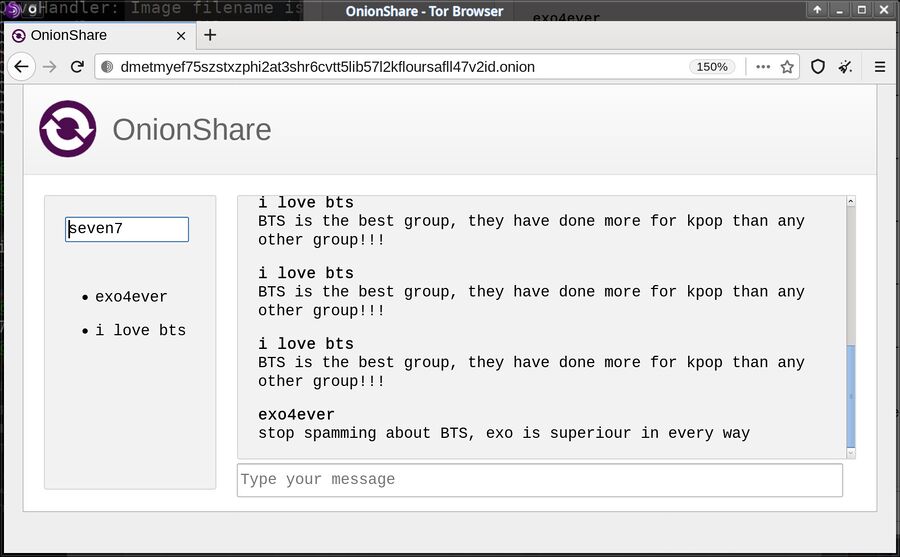 A OnionShare chat room displayed in the Tor Browser
OnionShare 2.3 has a new feature that lets you easily create secure chat rooms for secure communications with a friend or a group of friends. Starting a secure chat room for private communications is as easy as clicking a button labelled Start Chatting. Using it is another matter. OnionShare does not offer anything beyond a groupchat server. Both you and other participants need to visit a special .onion link displayed in interface using the Tor Browser or another web browser connected to the Tor network in order to participate in a chatroom. You will therefore have to get that special invitation link to other participants, who would have to know how to install and use the Tor Browser, in some secure fashion to enjoy this feature.
OnionShare has a simple command-line program called onionshare-cli for advanced users who want the features it offers without having to deal with a graphical interface. This can be useful on headless servers, routers and things like that. It has been greatly improved since the last release. It now supports all the basic features so you can create a chat-room with onionshare-cli --chat, create websites with onionshare-cli --website and so on.
Availability
OnionShare is available for Windows, macOS and Linux at onionshare.org. The Linux version is availble both as a Flatpak (flatpak install org.onionshare.OnionShare pulls a package from flathub) and a Snap (snapcraft.io/onionshare). Source code binaries are available at the onionshare github releases page. Version 2.3.1 is the latest version as of today, it was released somem hours after 2.3.0 to address three minor bugs.