Nvidia Partially Kills SLI In Their Latest Linux Driver
From LinuxReviews
Jump to navigation
Jump to search

The release-"highlights" for the latest 455.23 WHQL proprietary Nvidia drivers for Linux contains a small note saying "Removed support for the SLI modes "SFR", "AFR", and "AA"." This does not mean that Nvidia is killing SLI completely, "SLI Mosaic, Base Mosaic, GL_NV_gpu_multicast, and GLX_NV_multigpu_context are still supported". Game developers who want to implement SLI in their games can still do it using any of those modes.
written by 林慧 (Wai Lin) 2020-09-21 - last edited 2020-09-21. © CC BY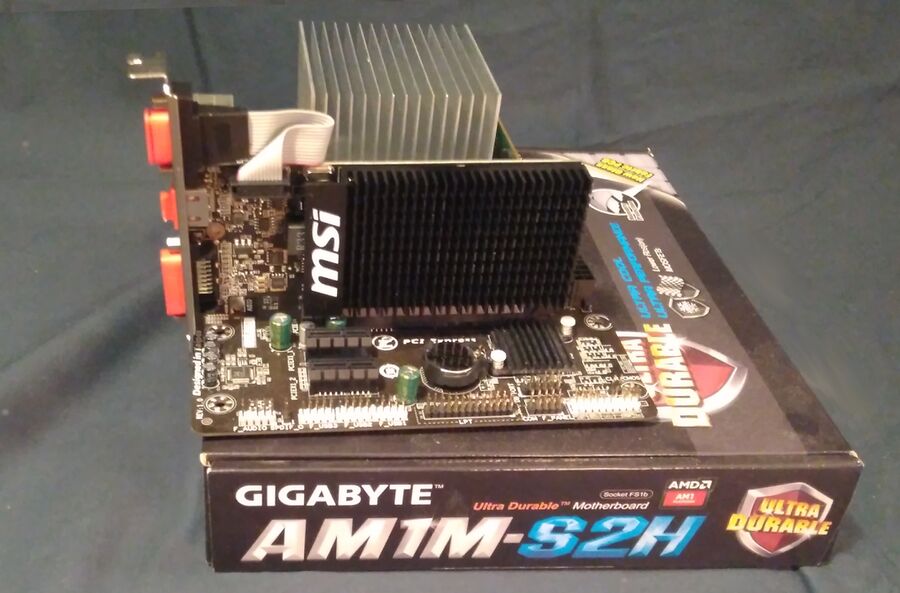 A MSI Nvidia GT710 GPU on a Gigabyte AM1M-S2H motherboard.
Nvidia is killing off all the more general SLI modes in their latest proprietary Linux drivers. The modes they are still supporting are those that require game-specific support. Game developers are still able to write games that take advantage of what Nvidia calls "SLI Mosaic, Base Mosaic, GL_NV_gpu_multicast, and GLX_NV_multigpu_context".
The 455.23 WHQL driver release notes has another interesting and somewhat sad yet also funny tidbit:
"Added NVIDIA VDPAU driver support for decoding VP9 10- and 12-bit bitstreams. Note that VDPAU's presentation pipeline and OpenGL-VDPAU interop does not support 10- and 12-bit video surfaces yet."
The lack of 10 and 12-bit support in the Linux vdpau library is why everyone moved to VAAPI long ago. AMD graphics cards have support for both, but 10-bit HEVC decoding, or any other 10-bit decoding for that matter, won't work with VDPAU due to that limitation. libvdpau is free software under a MIT Software License and there is a public git repository available at freedesktop.org. There's not much going on there, it's not entirely dead but five commits so far this year, one of which is a change to the AUTHORS file and another bumping the version number, isn't what one could call "alive and well". The Intel-maintained libva library, on the other hand, is very much alive with frequent commits added on a regular basis and that is why developers focus on that instead of the practically dead libvdpau library. Perhaps the mention on VP9 10- and 12-bit support in the latest Nvidia driver means that they plan on dropping some code into libvdpau sometime in the near future.
Support for the newly released high-end GeForce RTX 3080 and GeForce RTX 3090 graphics cards, as well as something called "GeForce MX450", is also listed in the 455.23 WHQL driver release "Highlights".
As a reminder: The proprietary binary blob Nvidia driver is as good as a requirement for using Nvidia cards as more than a PCI slot filler on Linux because Nvidia's firmware restrictions prevent the free nouveau driver for Nvidia graphics cards from doing any kind of power-management.
You can acquire the binary blob Nvidia display driver version 455.23 WHQL and from nvidia.com/en-us/drivers/results/163522/.