Linux Kernel 5.3 rc8 is released and 5.3 final is coming soon
From LinuxReviews
Jump to navigation
Jump to search
The next Linux kernel is shaping up to be a interesting release with it's support for existing as well as future AMD Navi GPUs in addition to support for the mysterious CometLake-H and CometLake-LP platforms on the Intel side.
See our coverage of the first 5.3 release candidate for the highlights added during the merge window (the rest of the rc's are typically mostly bug-fixes and small patches).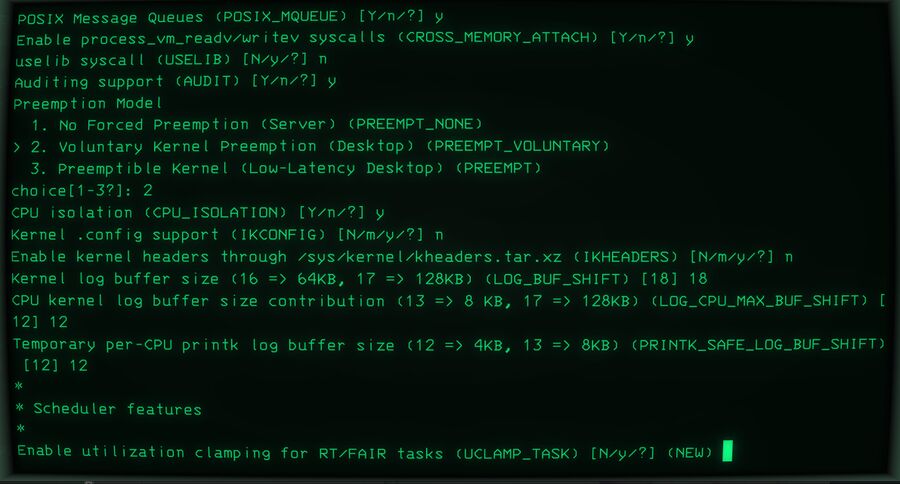 make oldconfig loves to ask many intimidating questions when you move to a new major version of the Linux kernel.
Linus Torvalds, the original author of the first Linux kernel who is still very based and in charge of what is and isn't marged, had this to say about the 5.3 rc8 release:
"So we probably didn't strictly need an rc8 this release, but with LPC and the KS conference travel this upcoming week it just makes everything easier.
And partly because of the extra week, we then had a few fixes that maybe otherwise would have been delayed and marked for stable. The most notable one (but hopefully not very noticeable) is fixing race conditions in configfs. That won't affect very many people, with configfs not all that widely used, but Christoph and Al both felt it needed to be fixed.
Other than that, it really is a very small rc (and hopefully the final week will be smaller still). In fact, the configfs fix along with a vhost revert is about half of the patch. The rest is various small things: a few sound fixes, some drm fixes, and a few other random fixes. Even in the drm case, the selftest addition is bigger than the core code patches.
The appended shortlog is short enough that it's easy enough to scroll through if you are interested in the details."
As Linux said, Linux Kernel 5.3 is essentially ready to be released and rc8 could easily have been the final version. Everything indicates that the final 5.3 kernel version will be released on Saturday the 16th of September - unless something horrible comes to light this week. There is no mention of any problems on the kernel mailing list as of now.
The latest release candidate as well as the latest versions of the stable kernels are available from kernel.org.
published 2019-09-09 -  last edited 2019-09-09