LibrePlanet 2020 Is CANCELLED
From LinuxReviews
Jump to navigation
Jump to search

The free software conference LibrePlanet which was scheduled to take place this weekend has been cancelled due to this years unusually aggressive COVID-19 common cold strain. The Free Software Foundation cancelled the in-person event "with deep sadness" due to "concern for the safety of this community". LibrePlanet 2020 will instead take place online with "virtual conferences" and livestreams.
written by 林慧 (Wai Lin) 2020-03-10 - last edited 2020-03-10. © CC BY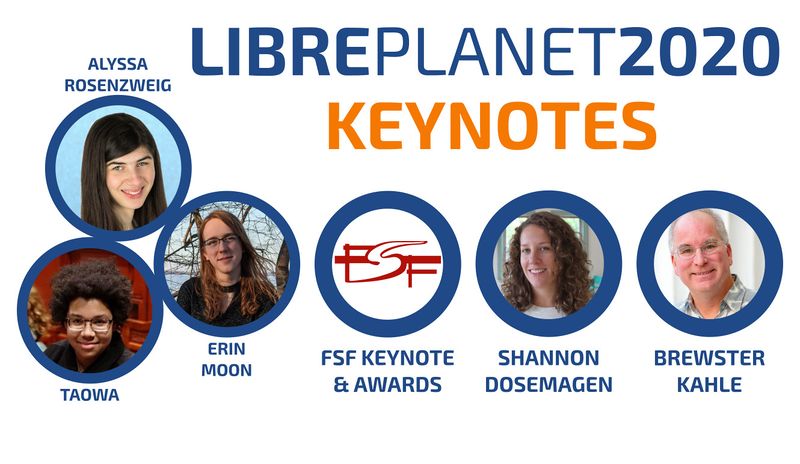 LibrePlanet 2020 is cancelled. Some of the scheduled speakers will livestream their presentations.
"It is with deep sadness that we are canceling all of the in-person events associated with LibrePlanet 2020 due to the ongoing COVID-19 outbreak and our corresponding concern for the safety of this community. This includes the conference sessions on March 14 and 15, and all Free Software Foundation (FSF)-organized social events on March 13, 14, and 15.
However, just because we won't be holding a conference in person this year doesn't mean that we've given up our fight to "free the future." Instead, LibrePlanet will be a **fully free (as in freedom) virtual conference and livestream**. We had an extremely exciting program planned, and we're going to try and maintain as much of that schedule as possible with all of the speakers who are willing and able to participate remotely. The resulting livestream will be run on and entirely accessible via free software, so that you can enjoy these amazing talks from the comfort of your home."
Zoë Kooyman, FSF mailing list
March 9th, 2020
The cancellation of LibrePlanet 2020 was to be expected. Other major technology conferences as well as numerous other events all over the world have been cancelled due to the very rapid spread of COVID-19 and many countries have imposed both external and internal travel restrictions. Even St. Patric's Day is cancelled.
Holding the LibrePlanet 2020 online seems like a good idea given the current state of world affairs. The LibrePlanet 2020 website does not yet have links to livestreams. It is safe to assume that they will stream using free audio and video formats which can be played in commonly used web browsers and video players like mpv. libreplanet.org/2020 will likely have links to livestreams up this weekend.