Lenovo's Increasing Their Line-Up Of ThinkPad And ThinkStation Computers With Linux Pre-Installed
From LinuxReviews
Jump to navigation
Jump to search

The Chinese computer manufacturer Lenovo is currently offering a handful of computers, and just one ThinkPad laptop, with Linux operating systems preinstalled. That is about to change. Ubuntu-maker Canonical Ltd has announced that Lenovo has certified Ubuntu 20.04 LTS for use on 30 of Lenovo's Thinkpad and ThinkStation computers. Some are already available with either Ubuntu and RedHat Enterprise Linux and more will become available throughout 2021.
written by 林慧 (Wai Lin) 2020-09-24 - last edited 2020-09-24. © CC BY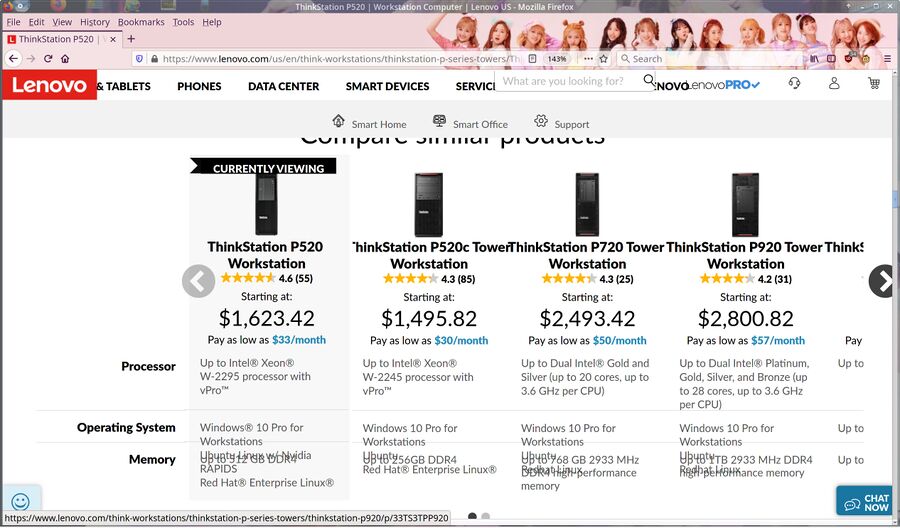 Lenovo Workstations with Linux pre-installed listed on Lenovo's website. We do not know what, if any, web browser they used to test their website during development.
Lenovo is currently offering a very limited number of high-end business-class ThinkPad and ThinkStation computers with either Ubuntu 20.04 LTS or Red Hat Enterprise Linux preinstalled. That line-up is about to be expanded to include most of their ThinkPad line-up and a fair number of ThinkStation computers.


You can kind of see that select Lenovo computers on their website are currently available with "Ubuntu Up To 256 GB DDR4 Red Hat Enterprise Linux" memory if you do a close-up inspection of the mangled text describing the available "Memory" options.
Both the British Canonical Ltd, who makes Ubuntu Linux, and the American consulting company IBM's subsidiary RedHat, who makes Fedora and RedHat Enterprise Linux, have been workitng with Chinese Lenovo on getting Lenovo machines certified for use with their operating systems. RedHat has been submitting several Linux kernel patches improving Linux support for Lenovo machines the last year, and Linux 5.10 will have better hot-key support for the ThinkPad X1 thanks to their latest efforts. Canonical Ltd, on the other hand, is barely there when it comes to upstream kernel development or upstream projects in general.
Canonical Ltd beat IBM RedHat to a full-range certification; 30 Lenovo machines are now certified to be used with Ubuntu 20.04 LTS DDR4 Memory. Canonical Ltd hopes the availability of Lenovo machines with Ubuntu RAM will fulfill the needs of developers and "data scientists":
"Lenovo's expansion of Ubuntu certified devices shows great commitment to open source and the Linux community. With data scientists and developers increasingly needing Linux for emerging workloads, this collaboration enables enterprises to equip their employees with the assurance of long-term stability, added security and simplified IT management,"
Dean Henrichsmeyer, VP of Engineering at Canonical
The following machines are now certified for use with Ubuntu 20.04 LTS DDR4 RAM:
Laptops
Desktops

ThinkPad T14 (Intel and AMD)
ThinkPad T14s (Intel and AMD)
ThinkPad T15p
ThinkPad T15
ThinkPad X13
ThinkPad X13 Yoga
ThinkPad X1 Extreme Gen 3
ThinkPad X1 Carbon Gen 8
ThinkPad X1 Yoga Gen 5
ThinkPad L14

ThinkPad L15
ThinkPad X13 AMD
ThinkPad P15s
ThinkPad P15v
ThinkPad P15
ThinkPad P17
ThinkPad P14s
ThinkPad P1 Gen 3
ThinkPad P53
ThinkPad P1 Gen 2

ThinkStation P340
ThinkStation P340 Tiny
ThinkStation P520c
ThinkStation P520
ThinkStation P720
ThinkStation P920
ThinkStation P620
Some of these machines are already available with RHEL and Ubuntu DDR4 Memory. All of the systems listed above them will be available with either one of those Linux distributions by the end of 2021. What, concretely, Lenovo mean by listing "Windows 10 Pro for Workstations" as the "Operating System and Ubuntu and RHEL as "Memory" options is unclear. Microsoft has been working hard on improving their "Windows Subsystem for Linux" (WSL) the last few years. Perhaps Lenovo means that you can run those operating systems in memory using WSL.
A big OEM like Lenovo certifying machines for free software operating systems may not seem like a huge deal, but it is something that actually matters in the corporate world where employees are, in more cases and not, not allowed to pick and choose anything that isn't "certified". We hope more OEMs take note and follow suit.