Tux Paint
From LinuxReviews
Jump to navigation
Jump to search

Tux Paint is a simple drawing program made with younger children in mind. It has the basic drawing features similar drawing programs have. It lacks some of the basic features like selection tools which most similar raster graphics editors have and there are no advanced features like layers. Tux Paint does have fun elements other painting programs do not have such as sound effects and a very large collection of interesting images which can be used as "stamps".
Tux Paint is available for Linux, Android, Windows, macOS and iOS. It is free software under the GNU GPL v2.
Features and Usability
Tux Paint is designed to be a entertaining program for children aged 3-12. It is like a simpler version painting programs like KolourPaint with a more children-friendly interface, fewer actual drawing features and sound effects. You can use it as a general-purpose painting tool and create drawings and artwork using it but that is not what it was designed for. It is meant to be a funny paint program for children and it does a great job of filling that goal.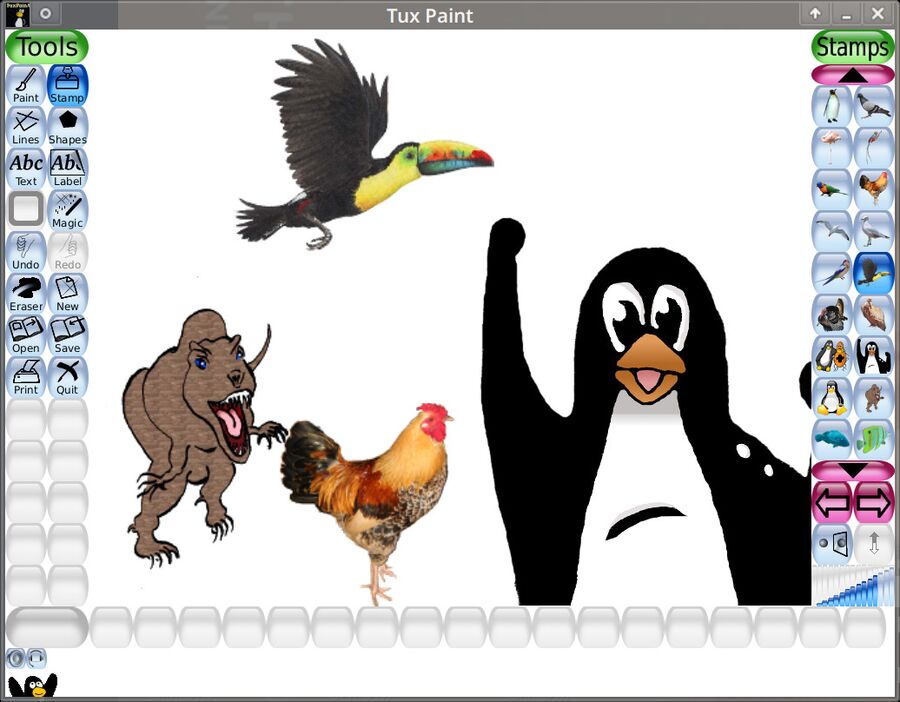 There is a general "Paint" tool, a "Stamp" tool with a huge amount of images that can be stamped, a tool for drawing lines, a shapes tool for drawing squares, circles and things like that and a "Magic" tool. There is also a "Undo" feature. And that's it. Well, not quite. The "Magic" tool brings up a rather wide variety of tools on the right side of the canvas. There's actually quite a lot of more advanced featured hidden in the "Magic" toolbox.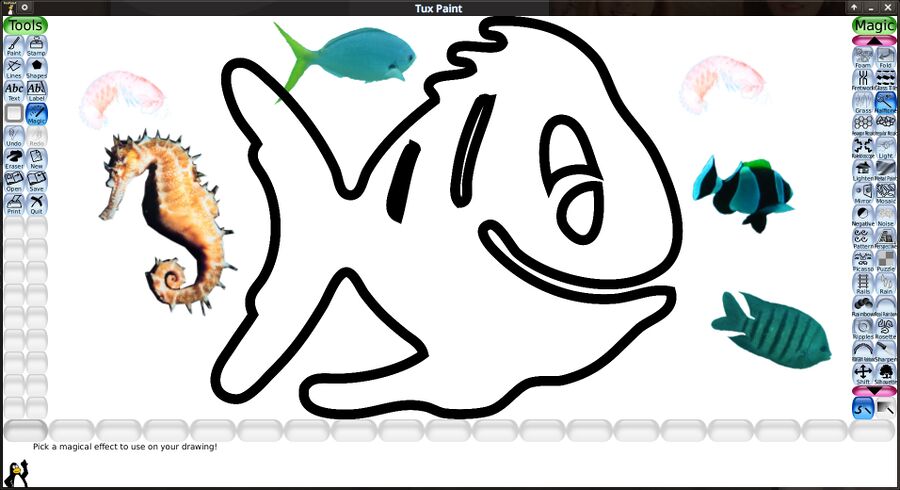 The Magic tool filters, special effects like "Cartoon", blurring and quite the selection of other tools one wouldn't expect to find in a simple painting program for children. It is kind of fun to play around with Picasso, Noise, Negative, Mosaic, Snow Flakes and all the other "Magic" tools just to see what they do. There's a lot of Magic one can experiment with.
The "Open" and "Save" buttons are made to be very easy to use. Save simply saves images and open brings up an over view of previously saved images. There's no saving files by name or folders making it real simple to open and save images without knowing what a computer file or folder is.
Usability issues
The Linux version of Tux Paint will by default start using a really small fixed-resolution window (can not be resized) which is too small on modern computer displays. There is a really simple work-around: The default windowsize=800x600 is set in /etc/tuxpaint/tuxpaint.conf and it can be changed by either editing that file or by creating a $HOME/.tuxpaintrc with something like windowsize=1900x1000
There are several more configuration options described in the manual page.
The Android Version
There is a version of Tux Paint available for Android. We tried it on a phone and it was useless due to the small screen size. It's fine and quite fun on a decent-sized tablet and we suspect younger children will find Tux Paint on a tablet to be more entertaining than it is on a desktop computer.
Verdict and conclusion
Tux Paint isn't a great drawing program for adults who want to create art but it's not meant to be. It is meant to be a fun paint program for younger children - and it is. It's not like adults can not use it to create art, it just not the best choice. KolourPaint is better if you want a simple painting program, Krita is a better choice if you're a digital artist and the GNU Image Manipulation Program is better for photo editing. None of those are made for children.
Tux Paint is absolutely a great choice if you want to let your 4-8 year old have some fun drawing on a tablet or a computer.
There are versions for all the platforms and devices (Linux, Android, Windows and macOS).
Links
Tux Paint's website is at tuxpaint.org.
You can download Tux Paint for Linux, macOS, Windows, Android and iOS from tuxpaint.org/download.