KDE System Monitor
From LinuxReviews
Jump to navigation
Jump to search
KDE System Guard

KDE System Guard "System Load" graphs

Developer(s)
John Tapsell, Chris Schlaeger, Greg Martyn, Tobias Koenig, Nicolas Leclercq, Alex Sanda, Bernd Johannes Wuebben, Ralf Mueller, Hamish Rodda, Torsten Kasch
Platform
KDE
Type
Task Manager, System Monitoring
License
GNU General Public License

The KDE System Monitor (ksysguard) is a task manager and system monitoring program made with the KDE Plasma desktop environment in mind. It has two default tabs for showing a process list and system load graphs by default. Its functionality can be expanded using a wide variety of downloadable plugins.
Features
The KDE System Monitor looks very plain when you first open it. There are two tabs available, one is called "Process Table" and the other is called "System load".
The "Process table" view shows a list of processes, similar to top and htop, with a limited amount of details. Right-clicking on the row of column titles brings up a list of additional information that can be shown about each of the listed processes. Interesting additional columns that are available, but not shown by default, include IO Read, IO Write, X11 Memory, CPU time and CGroup.
The process list can list all processes as list or a tree, system processes only, user processes only, only your own processes and programs only.
The process list has a little button called Tools on the right side. Those "Tools" are just launchers for konsole, the KDE Info Center, kmag, htop and "Run Command".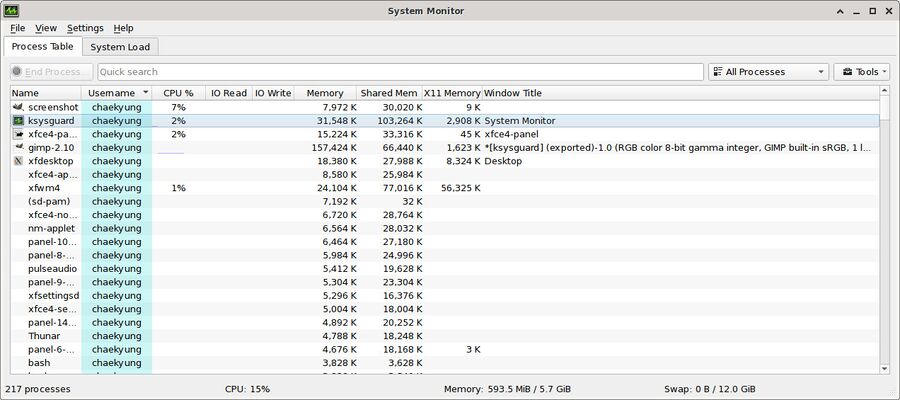 The KDE System Monitor process list with some additional information such as IO Read and IO Write enabled.
The built-in "System Load" tab will show you three nice graphs. One shows CPU load, the second shows memory and swap usage and the third shows total system network utilization. There are no per-interface network graphs, all you get is the total mount sent and received.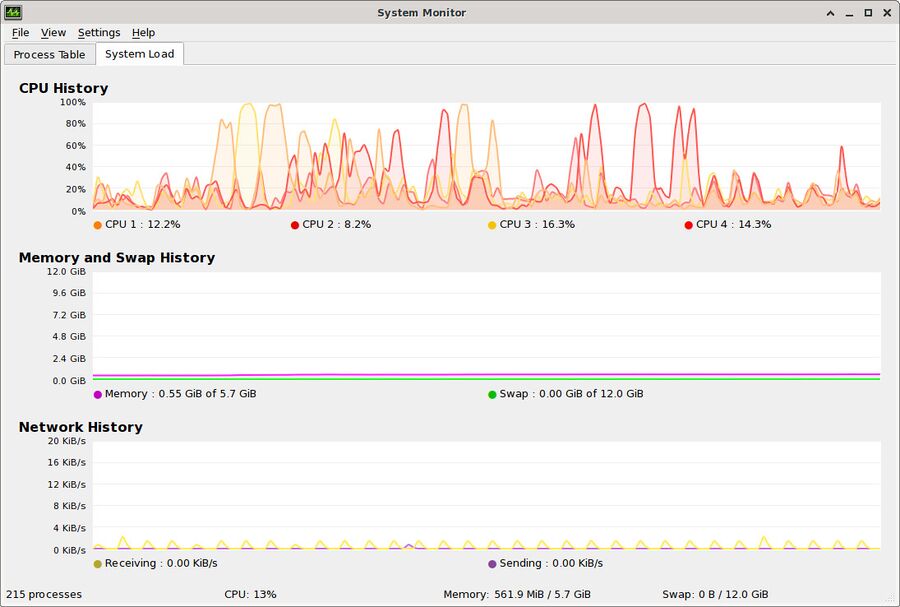 The KDE System Monitor "System Load" tab.
The "System Load" tab does not show sensors or disk utilization. You will have to make your own tab view or download a plugin to get a tab with that information.
Monitoring Remote Machines
The KDE System Monitor can be used to monitor remote machines as long as ksysguardd is installed on them. This can be very useful but it does require you to install ksysguardd and the huge list of dependencies it has. Those include Qt, the KDE libraries, X and a long list of additional packages remote servers likely do not have installed. This is a big draw-back, you may not want to have all those things on a remove server. KDE System Monitor can a nice tool for monitoring remote systems if you are willing to remotely install all the packages required to use it.
Plugins
Support for a very broad range of downloadable plugins is something that makes the KDE System Monitor stand out as quite unique when it comes to system monitoring capabilities. There are some quite interesting plugins available for it among the very long list of mostly useless and totally uninteresting plugins.
Additional plugins can be acquired in the menu File ▸ Download New Tabs...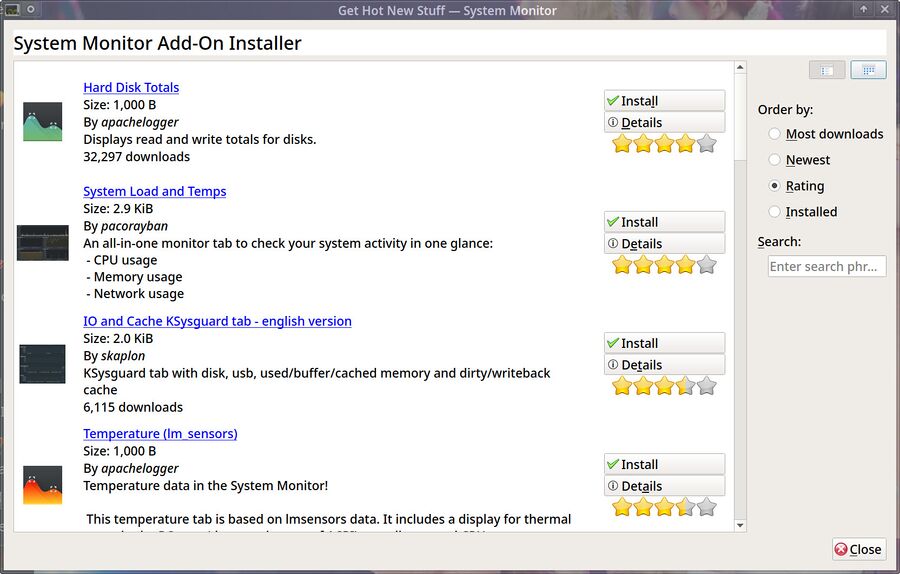 There are a lot of plugins available for the KDE System Monitor.
A lot of the plugins are machine-specific and not at all interesting. Plugins like "Dell Latitude E5430" and "Clevo W310CZ" are not very useful unless you have those specific machines. The plugins that do exist will mostly not show you the information you want to see. As an example, the "I/O & Cache" plugin assumes that you have one SSD or HDD installed. The second drive present, /dev/sdb1, is assumed to be "USB Data".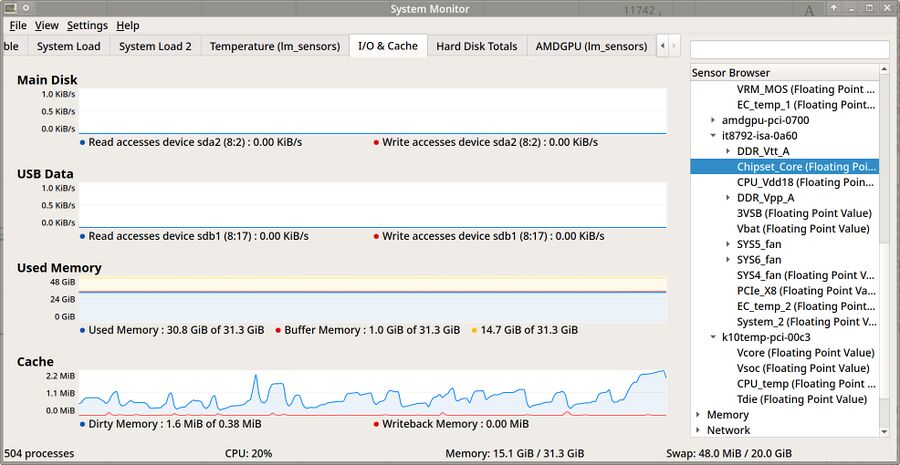 The KDE System Monitor showing a downloaded "I/O & Cache" tab.
You can create your own plugins using any sensor available in the built-in "Sensor Browser". A whole lot of values about the system are shown there. All of them can be used to create nice plots and graphs. Custom tab views can be uploaded and made available to others. You may want to make sure that the values you are using in your custom tabs make sense to others who might download them. That is not the case with the vast majority of the downloadable plugins.
Missing Features
The KDE System Monitor can not show any information about the graphics card load, graphics memory usage or any other information GPU-specific tools like radeontop are able to show.
There is also no systemd service list or management.
Verdict And Conclusion
The KDE System Monitor is a somewhat simple system monitoring program with advanced hidden functionality. It is a overall nice and powerful program.
The plugin system is advanced, and it is there, and users can configure and make their own plugins. That's nice. But it is not at all user-friendly. .Most of the downloadable plugins are not suitable for any random computer you install them on and those who do show something require tuning or configuration. Creating plugins is possible, but it takes some work and it is not strait-forward to less computer savvy users. There could easily be more, and better, default tabs, and creating tabs could be simpler.
The remote monitoring feature is unique and very nice. The amount of packages it requires to be installed on the remote system is a large draw-back.
The lack of support for GPU monitoring and the lack of a default and useful I/O tab is disturbing and inexcusable.
KDE System Monitor is overall the best graphical system monitoring program for GNU/Linux machines. That is not the case because it is great, wonderful or perfect, it is not. It is imply the best because the alternatives are, quite frankly, pathetic and very limited.
Installation
The KDE System Monitor will be installed if you installed a KDE spin or a KDE focused distribution. It will also be pulled if you install a KDE meta package (like @kde-desktop). It is available as a package called ksysguard, you can install that package if you want to use it in a desktop environment like LXQt or Xfce and you do not want all the KDE packages installed. It does have a lot of dependencies so you will get Qt, the KDE libraries and even if you are just installing the ksysguard package.
Alternatives
See Comparison Of System Monitoring Programs.
Links