Radeontop
From LinuxReviews
Jump to navigation
Jump to search

Radeontop is a simple terminal program that shows you how much of various resources are used on a modern AMD graphics card using simple bar graphs. It will give an overview of the total "Graphics pipe" load as well as graphs showing utilization of various GPU pipelines like the texture addresser, shader export, sequencer instruction cache, shader interpolator, color and depth blocks and the scan converter.
Colors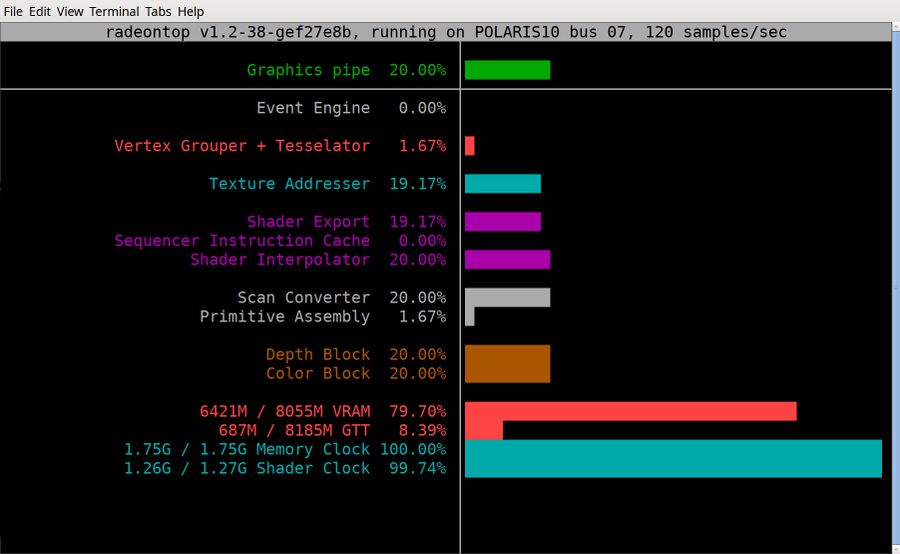 Radeontop version 1.2.28 started with radeontop -c
Radeon can be started with a -c for color switch to get colors. It is, by default, in black and white.
The radeontop manual page list several other options such as --ticks and --dump - which is useful if you want to dump the data it generates to a file.
Alternatives
Heads-up displays like the Gallium Hud or the MangoHud heads-up display overlay for Vulkan games and programs may be preferable if you want statistics similar to those produced by radeontop shown in game or application.
CoreCtrl and radeon-profile, both meant for GPU tweaking not monitoring, can show information to what radeontop shows.
Links
radeontop is developed at github.com/clbr/radeontop.