Inkscape 1.0.1 Is Released
From LinuxReviews
Jump to navigation
Jump to search

The first minor update to Inkscape 1.0, released in May, brings color-managed PDF export to Scribus, a new Selectors and CSS dialog object menu and interpolated gradients. It is almost like a 1.1-release. There is also a long list of 60+ bug-fixes.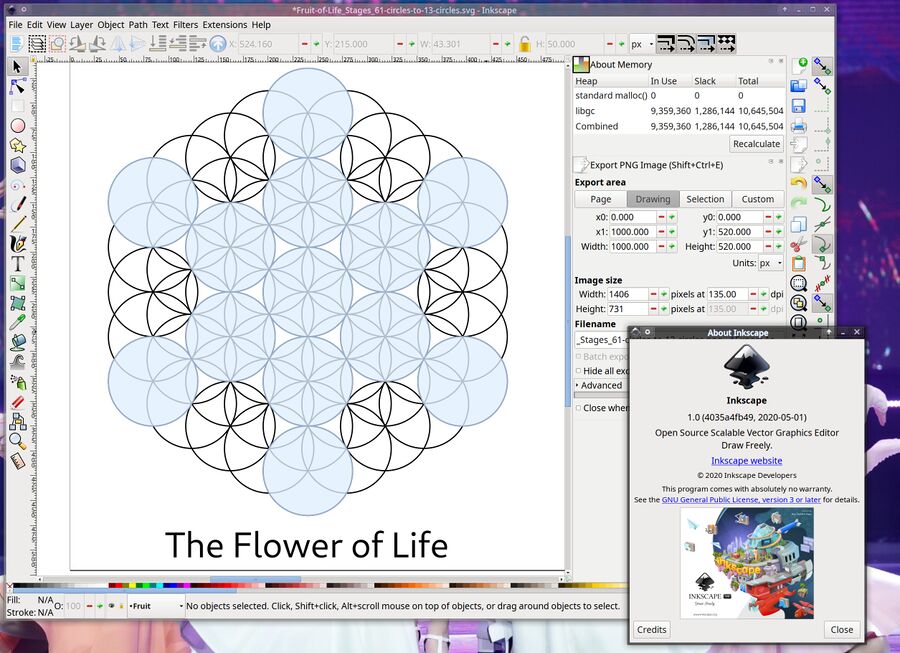 The The Flower Of Life drawn in Inkscape.
Inkscape is the best vector graphics drawing program and it is entirely free software licensed under the GPL v2. Inkscape 1.0.1 does not only contain minor bug-fixes are you would expect, there are several new features.
A new Colors ▸ List All feature lets you see all the colors used in a document.
The Object menu has a "new" Selectors and CSS dialog where it is possible to add, remove and edit CSS properties saved within an elements "style" attribute directly. This feature is not entirely new, the code for it was present in Inkscape 1.0 but the actual menu item was hidden.
A new Scribus-specific color-manged PDF export feature allows those using the free Scribus desktop publishing software to get color-managed CMYK PDF files out of Inkscape. There is a long list of requirements and restrictions attached to this feature. You can't use any filters, images can not use bitmaps or markers, document color management has to be enabled in Scribus and there are several other requirements.
There are fixes for 10 bugs that would cause Inkscape 1.0 to crash and about 50+ other minor bug-fixes in Inkscape 1.0.1.
You can read the full "release notes" at inkscape.org/release/inkscape-1.0.1/. Binary Windows packages, Linux AppImages, Ubuntu packages and the source code can be acquired from inkscape.org/release/1.0.1/platforms/.