IBM Appears To Believe They Own Their Employees "100% of the time"
From LinuxReviews
Jump to navigation
Jump to search

IBM is, in an odd move that violates the labor laws of most countries, telling employees who work on Linux kernel drivers in their spare time that they are "an IBM employee 100% of the time" and "not allowed to use your personal email account as a "hobby"."
written by 林慧 (Wai Lin) 2021-04-20 - last edited 2021-04-22. © CC BY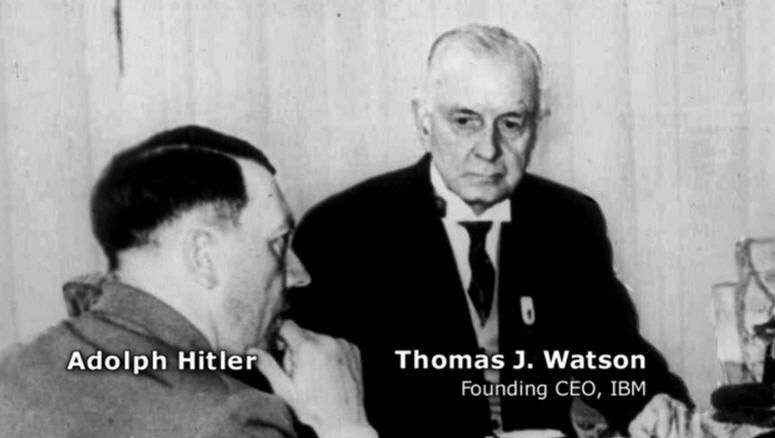 Thomas Watson, founding CEO of IBM, in a businessmeeting with his German VIP customer Adolph Hitler.
Linux developer Lijun Pan made a rather odd commit to the Linux IBM Power SRIOV Virtual NIC Device Driver on April 19th, 2021. The commit removed his personal e-mail account from the MAINTAINERS file and the commit message reads:
"I am making this change again since I received the following instruction.
"As an IBM employee, you are not allowed to use your gmail account to work in any way on VNIC. You are not allowed to use your personal email account as a "hobby". You are an IBM employee 100% of the time. Please remove yourself completely from the maintainers file. I grant you a 1 time exception on contributions to VNIC to make this change."
Signed-off-by: Lijun Pan <ljp@linux.ibm.com>
Signed-off-by: David S. Miller <davem@davemloft.net>"
The claim that Lijun Pan belongs to IBM "100% of the time" and that he is not allowed to use his personal email account as a "hobby" appears to be in violation of labor laws in most countries. We do not know what country Lijun Pan is working from. The name sounds like it may be from a country where there aren't any laws against IBM's otherwise grossly criminal behavior.
It is somewhat concerning that IBM, who owns and controls Red Hat and the Red Hat Enterprise Linux and Fedora operating systems, is telling their employees that they are not allowed to work on free software projects in their spare time. It is equally concerning that IBM appears to believe it has some kind of right to dictate what their employees do or don't do with their personal e-mail accounts.
We can only speculate as to how many other IBM employees there are in a similar situation. What we can say for sure is that there is at least one who would like to contribute to free software in his spare time who can't unless he finds another job and/or moves to a country with stronger and stricter labor protection laws.