GStreamer 1.18 Is Released
From LinuxReviews
Jump to navigation
Jump to search

The latest GStreamer multimedia framework release supports Intel's SVT-HEVC Encoder, High Dynamic Range (HDR) video, the Audio Video Transport Protocol (AVTP), VA-API compositing, camera capture from Raspberry Pi camera and quite a long list of other new features.
written by 林慧 (Wai Lin) 2020-09-10 - last edited 2020-09-10. © CC BY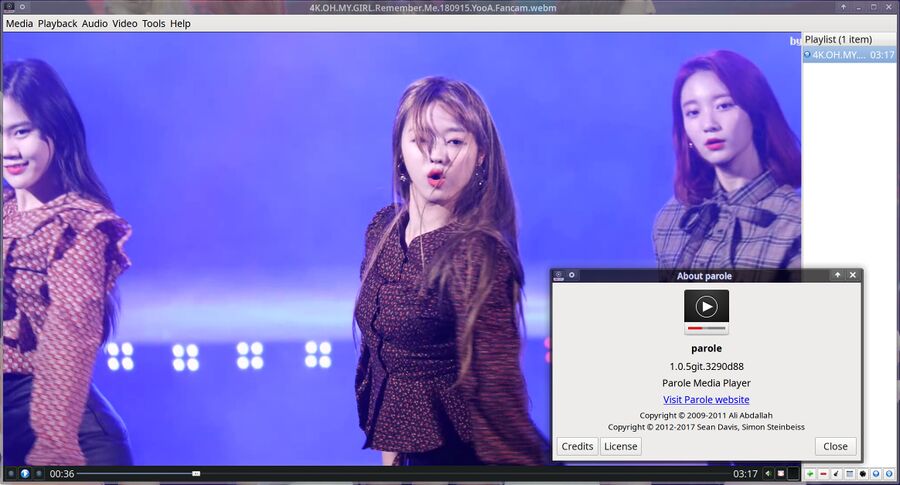 The Parole video player playing a video using the GStreamer multimedia framework.
GStreamer is a complete multimedia framework mostly used by GNOME "apps". It supports playback, transcoding, streaming and a lot more. Several completely useless and utterly worthless video players like GNOME Videos and Parole use it as a playback back-end.
The latest stable GStreamer release has a rather long list of new features. The high-lights are:
A new build system. The GNU Build System (autotools) has been replaced with the Meson Build System.
A new high-level API for transcoding files between formats called GstTranscoder
Support for instantly changing playback rate.
New RTP source and sink elements for applications that want to do RTP streaming using rtp:// links.
Raspberry Pi cameras are now supported by a new rpicamsrc input.
GStreamer can stream and produce DASH video thanks to a new dashsink
VA-API compositing. None of the video players based on GStreamer let you decide what kind of video output is used or if VA-API hardware decoding is used or not but it's nice that VA-API compositing is now supported by the GStreamer library in case someone ever decides to make something decent with it.
Developers who want to build the first media player based on GStreamer that's not a complete and utter joke or any other multimedia application can read the release announcement at gstreamer.freedesktop.org/releases/1.18/ and browse the source code at gitlab.freedesktop.org/gstreamer/gstreamer.