Fedora 31 Is Released With Live Images Available For A Varietry Spins
From LinuxReviews
Jump to navigation
Jump to search

IBM's subsidiary Red Hat has released a new version 31 of their "community" distribution Fedora which they fully control and use to beta-test for their commercial Red Hat Enterprise Linux product. Downloadable images for their "Workstation" desktop featuring GNOME, a "Silverblue" OsTree variant, a KDE edition, a Xfce spin and a LXQt variant as well as a server-image are now available.
The new Fedora 31 release is essentially the same as when it was branched of Fedora's bleeding edge Rawhide three late August this year. The only difference is that the versions included are newer.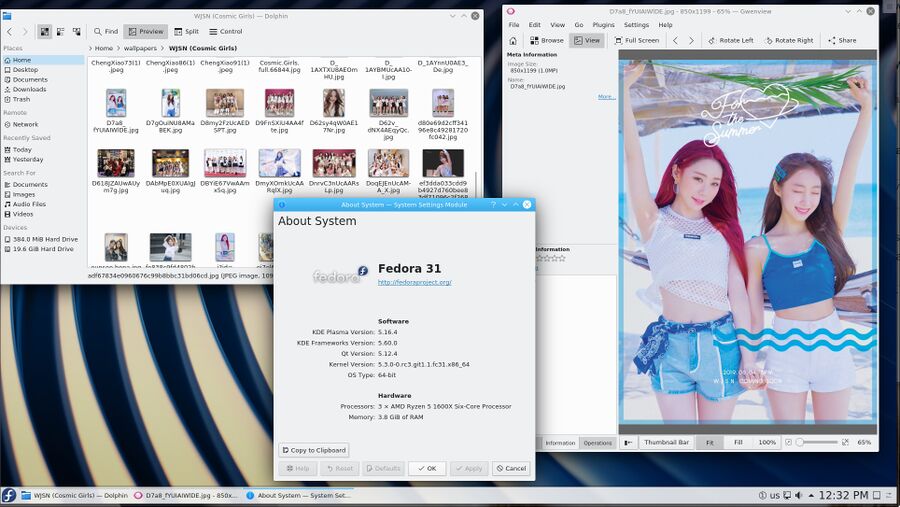 KDE 5.16.4 on Fedora 31 back when it was in beta. The current version features KDE 5.17.
Torrents for the new release images with live environments and easy to use installers are available from torrents.fedoraproject.org. The files are well seeded so you should be able to max out your Internet connection when you download them.
See the article "Fedora 31 is branched: Here are the high-lights in the next Fedora version" for a more detailed list of the changes since Fedora 30. It's essentially the same distribution as it was the last few version: It's a nice easy to use GNU/Linux with bleeding edge versions of the software available in the repositories and a variety of desktop environments as well as packages to choose from. It is a nice distribution for home use, entertainment systems and not production-grade servers. All the images available from torrents.fedoraproject.org are live images which load into a desktop environment with a "Install" icon on them. You can burn one of them to a USB stick and test it and see if you like it without touching your existing system. It may be worth your time, Fedora is a very nice and modern operating system. Good luck.