Celluloid
From LinuxReviews
Jump to navigation
Jump to search

Celluloid is a basic and easy to use GTK-based video player which uses mpv for the actual video playback. It has a playlist and either buttons or menu options for choosing video track, audio track and subtitle track and that is the extent of its features. It offers very little beyond what is available in mpvs on-screen controls which makes it a somewhat pointless mpv front-end.
Celluloid is the default media player on Linux Mint.
Features And Usability

Celluloid v0.18 with client side decorations playing WJSNs wonderful hit "Boogie Up".
Celluloid will by default launch a window with a window title bar on top which is filled with buttons for opening files, making the window full-screen, minimizing and maximizing the window and there is one button which brings up a menu. That menu can be used to access its Preferences where that "Client-side decorations" nonsense which makes Celluloid look like some silly tablet or smart-TV "app" can be turned off. A restart is required to make this change take effect.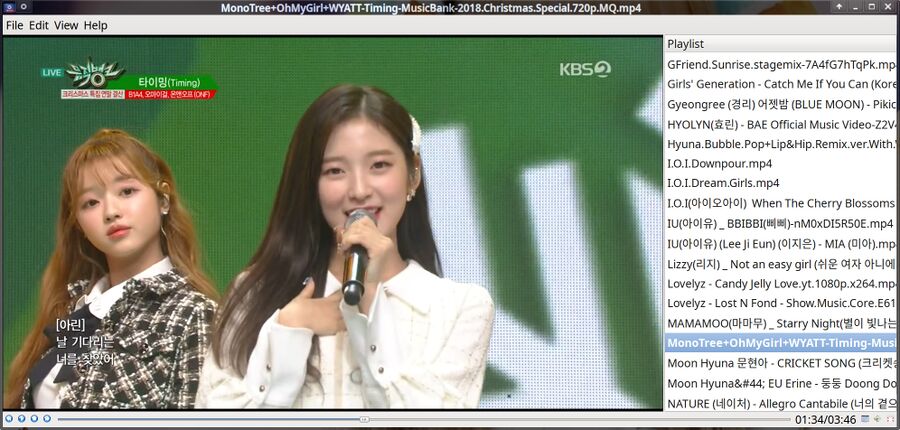 Celluloid v0.18 with CSD nonsense turned off and its playlist window visible.
Celluloid has a menu with limited functionality when "Client-side decorations" are turned off. The "View" menu can be used to toggle visibility of its playlist window and the controls below the video window. The "Edit" menu can be used to change its "Preferences" and change video, audio and subtitle tracks for a currently playing video. "File" has entries for opening a file, location and disc and it can also be used to save the playlist or open a new window.
Right-clicking in the video window does nothing, there is no context menu.
There are no icons or buttons related to the playlist window. Right-clicking on the playlist does bring up a context menu which can be used to add files to the playlist, remove files, enable shuffle mode and loop single files or the entire playlist. Saving the playlist can only be done from the "File" menu.
The toolbar on the bottom of the video window has buttons to start and stop video playback, a button to enable playlist looping, a button for toggling fullscreen playback and a button for adjusting the volume. The size of the icons used for those buttons can not be changed or adjusted and they are tiny, too tiny, on high resolution monitors.
There is no other functionality. There are no options for sending the audio to a specific output, re-mixing the audio, applying filters, rotating the video or anything like that. The only thing Celluloid has which plain mpv does not have is a playlist window.
Verdict And Conclusion
Celluloid is a mpv front-end with a playlist next to the video window and a menu which can be used to choose audio and subtitle tracks and that is the extent of what it provides. It lacks all the more advanced features SMPlayer has and it lacks some of the more basic ones too. The inability to change icon sizes makes it borderline unusable on modern computer monitors, its hard-coded icon size was clearly picked with old 27" 1080p screens in mind.
Celluloid is, all in all, a rather pointless media player. Using plain mpv with no front-end is preferable if you do not want menus for choosing things like audio outputs, stereo or surround sound and things like that and SMPlayer is a much more complete and overall better choice if you do want those features.
Links
The Celluloid source is developed at github: celluloid-player/celluloid/
There is a guide to configuring Celluloid and mpv in Portuguese at Medium.com.
Alternatives
| Program | rating | framework | backend | highlights |
| --- | --- | --- | --- | --- |
| Celluloid | | GTK | mpv | Has a playlist. Otherwise very limited. |
| GNOME Videos | | GTK/GNOME | GStreamer | Useless GUI, problems playing a lot of files |
| mpv | | | libmpv | On-screen controls. No playlist, no GUI. Plays everything. |
| Parole | | GTK | GStreamer | Very basic media player. No features what so ever. |
| SMPlayer | | Qt | mpv | Fully featured. Playlist, advanced playback options, easy to use. |
| VLC | | | libvlc | Fully featured. Playlist, advanced playback options, video conversion, live stream recording |