23rd Chaos Communication Congress
From LinuxReviews
Jump to navigation
Jump to search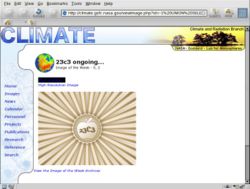 The Chaos Communication Congress is a "hacker" conference held annually in Berlin. The 23rd conference, like all of them, featured the most l33t hackers on the Internet who gave lectures about computer security, anonymity and other important subjects.
Theme
This years event's theme was "Who can you trust?".[1]
Events
Some of the interesting events who took place at 23C3[2]:
Detecting temperature through clock skew
Detecting temperature through clock skew[3] by Steven J. Murdoch covered how temperature variations cause clock skew, a fact that can potentially be used to identify computers on the Internet in order to, for example, identify computers who are running location hidden Tor-services.
This lecture was based on a paper originally published in 2005[4]. The research was debated on the Tor mailing list in Sepember 2006.[5].
This event was covered in Wired Magazine.[6].
Download (unofficial videos)
Pornography and Technology
Pornography and Technology - a love affair[7] by Tina Lorenz goes through the history of pornography and technology up to and beyond modern times.
Download (unofficial video)
Rootkits as Reversing Tools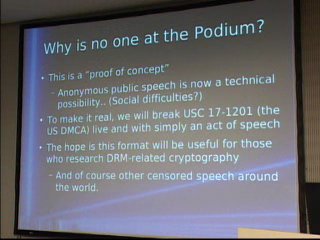 Rootkits as Reversing Tools[8] was a very interesting talk for several reasons, most notably that it was An Anonymous Talk done using the Tor-network.
Download (unofficial videos)
Recordings
Above mentioned events are only a few of the interesting events who took place at 23C3. Take a look at the official events list[2] at https://events.ccc.de/congress/2006/Fahrplan/events.en.html to get an overview of all the knowledge that was shared, and download those lectures you find interesting (The titles give you a good idea of the topic).
Official recordings
Official recordings from 23c3 (in 640x480 high-quality m4v format) from the first days are now available and can be downloaded from the following mirrors:
FTP
HTTP
Germany:
Europe:
World:
RSYNC
rsync://dewy.fem.tu-ilmenau.de/23C3 (FeM e.V. Ilmenau)
rsync://mirror.hgkz.ch/CCC/23C3/ (HGKZ Zurich, Switzerland)
UnOfficial recordings
Unofficial recordings were made from the 23c3 live video streams during the event.
These are not official recordings and are in lower quality than the official recordings.
However, official recordings are not yet available for many of the lectures, so the unofficial videos may be of interest and value until official videos of all the events are made available.
Recordings from previous years
Recordings from previous years (since 1998) can be downloaded here:
The 23c3 effects on the Internet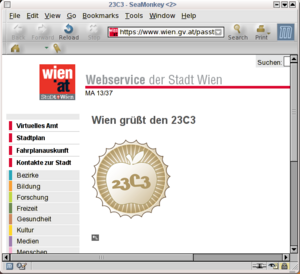 Many websites on the Internet seem to change or show very .. interesting .. content on some pages during the CCC events. These sites and pages are sometimes added to the "Hacks" page on the CCC website. Microsoft were very quick to remove the 23c3 logo from their Swedish website, while NASA had the 23c3 logo on a page on their weather site for quite some time.
The "Hacks" page also has (soon had?) a quite long list of links to /etc/passwd files on various websites... Other links on this page simply show pages with comments like "Hello, we've changed your password, your new admin password is mailed to you." and "You know, using a default password is bad"...
Pictures
There are many pictures from 23C3 tagget 23C3 at flickr. There are also pictures here:
Interesting and relevant links
References

published 2007-01-01 - last edited 2019-06-15