20 GiB Internal Intel Document Motherload Is Now Available In Dark Corners Of The Internet
From LinuxReviews
Jump to navigation
Jump to search

Someone who is apparently sitting on a whole lot of internal Intel documents has released what is described as the first in a series of treasure-troves filled with internal Intel documents. We are not just talking about a document or three, the first part in the series is a whopping 20 GB. There's confidential code, documents, debugging tools, drivers, training videos and other technical material in the first part of what we expect will be a very interesting series of leaks. Many of the files are fairly recent, quite a few of them are from May 2020.
written by 林慧 (Wai Lin) 2020-08-06 - last edited 2020-08-08. © CC BY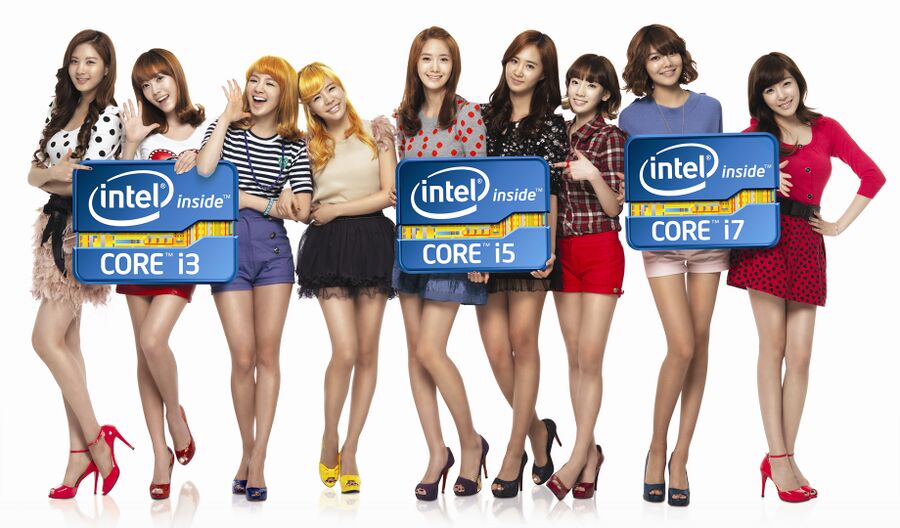 The South Korean pop group Girls Generation during an Intel promotion campaign in 2011.
The first part of what is said to be a series of leaks filled with internal Intel documents include:
Intel ME Bringup guides + (flash) tooling + samples for various platforms
Kabylake (Purley Platform) BIOS Reference Code and Sample Code + Initialization code (some of it as exported git repos with full history)
Intel CEFDK (Consumer Electronics Firmware Development Kit (Bootloader stuff)) SOURCES
Silicon / FSP source code packages for various platforms
Various Intel Development and Debugging Tools
Simics Simulation for Rocket Lake S and potentially other platforms
Various roadmaps and other documents
Binaries for Camera drivers Intel made for SpaceX
Schematics, Docs, Tools + Firmware for the unreleased Tiger Lake platform
(very horrible) Kabylake FDK training videos
Intel Trace Hub + decoder files for various Intel ME versions
Elkhart Lake Silicon Reference and Platform Sample Code
Some Verilog stuff for various Xeon Platforms, unsure what it is exactly.
Debug BIOS/TXE builds for various Platforms
Bootguard SDK (encrypted zip)
Intel Snowridge / Snowfish Process Simulator ADK
Various schematics
Intel Marketing Material Templates (InDesign)
Lots of other things
The above list of already leaked documents, files and videos is both very interesting and very damning for Intel. That makes us wonder what a second or third 20 GiB large leak will bring to the table.
The first cache of leaked documents was made available by Swiss computer consultant Tillie Kottmann this morning. He claims that the documents came from an "anonymous" source who "breached them earlier this Year".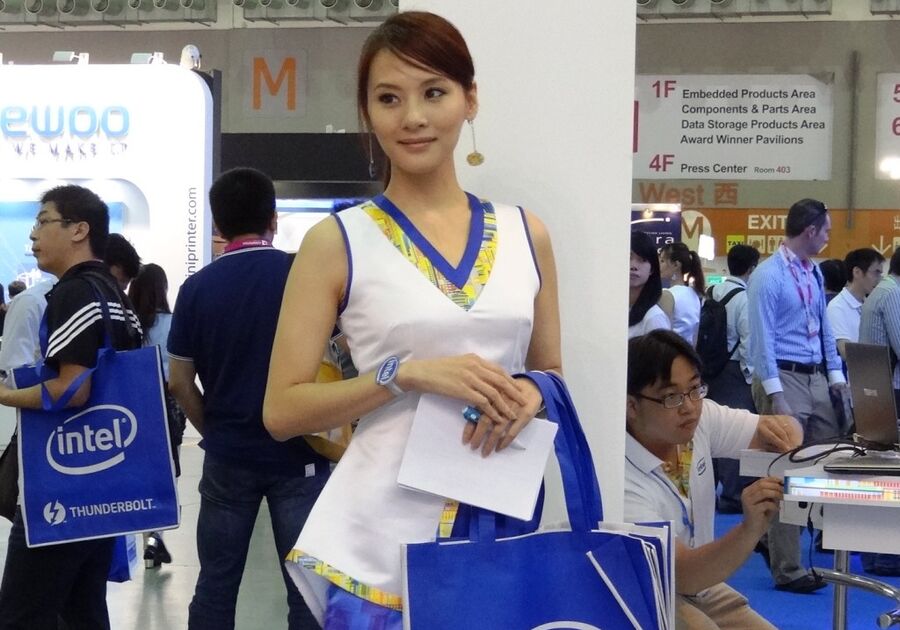 Intel representative at a trade-show.
Most of the leaked documents are fairly recent. As an example, the leaked "Intel Confidential Whitley/Cedar Island Platform Message of the Week [MoW]" document (whitley-mow-575523-ww19-2020.pdf) was published on May 12, 2020 according to the files metadata. There are also some slightly older files, like the "Tiger Lake Platform RVP EC Release Notes" (tgl_ec_release_notes_ww51-19.pdf) document that was published in the second half of 2019. A few of the files are very old. The files contained in the 555146-kipsbay2-archive.zip archive have file creation dates in November 2014.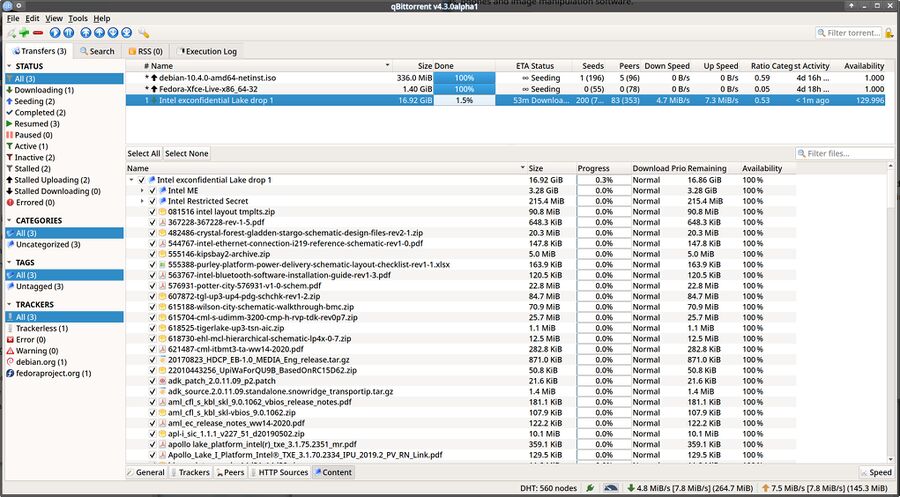 The qBittorrent bittorrent client, version 4.3.0alpha1, downloading stolen imaginary Intel property.
The stolen documents are imaginary property (IP) of the Intel corporation. It is illegal for you to download the stolen documents by opening this fine magnetic link in a BitTorrent client:
magnet:?xt=urn:btih:38f947ceadf06e6d3ffc2b37b807d7ef80b57f21&dn=Intel%20exconfidential%20Lake%20drop%201
Downloading the stolen documents may take quite some time depending on how fast your Internet connection is. The actual download size of the mostly compressed as .zip archives is 16.92 GiB. The torrent is very well seeded as of right now so you will likely be able to utilize all your bandwidth. Expect it to take about an hour if you have a 5 Mbit Internet connection.
Try the passwords Intel123, intel123 and I accept if you randomly try to open one of the few .zip files that are password protected.
Good luck!