100 TiB SSDs Have Arrived
From LinuxReviews
Jump to navigation
Jump to search

Think again if you think a RAID arrays with a dozen 8 or 10 TB hard disc drives are your only option if you want to store a whole lot of data. A 3.5" 50 TiB NimbusData ExaDrive SSD drive can be yours for $12,500 and a 100 TiB SSD can be yours for a cool $40,000.
written by 林慧 (Wai Lin) 2020-07-18 - last edited 2020-07-18. © CC BY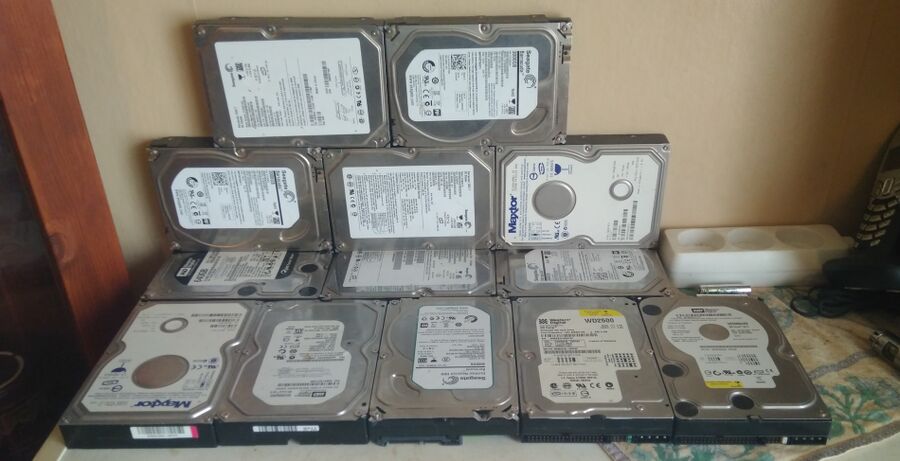 You can store a lot more data than you can on all of these drives on a single 3.5" ExaDrive SSD.
The American flash memory storage specialist Nimbus Data is offering ExaDrive SSDs with capacities, and prices, that will blow your mind (and wallet). The drives, only available in a 3.5" form factor, have capacities of 50 and 100 TiB respectively.
| Capacity | Interface | Form factor | Price |
| --- | --- | --- | --- |
| 50 TiB | SATA or SAS | 3.5" | $12,500 |
| 100 TiB | SATA or SAS | 3.5" | $40,000 |
The prices work out to $250 per terabyte for the smaller 50 TiB drive and $400 per TiB for the larger 100 TiB drive. You can get decent-quality 2.5" 1 TiB SSD drives like the Samsung 860 QVO, the Crucial BX500 or the Silicon Power A55 for around $100. A traditional 1 TiB 3.5" HDD can be had for as little as $40. That's one tenth of the per-TiB price of the 100 TiB NimbusData SSD, but it is not a very meaningful comparison: There is a huge difference between a single 100 TiB and a room full of 100 mechanical 1 TiB drives.
The ExaDrive-DC-Datasheet lists the SATA versions of the drives as being capable of around 100,000 4K read/write IOps and a sequential transfer rate of 500 MBps. The SAS versions are rated for 50k 4k read iOPs and just 26k write iOPs. Transfer speeds are also lower, the SAS-2 versions can do 450 MBps sequential reads and just 260 MBps sequential writes.
The read and write specifications are not very impressive when they are compared to your average off the shelf SSD. The capacities are. It is really cool to see that flash storage is at a point where 100 TiB 3.5" SSDs are possible.
You can visit the NimbusData website and get a quote if you happen to have $40,000 and you really want to spend it on a 100 TiB SSD instead of a car or a small house in a rural area.