Whiskermenu
From LinuxReviews
Jump to navigation
Jump to search

Whiskermenu is an optional menu for the Xfce desktop environment. It can be added to panels as a button you can press to get a menu which is different and in some ways a bit more advanced than the regular Xfce menu. Some distributions like Manjaro Linux use Whiskermenu as the default menu in the Xfce variant.
Features and Usability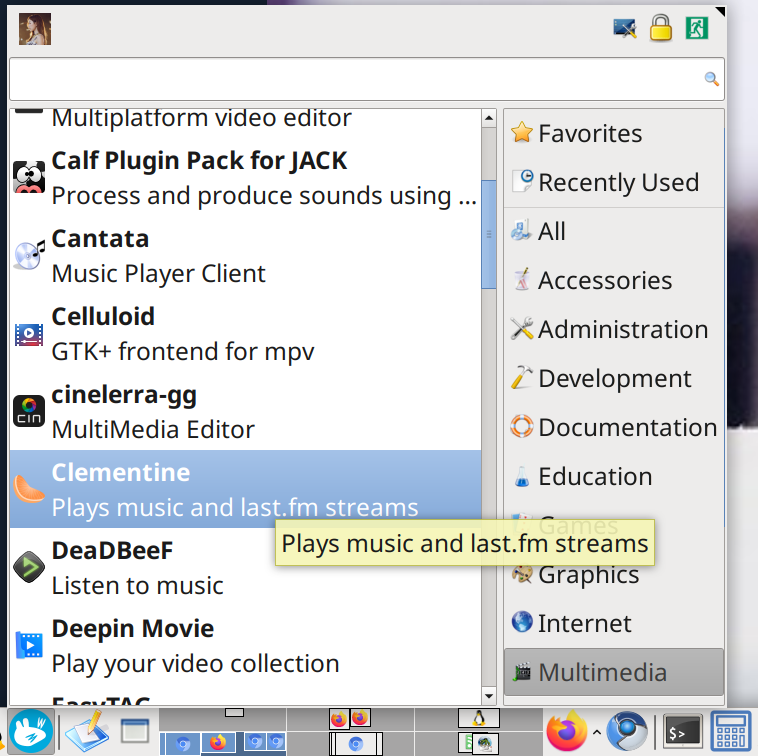 Whiskermenu has a list of categories on it's right side and a list of applications in the chosen category to the left. There are two special categories: "Favorites" and "Recently Used".
Whiskermenu has a handy search-box which can be used to search for installed software on the top. There's also buttons to enter Xfce's settings, lock the screen or logout at the very top. The search-box is similar to the "Application finder" you get when you press alt+F2. It's fine for quickly opening some program you've got installed.
There's not much more to it; it's a functional menu without much fuzz.
Verdict and Conclusion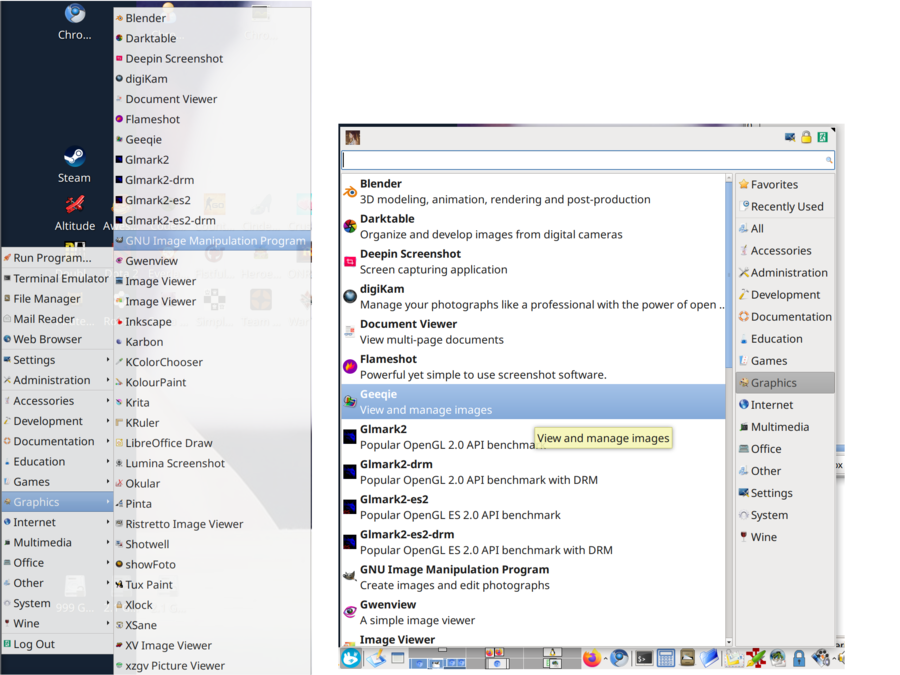 Stock Xfce menu (left) vs the Whiskermenu (right)
Xfce's stock menu is very simple and rather plain. It works fine for opening programs. It lacks a search function and it will will the screens entire vertical length if you have lots of programs in one category installed. Whiskermenu can be re-sized to the size you prefer and it will stay that size regardless of how much is in a category. It's also got a search-feature.
What menu you prefer is a very personal choice. Some may find that the whiskermenu it is both easier to use and better looking. And it's got a search-feature. It is definitivly worth a try if you are using the Xfce desktop environment; there is a reason some distributions make it the default choice.
Whiskermenu is considered a "plugin" by the Xfce development team. The package is therefore named xfce4-whiskermenu-plugin - install that package from your distributions repositories to get it. You can then add it to your panel by right-clicking the panel and choosing Panel > Add New Items. It will be in the list under the name "Whisker Menu". Enjoy.