Transmission
From LinuxReviews
Jump to navigation
Jump to search
Transmission
Initial release
15 September 2005
Operating system
Gnu/Linux / Mac OS X / BeOS
Type
BitTorrent Client
License
GPL
Website
transmissionbt.com
Transmission is a really user-friendly and somewhat simple BitTorrent client which can be installed with a Qt, GTK or CLI interface. It can also act as a web service and be controlled by a browser. Transmission lets you easily download files and create torrents and it has all the underlying features like DHT and encryption support. It does not have anything extra like search functionality, RSS feed reader or anything like that.
Simple and user-friendly
Transmission has a really clean and user-friendly interfaces. There is one made with the Qt toolkit and another made with the GTK toolkit and both look almost exactly the same. There's just one window showing information and this will show the torrents you have. What you see can be filtered by Active, Downloading, Seeding, Paused, Finished, Verifying and the dreaded Error.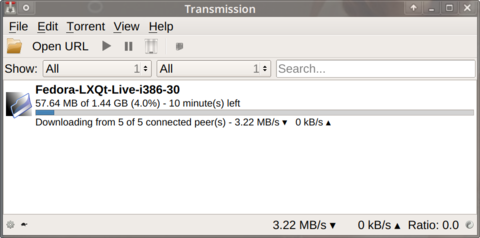 There really isn't much beyond the basics in Transmission's interface. Comparing it another client like qBittorrent makes it very obvious that there's not much going on in Transmissions interface and a whole lot more going on in qBittorrent's. That may not be a bad thing depending on what you like, if simplicity is desirable then Transmission's clearly a great choice.
The torrent creator wizard is equally simple: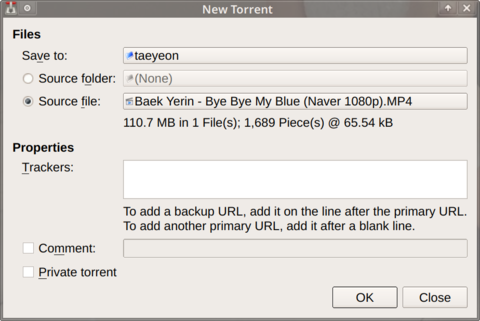 The CLI interface
transmission-cli allows you to download torrents from a shell account or your local terminal. You can set upload/download rate and port from the command line. And that's it. There is no ncurses graphical interface or options for doing anything except abort by pressing ctrl-c.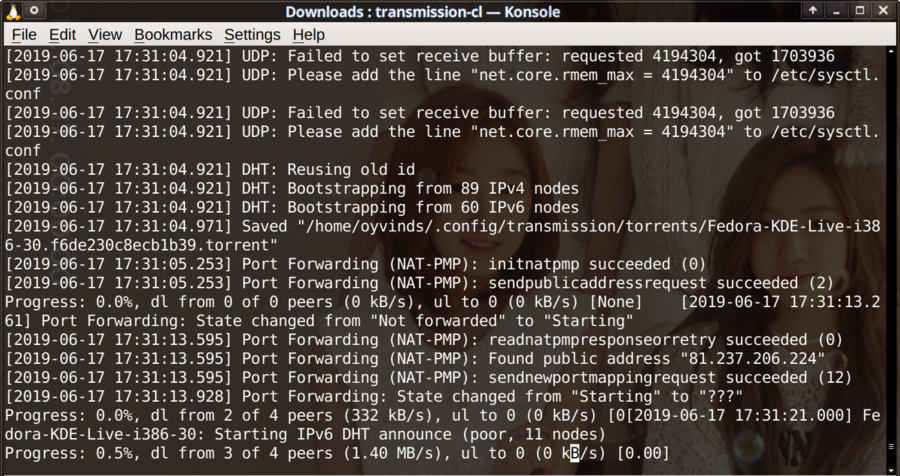 transmission-cli is handy for downloading torrents from the command-line. Just don't expect it to be anything more than wget for torrents, it's not. It pulls the file(s) and that's it.
Verdict and Conclusion
Transmission is clearly going for simplicity and user-friendliness and it totally archives that goal. It targets the same kind of users KTorrent and gets everything right. It does not have the more advanced features qBittorrent has like built-in search and RSS feed downloading based on keywords or other extras and it is not meant to. If a simple strait-forward user-friendly BitTorrent client which just works and does it's job is what you're after then Transmission's a great choice.
Links
Alternatives