KTorrent
From LinuxReviews
Jump to navigation
Jump to search
KTorrent is a very simple and light BitTorrent client written with KDE in mind which works great in any desktop environment. It is not the most efficient client when downloading torrents with a large swarm on high-bandwidth links but it gets the job done. KTorrent has all the basic features one can expect from such a program and it will initially appear to be a totally basic program. There is, however, the ability to enable plugins and turn it into a powerful fully featured program.
Features and usability
KTorrent is relativity easy to use but it can be a bit confusing. There's buttons for opening files or URLs and a simple create torrents. New torrents can be created for public trackers, private trackers or be set to DHT (peer to peer) only. It is also possible to define web seeds.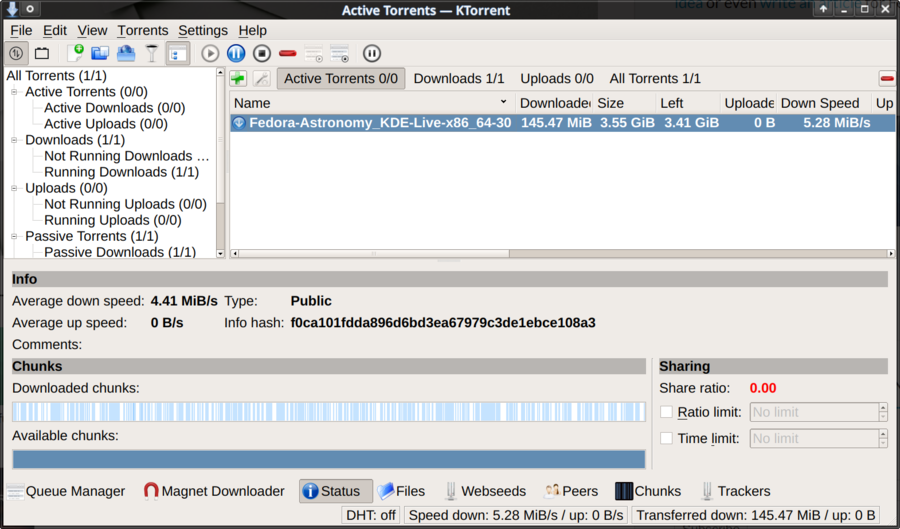 KTorrent's interface is split into two main areas. There is a list with the names Active Torrents, Downloads, Uploads and Passive Torrents to the left and some tabs which can show various things on the right side of the screen. Clicking something on the left side, like "Active Torrents", makes the active tab on the right side show that information. Clicking + or Add to add more tabs brings up new tabs with "All Torrents" - which, of course, can be changed by clicking something like Uploads on the left.

Perhaps this way of navigating and changing the content of tabs is fine for some but we do not find it to be sensible and it is somewhat confusing. It is not immediately obvious that it's possible to change what's in those tabs.. and adding a bunch of new ones brings up a whole lot of tabs with "All Torrents".
There is more to KTorrent than meet the eye
KTorrent supports plugins and there are a lot of them available. All of them except for the "information widget" are turned off by default.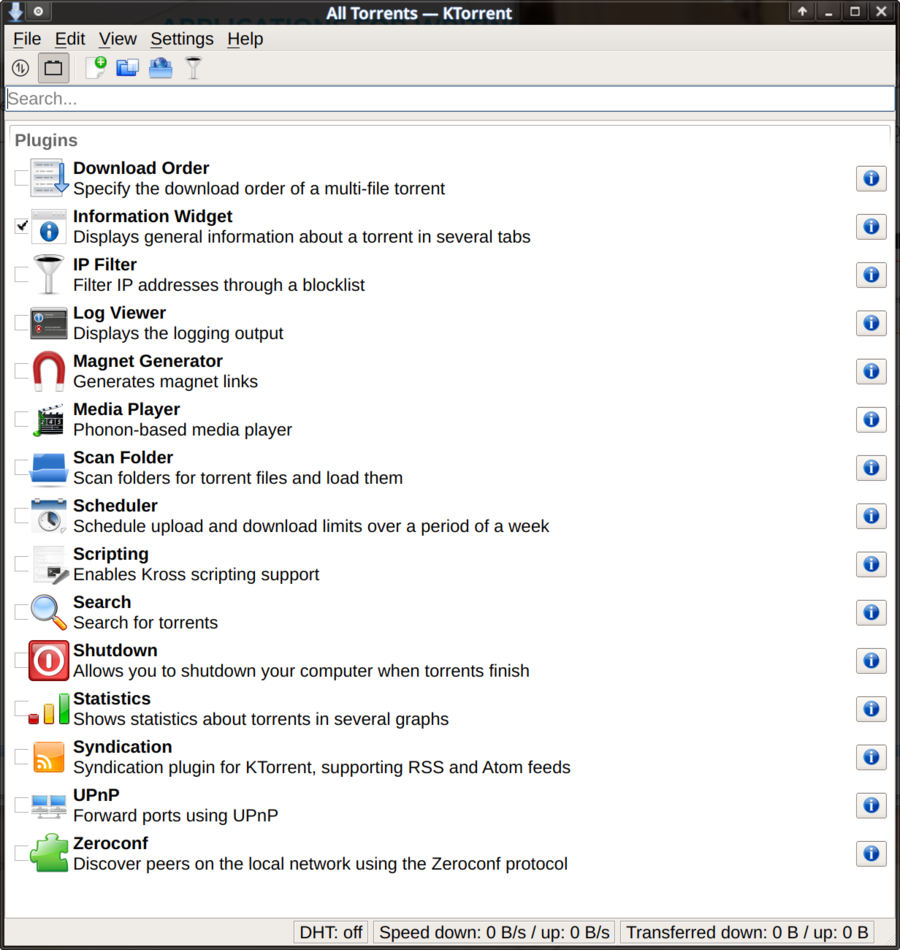 There is a reason why the plugins are disabled by default: Enabling Search will freeze KTorrent and make it load 1 CPU core at 100% indefinitely. This is unacceptable and a total scandal.
All the other plugins can safely be enabled and they do what their description claims they should do.
Performance
KTorrent downloads at high speeds but it does not appear to always max out the bandwidth when it should. This observation may be somewhat subjective and it is not like it's slow or limiting itself to 10% of the available bandwidth. It just appears to be slightly less efficient than other clients. It is totally usable and it will fetch the Linux ISOs you desire at more than acceptable speeds just fine.
Verdict and Conclusion
KTorrent is an alright BitTorrent client. But it's not great. The interface is somewhat confusing. The "Search" plugin's only functionality is to hand KTorrent and load one CPU core at 100% indefinitely. And it's performance does not seem to be the absolute best.
All in all: It's fine. But it's not our first choice. qBittorrent is preferable.
Underlying technology
KTorrent is written in C++ using Qt. It has it's own torrent library called libktorrent which was merged into the KDE 5 Framework in October 2016. This makes it fundamentally unique compared to the many clients such as qBittorrent and deluge which are based on the exact same libtorrent-rasterbar library.
Links
Alternatives